On has just made their first foray into the outdoor market with their hiking boot, the Cloudrock.
They've applied the same principles that they use for their shoes, for grip, comfort and of course they've used their trademark Clouds on the sole. And they've obviously applied their Swiss eye for classic design too.
Why make a walking boot, in addition to running shoes?
On products have always had a strong connection with the mountains. The founders of the company all grew up in the mountains and still spend as much time there as possible. So it was natural that the next stage in their expansion would involve the hiking market.
The Cloudrock Waterproof is On's first hiking shoe. Its waterproof membrane protects against wind and water but still lets your feet breathe. Like all On shoes, the Cloudrock Waterproof features the unique "Cloud" elements on its soles, along with On's patented CloudTech® technology which ensures a cushioning impact and efficient energy conservation for maximum comfort on longer hiking adventures. A firm grip in harsh terrain is also assured through the shoe's Missiongrip™ rubber sole (as seen on the Cloudventure) that covers the Cloud elements.
The Cloudrock could be of interest to runners who want a lightweight boot to fast hike in. It will be an interesting competitor for inov-8's Roclite boot and the Hoka One One Sky range of lightweight boots.
The Cloudrock Waterproof is priced at £180
Cloudventure Peak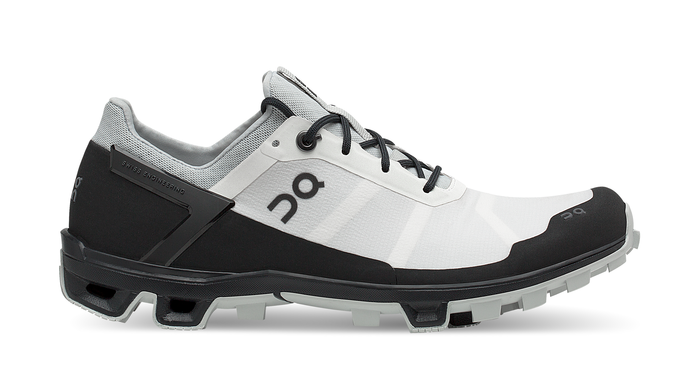 As well as designing the new Cloudrock, On has also revamped the Cloudventure Peak. This is their 'racey' trail shoe, which is pared back and built for speed in the mountains. On's co-founder and former pro sportsman Olivier Bernhard and his team have created an ultra-light competitive trail shoe whose inner sock construction is designed to offer optimum foot support. The shoe also boasts the Missiongrip™ sole to delivers maximum traction. And on the way down, the sole's Cloud elements come into your own, giving you the cushioning you need to be able to push the pace on the downhill.
The new Cloudventure Peak is priced at £135