The Cape Wrath Ultra is an eight-day, multi-stage race covering 400km through some of Scotland's most rugged and beautiful terrain. Starting in Fort William, the race links ancient footpaths and remote paths to its finish in the most north-westerly point in the British Isles – Cape Wrath. 
185 runners have signed up for the 2023 iteration of the mammoth challenge and they'll pass through some of Scotland's most spectacular landscapes. The course is unmarked – with competitors able to use traditional navigating skills or use a GPS system. This year's race also boasts one for the most star-studded women's fields in the races history.
Here is our complete guide to learning about the event, following it live, or participating.
Date, Start Time, and Live Tracking
The 2023 Cape Wrath Ultra starts on Sunday, the 21st of May, at Trislaig with staggered start times of 11:00, 11:30, and 12:00. The competitors will meet at Fort William Football Club before taking a ferry to the starting point.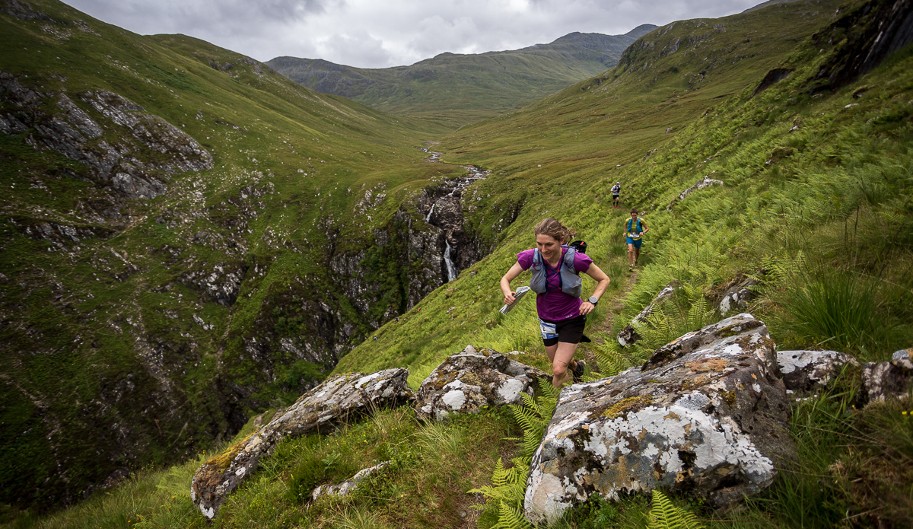 All racers are issued with a GPS tracker, for safety purposes, and race organisers keep track of all competitors. All GPS trackers come with an SOS button that runners can use in an emergency.
You can follow the progress of each runner live here
Cape Wrath Ultra route
Day one sees a relatively gentle introduction to the race with the majority of the 37km on either road or track as competitors travel from Fort William to Glenfinnan via the first checkpoint at 11km.
Day two changes tack as not only will runners cover more distance (57km), but there are also three different checkpoints, and the terrain becomes much more difficult with trails and pathless routes making up most of the route. It also becomes much more mountainous through Knoydart as the race heads to Kinlock Hourn.
Day three is even longer, with a 68km day waiting for runners. Racers will leave Knoydart and head through Kintail to Achnashellach. The route features more uphill climbs and takes racers past the waterfall region of the Scottish Highlands. It is one of the most challenging stretches of the race in the early phase.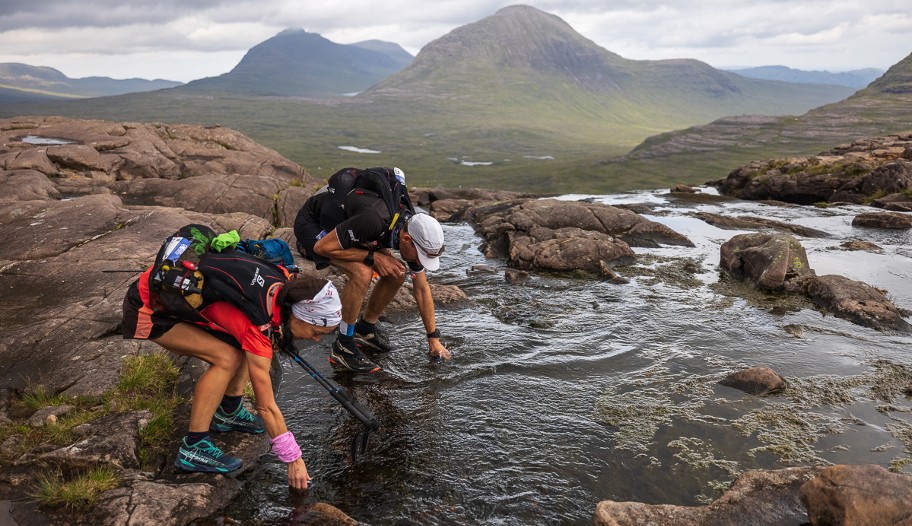 Day four at 33.8km is one of the only days that is not close to the sea, with the route surrounded by mountains and rocky passes, getting quite technical in the final third. The race re-starts on day five as a 44km day precedes a 72km sixth day. These days possess long uphill phases as runners continue to climb the course. However, a return to tracked roads is welcome, rather than a heavy diet of pathless trails.
On the penultimate day, competitors leave Assynt and race towards the finish on a 61km day. Runners will pass Eas a' Chual Aluinn, the highest waterfall in the UK. A diverse course with moors, mountains, and lochs will push runners to the limit ahead of the final day.
Finally, day eight takes runners to the finish line and takes in the beautiful beach at Sandalwood Bay before crossing the line at Cape Wrath. A 26km day closes at the UK's most north-westerly point before runners return to Durness.
Cape Wrath Explorer
The 2023 race saw, for the first time, a shortened option, for those who want to experience the journey through the Highlands, but don't feel able to complete the full distance, or want to build up to that in a future year. The Cape Wrath Explorer has been pitched as a 'choose-your-own adventure' in which participants can decide to tackle part of the route each day, typically either the first half or the second half. Race organisers have built in flexibility so that runners can mix and match which half they attempt on any given day.
How to qualify and enter Cape Wrath Ultra
There are no pre-requisite qualifications for entry. Entry costs for 2023 were £1,799 with a deposit of £199 followed by four payments of £400 . Participants also have to complete a participant declaration before entering the event. All entrants will then report to the registration day on Saturday 20th May at 14:00.
Cape Wrath Ultra Records and Past Winners
The overall winner in 2022 was Graham Walton in 50 hours and 10 minutes. He was just inside fellow Briton and Trail Running Scotland founder Ian Stewart's 2021 winning time, although Stewart has the record for the fastest final leg of the race in history with a time of 2 hours and 54 minutes. The fastest overall belongs to inaugural winner Marcus Scotney. The then 41-year-old completed the course in 41 hours and 40 minutes. However, the event has been slightly lengthened and tweaked since that 2016 race.
Past Winners
2022 Winner – Graham Walton, UK, 50:10:17
2022 First Female – Laura O'Driscoll, IRE, 61:26:06
2021 Winner – Ian Stewart, UK, 50:39:44
2021 First Female – Sally Fawcett, UK, 52:56:23
2018 Winner – Robert Barnes, UK, 45:49:42
2018 First Female – Carol Morgan, UK, 55:35:31
2016 Winner – Marcus Scotney, UK, 41:40:50
2016 First Female – Emanuela Marzotto, Italy, 66:53:12
Cape Wrath Ultra Kit List
The Cape Wrath Ultra requires runners to carry mandatory kit. Organisers will carry out random checks on competitors throughout the event to ensure runners have the correct equipment. Failure to comply with kit rules will result in a strike. The following are all mandatory pieces of equipment:
Waterproof jacket or smock with taped seams and a hood
Waterproof trousers with taped seams
Survival Bag – a blanket is not acceptable
Full-size Magnetic Compass – an electric compass is not suitable
Headlamp with spare batteries or spare torch
Whistle
Food – You will need sufficient food to carry each day, there will be no snacks provided to take with you at the overnight stops.
Spare layers – this means clothing that is not worn at the kit check at the start of each day. It should include synthetically insulated upper layers e.g. jacket and gloves/mittens.
Hat and gloves that are appropriate for the conditions
Water Bottle or hydration system
Fell or Mountain running shoes – road running shoes are not acceptable
Money – at least £50 in cash for emergency use (e.g. taxi)
Water-resistant pen or pencil
Mobile Phone
A GPS Tracker and a map will be supplied.
Mandatory Camp Clothing and Equipment
The following is the list of mandatory clothing and camping equipment. Runners also need to carry all equipment in a 79L Ortlieb PS490 model of a dry bag which is also mandatory.
Complete change of clothing, including spare shoes
Warm sleeping bag – the organisers recommend a three seasons bag
Sleeping mat – an inflatable mat is recommended
Plates, bowls, and food utensils
Sponge and cloth for washing dishes
Sun Cream
Insect repellant
Personal first aid kit which should include plasters, antiseptic ointment, tick remover and tape as a minimum
Personal blister treatment kit that should include as a minimum

Sterile scalpel blade
Sterile island dressings
Sterile cotton swabs
Hydro blister plasters
Disinfection wipes
Small scissors
Kinesiology tape