The David Goggins 4x4x48 Challenge is a demanding running challenge popularised by the iconic American ultra marathon runner and endurance athlete.
The renowned motivational speaker dares runners to take on the brutal physical test annually – typically around March – and says the 2023 event is "in your hands".
What is the David Goggins 4x4x48 Challenge?
The 4x4x48 is an easily accessible entry into ultra-marathon running challenge that was first pioneered by David Goggins in March 2020.
The former Navy SEAL has mobilised thousands of people around the world to test their physical and mental strength by running four miles every four hours over a 48-hour period.
It is a total of 48 miles, which is well into ultra-marathon territory. But the difference with the 4x4x48 challenge is that you get a break after each four-mile lap.
Can anyone take on the 4x4x48 challenge?
One of the great things about the 4x4x48 challenge is its accessibility. There are no prizes for being the quickest over each lap. You can run or walk – or as is most likely, do a combination of the two.
But don't make the mistake of thinking this is easy. It's not. You will find it tough both mentally and physically and you need to be prepared for that. But then that's why it is a challenge!
How do I prepare for the 4x4x48 challenge?
To start with, you map out at least two four-mile, circular routes from your front door. Although there is nothing to stop you doing the same route each time, it will become monotonous – particularly towards the end of the challenge.
Try to avoid steep climbs on your route, although some changes in elevation help work different muscles, there is no point exhausting yourself by going up and down the biggest hill in your area.
Your training for the 4x4x48 challenge should consist of a combination of running and strength training. The running should be at a steady pace with the focus being on time on your feet, rather than distance.
Strength training for your legs can be achieved through a combination of squats and deadlifts. Free weights are better than weight machines for the deadlifts – but you'll have to work with what you have access to. You don't need to do any more than a couple of strength sessions each week during the build-up.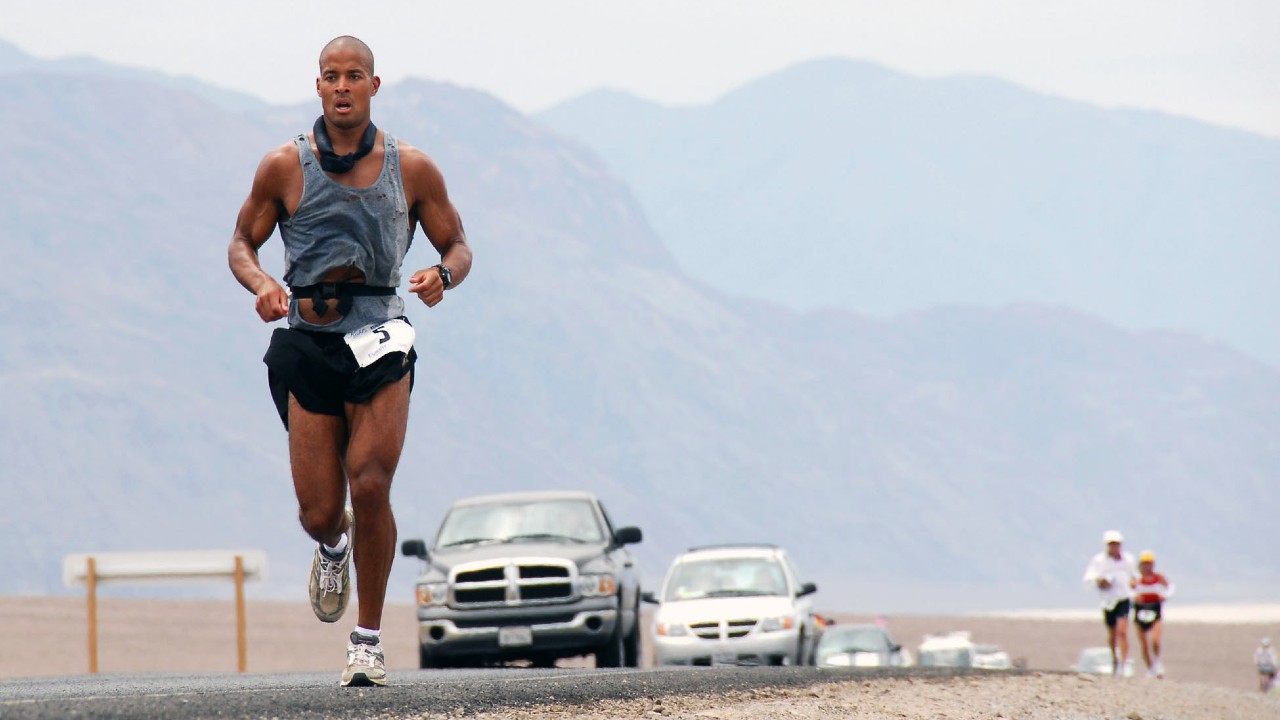 Train your body to run on tired legs – the more used you get to going for a run when your body tells you it wants to stop, the better prepared you will be for the 4x4x48 challenge. Going for a run the day after a tough strength session or a long training run is perfect preparation.
You should also consider having a support crew or someone to run with, particularly during the night. You are pushing the limits of your body and you never know when you might need assistance. Safety is paramount.
What time should I start the David Goggins 4x4x48 Challenge?
The official David Goggins 4x4x48 Challenge started at 8pm in 2022 but this is down to personal preference – what time of day would you prefer to be finishing? Starting at dawn would allow you to get some sleep in before, but you will be running through the night in the latter stages.
You could start in the evening – that way you would be finishing the final miles during the day rather than during the night, when you'd expect to be most tired.
There are arguments for all start times, but it comes down to what you think is best for you.
What kit do I need for the 4x4x48 challenge?
Any experienced ultra runner will tell you that having the right kit for the challenge is essential. In fact, it's an obsession for many of them.
The kit you require will depend largely on the conditions you will be running in. So, you need to think this through carefully. Remember, you will be running through the night so even in warmer climates, the temperature can drop significantly once the sun goes down so you may need to add layers.
Is it likely to rain? If it is you will need to have a rain jacket handy, you don't want add to the difficulty by running in soaking wet kit.
Running shoes need to be right for the route you are taking – be that on tarmac or off road.
You are going to be running through the night so you should consider whether you will need to wear a head torch to light your way. But regardless, you need to make sure you can be seen so make sure you are wearing reflective clothing or, even better, buy some running lights and clip them on to your kit. They are cheap, and can save your life.
Most important rule of all, test all of your kit thoroughly during your training. Never wear something for the first time when you take on a challenge like this. This is not the time to find out that your new shorts, running top or shoes rub you raw after an hour in them.
What pace is best for the David Goggins 4x4x48 Challenge?
Keep your pace slow and steady. You may be tempted to run quickly on the first few laps to increase your rest time before you go again. But you will pay for that in the later stages. So, a slow, steady pace is the way to go. If you can talk comfortably as you run without being out of breath, then you've probably got it about right.
What should I do between runs on the 4x4x48 challenge?
Perhaps the most important thing is to keep active in between laps. If you collapse in a chair as soon as you get home, you will stiffen up and find it difficult to get going again. So, some gentle stretching after each lap, and before you go again, is a good habit to get into from the start.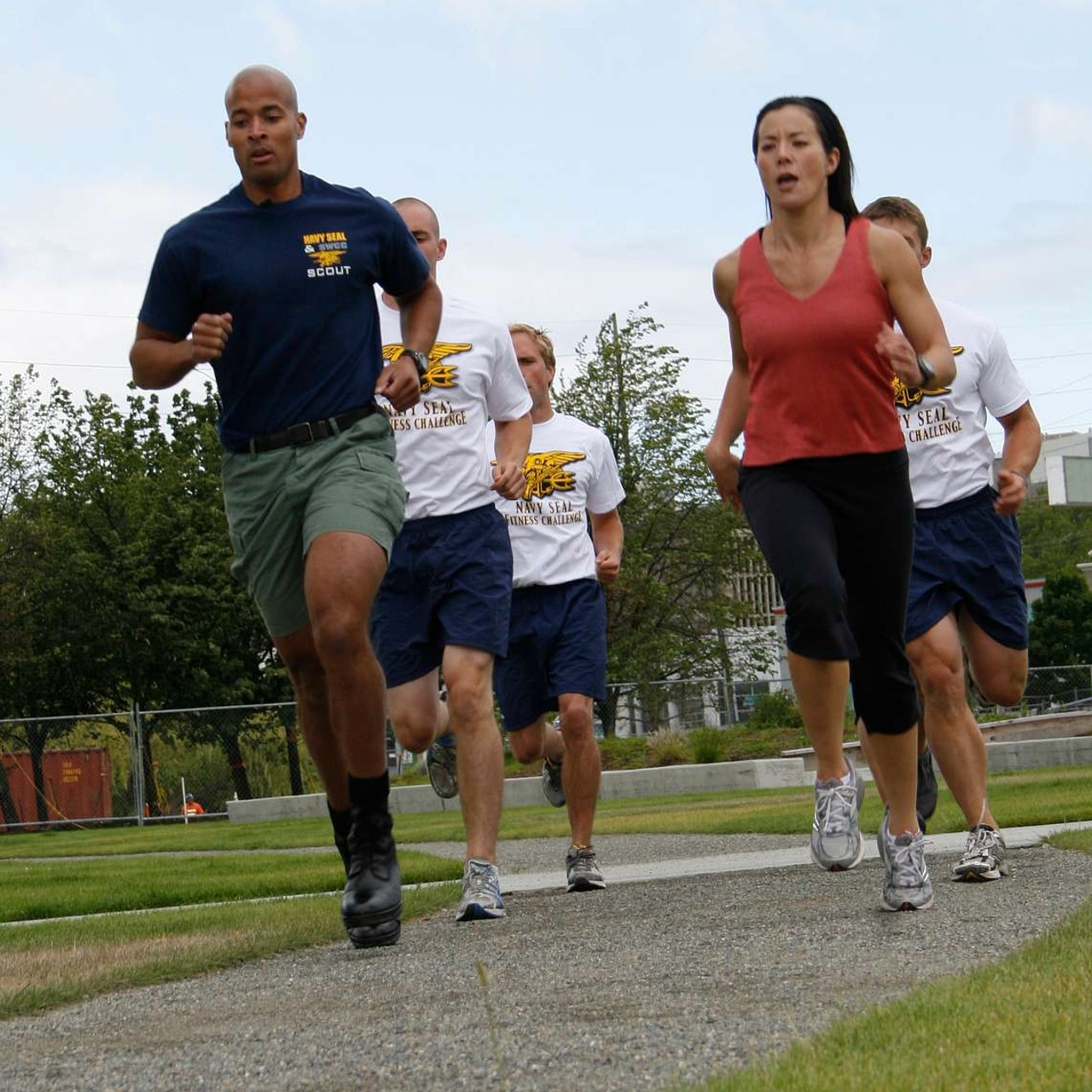 Equally, there is no reason why you shouldn't get on with some everyday tasks around the house that keep you on your feet and distract you from the 4x4x48 challenge. Just don't do anything too strenuous.
Grabbing some sleep should be part of your plan as well. A short nap will make a huge difference to your overall performance so take the opportunity whenever and as often as you feel able to.
And don't forget to fuel and hydrate yourself. Stick with foods that you are familiar with – you don't want to try anything new that might unsettle your stomach. You might find eating difficult as you get into the challenge so make sure there is a selection of things available to you that are easy to deal with – porridge, rice pudding, flapjacks are ultra running staples but you may well find you are happy eating your every-day type of meals – whatever works!
Hydration is essential, not taking on enough fluid will derail your attempt so plenty of water, cola, or specialist hydration drinks should all be on your agenda. Once again, get familiar with hydrating properly during your training.
When is the David Goggins 4x4x48 Challenge?
In previous years, the David Goggins 4x4x48 Challenge has been on a set date with thousands of people mobilised to run at the same time.
But in 2023, Goggins posted on his social media accounts that his hectic schedule was making it difficult to define a set date, saying: "Unfortunately my schedule is extremely busy this year so I am looking at doing it at the end of March but can't commit to a specific date so am leaving it in your hands.''