The Lakeland Trails 100km and 55km races are billed as ultimate but totally achievable challenges on stunning courses. The 100km event gives runners 'a truly memorable journey encompassing the finest trails the Lake District has to offer', while the 55km race is marketed as 'the most picturesque ultra marathon in the UK'. Alongside these feature races, runners can also take on 23km and 14km races that incorporate parts of the main routes.
Here is our full guide to learning about the event, following it live or even taking part.
Date, start time & live tracking
The Lakeland Trails 100km race begins at midnight on Saturday, July 8 2023 and has a 23-hour time limit. The 55km event gets under way at 0900AM and has a 13-hour cut-off.
Each competitor carries a GPS tracking device and a 'dibber' – provided by SportIdent – which allows race organisers to monitor their progress and to ensure everyone stays safe. The GPS device also allows fans to follow the race online. Failure to register at any of the checkpoints on the course will result in disqualification.
We will update this section with a link for live tracking once it is available.
Lakeland Trails 100 and 55 2023 Route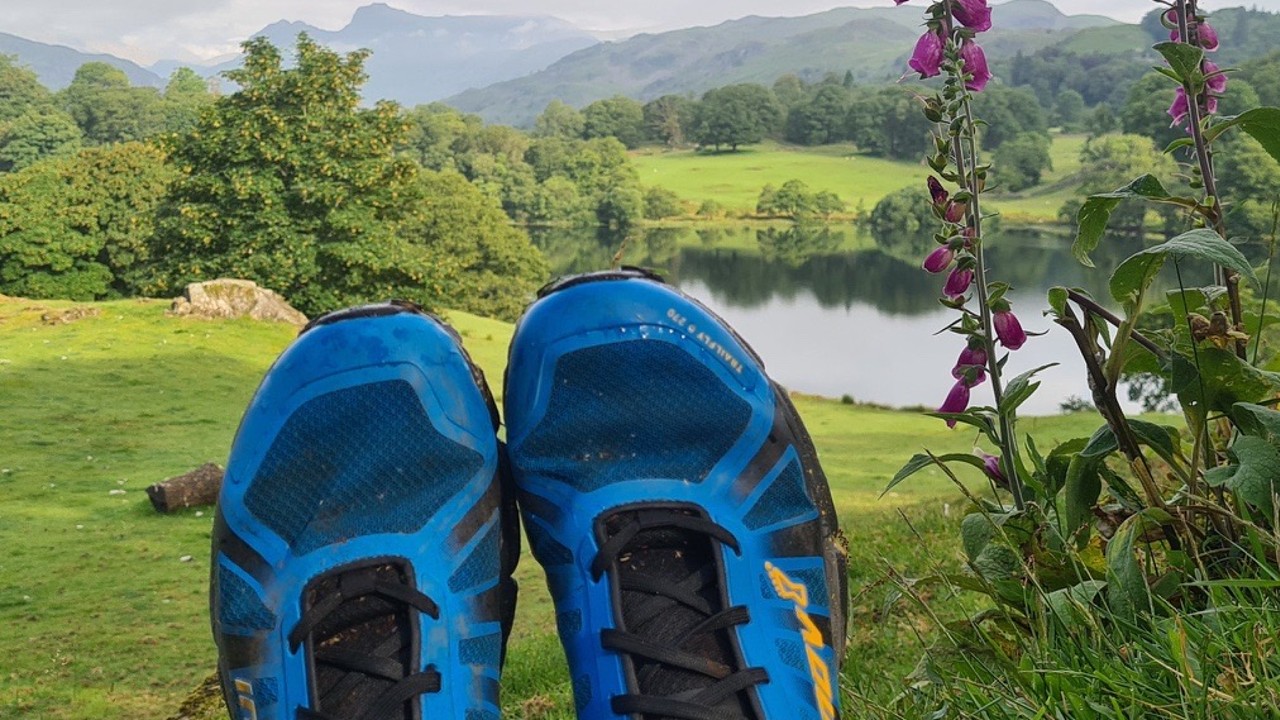 Both races start and finish in Rothay Park, Ambleside. The 100km route takes in Kentmere, Mardale Head, Bampton, Howtown, Glenridding, Grasmere, Little Langdale and Langdale Primary School. It includes five mountain passes 10,500 feet of climbing and eight feed stations.
The 55km option misses out most of the eastern sections of the longer route. It includes three mountain passes, 7,000 feet of assent and five feed stations.
More information on the route can be found here.
Facts, Tips & FAQ
The races were first held in 2015 when the longer event was contested over 110km. The 100km distance was introduced in 2019. The 55km race is worth three International Trail Running Association (ITRA) points and the 100k Ultra is worth four. Organisers say they put a particular emphasis on safety with "advanced life support medics, radio communications and marshals" on the course. In 2022, singer / songwriter Pete Lashley performed in the event village from 1530 to 1630 on the Saturday and then from 1100 to 1200 before the prize giving on the Sunday.
How to qualify and enter the Lakeland Trails 100 and 55
There are no specific entry requirements for either race.
Lakeland Trails 100 and 55 records and past winners
George Foster set the men's record for the 100km event in 2021 with a 9:30:11 clocking. Katie Kaars-Sjipestein broke Merryl Cooper's women's record by six minutes in 2022, recording 11:27:23 to take outright victory. The 2021 race doubled up as the British championships.
Prior to that Kim Collison (10:48:57) and three-time winner Sally Ford (14:49:01) held the records for the longer course.
Ultra running star Damian Hall holds the fastest time for the 55km event with a 5:25:21 clocking in 2018, while GB international Holly Rush has the women's record with 6:10:19 in 2017.
Lakeland Trails 100 winners
2022 – Men: Steven Sandilands 14:56:50. Women: Katie Kaars-Sjipestein 11:27:23.
2021 – Men: George Foster 9:30:11. Women: Meryl Cooper 11:32:19.
2020 – No race.
2019 – Men: Kristof Nowicki 12:03:12. Women: Katie Samuleson 16:40:03.
2018 – No race.
2017 (110km) – Men: Andrew Horrobin 11:30:58. Women: Sally Ford 15:02:20.
2016 (110km) – Men: Andrew Horrobin 12:06:37. Women: Sally Ford 15:19:03.
2015 (110km) – Men: Kim Collison 10:48:57. Women: Sally Ford 14:49:01.
Lakeland Trails 55 winners
2022 – Men: Adam Hartley 5:49:27. Women: Mary Heald 7:30:09.
2021 – Men: Julian Hood 5:39:20. Women: Jane McCarthy 6:54:29.
2020 – No race.
2019 – Men: Damian Hall 5:39:12. Women: Zoe McLennan 6:58:15.
2018 – Men: Damian Hall 5:25:21. Women: Gemma Carter 6:26:47.
2017 – Men: David Stoneman 5:52:24. Women: Holly Rush 6:10:19.
2016 – Men: Michael Barron 5:26:07. Women: Fiona Lynch 6:48:03.
2015 – Men: Keith Siddle 6:45:21. Women: Sophie Moore 7:22:31.
Who is taking part at Lakeland Trails 100 and 55 2023?
We will include information on entrants for both races when available. You can read our 2022 race report here.
Lakeland Trails 100 and 55 kit list
Runners are required to wear and carry certain kit, without which they will not be allowed to start, while other items are recommended. This kit list will be fully enforced regardless of prevailing conditions.
Mandatory kit
Full waterproof body cover – including a hooded-jacket and full-length pants with taped seams
First aid kit – to include minimum blister plasters, bandage and zinc oxide tape to secure dressing
Spare base layer – long-sleeved
Hat and gloves
Whistle
Mobile phone – fully charged
Head torch – with spare battery or an extra headtorch for 100km race
Emergency foil blanket – or bivi bag,
Emergency food and drink – minimum one energy/muesli bar and 100ml water. This must not be eaten or drunk during normal course of the event.
Recommended Kit
Compass
Poles
GPS
Suncream
Quality off-road running shoes – Not road shoes