The Pinnacle Ridge Extreme race, organised by Lake District Sky Trails, returns for a fourth installment in 2023. A 28km skyrace around the Lake District's Hellvellyn Massif featuring 2700m of ascent, organisers say it is "what you've been looking for if you love climbing as much as you love running".
Here is our full guide to learning about the event, following it live or even taking part.
Date, start time & live tracking
The Rab Pinnacle Ridge Extreme Race 2023 is a one-day event, starting at 1000BST on Sunday July 16 2023. Competitors must reach the midway cut-off point by 1500BST and finish by 1800BST.
Each competitor carries a GPS tracking device and a 'dibber' – provided by SPORTident – which allows race organisers to monitor their progress and to ensure everyone stays safe. The GPS device also allows fans to follow the race online. Failure to 'dib' at any of the checkpoints or control boxes on the course will result in disqualification.
We will include a link for dot watchers to follow when available.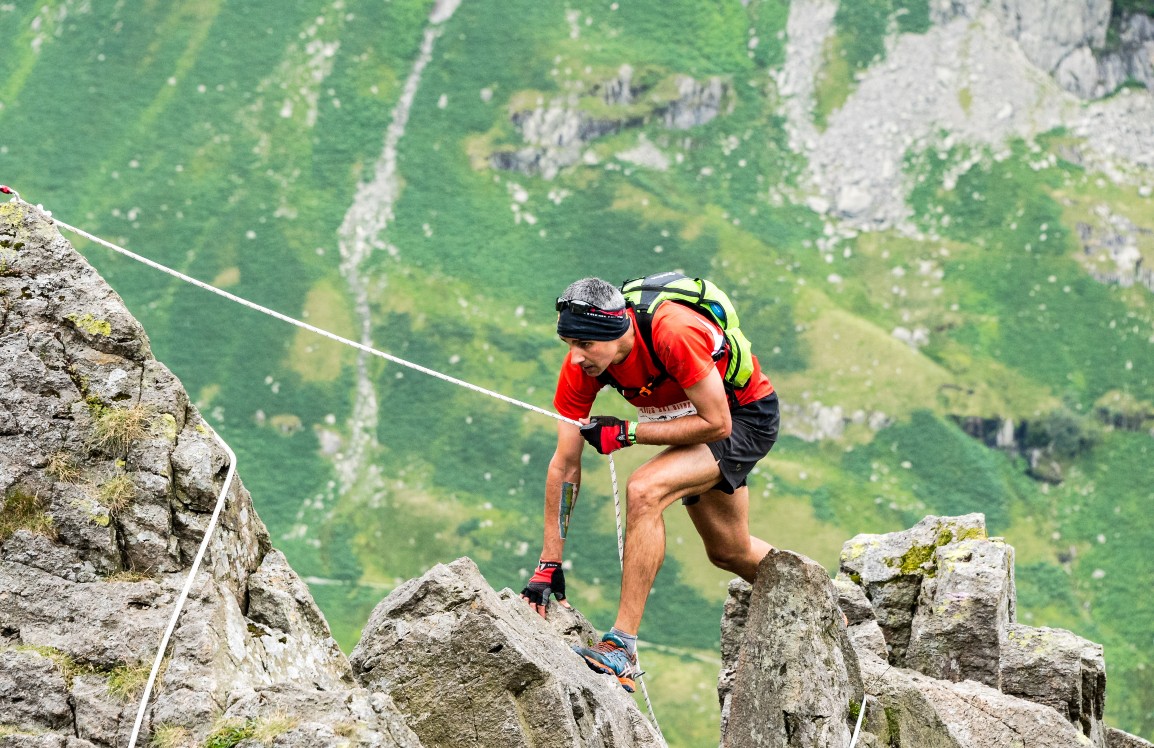 Rab Pinnacle Ridge Extreme Route
The race starts and finishes at Patterdale Hall near Penrith and follows an anticlockwise route featuring eight checkpoints.
The route is fully marked with competitors directed over a number of technical sections including Brown Cove (Grade 2 scramble), a descent of Swirral Edge and Catstye Cam, a traverse along Striding edge, descent of Eagle Crag (Grade 2 scramble) and finishing with an ascent of Pinnacle Ridge (Grade 3 scramble).
Technical scrambles are fully supported with safety staff and the course includes some roped sections for the particularly tricky parts.
You can view a map of the course here.
Facts, Tips & FAQ
A series of facts about the race including history, specific rules –
Organisers insist that 'only the most experienced, competent all-round mountain runners will toe the start line of Pinnacle Ridge Extreme' and have created a vetting process to ensure entrants have the necessary experience.
There are prizes for the first three men and women in the open race (under 45) as well as in the veterans category (over 45).
Runners have to carry 200 calories of emergency food, which must be unused at the end – unless they have had an emergency!
The race is one of four organised by Lake District Sky Trails, alongside the Scafell Sky Race, Lakes Sky Ultra and Stickle Grind Vertical 650.
No dogs are allowed.
How to qualify and enter the Rab Pinnacle Ridge Extreme
Runners must be aged 19 or over and have significant mountain running, race and scrambling experience. This is stipulated as completing of several named mountain races within the past five years, of 18 miles/30km or more, and of similar severity to Pinnacle Ridge Extreme.
Significant climbing experience includes high grade solo scrambling (2/3), low grade to high grade rock climbing (leader experience necessary), bouldering or winter climbing. A note on the website reads "no climbing experience, no race".
Entries are via the SI Entries website.
Rab Pinnacle Ridge Extreme records and past winners
Inaugural race winner and GB international Rob Sinclair holds the men's course record with his 3:57:02 effort in 2019, which saw him triumph by more than 50 minutes. GB international Georgia Tindley set a new women's record of 5:02:57 in 2022, beating UK-based New Zealander Kristina Aluzaite's time of 05:30:02 from 2021.
Past winners
2022 – Men: Andrew Lamont 4:26:02. Women: Georgia Tindley 5:02:57.
2021 – Men: Harry Kingston 03:58:28. Women: Kristina Aluzaite 05:30:02.
2019 – Men: Rob Sinclair 03:57:02. Women: Ursula Moore 05:45:13.
Who is taking part at Rab Pinnacle Ridge Extreme 2023?
Entrants for the 2023 race can be viewed can be viewed here.
Rab Pinnacle Ridge Extreme kit list
Runners are required to wear and carry certain kit, while other items are recommended.
Mandatory kit
Base layer – vest or short sleeve top (no cotton). Must also carry long-sleeved base layer
Shorts or tights – ¾ tights are acceptable
Shoes – mountain running or trail shoes with minimum 3mm tread
Waterproof jacket – must have hood and taped seams
Waterproof trousers – must have taped seams
Hat – can be buff or similar
Gloves
Head torch
Survival bag – space blankets are not acceptable
Whistle
Emergency food – 200 calories
GPS device and/or map and compass
First aid kit – minimum contents: bandage, plasters, pain killers, but no anti-inflammatories
Race vest – with 4 safety pins or other device for attaching number
Race pack or bum bag
Mobile phone – must be fully charged
Advisory kit
Helmet – for climbing sections
Via Ferrata-type gloves – for climbing sections
Runners' kit should be sufficient for them to make it back to race HQ safely should they become injured. The race director reserves the right to require additional warm clothing if weather conditions demand it, with a final decision made 30 minutes before the start.