Transvulcania by UTMB returns this weekend after a three-year-absence, with organisers promising the event will be stronger than ever.
Held on La Palma in Spain's Canary Islands, this will be the race's 12th installment and it is expected to be particularly poignant following a volcanic eruption on the island in 2021.
Around 2,500 participants, including a strong elite field, are due to take part across the four-day event, with the main event a 75km test that sees runners reach the island's highest point at 2,420m.
According to the event website, Transvulcania "is without doubt one of the hardest ultra trail races in the world".
Here is our full guide to learning about this UTMB World Series event, following it live or even taking part.
Date, start time & live tracking
Transvulcania by UTMB features three main races and takes place from Thursday October 20 to Saturday October 22.
Proceedings get underway with a 1.5km vertical challenge race on October 20, while the feature races all take place on October 22.
The feature 75km ultra marathon starts at 0600 local time and runners have 16 hours to complete the course.
Each competitor carries a GPS tracking device and a 'dibber' which allows race organisers to monitor their progress and ensure everyone stays safe.
The GPS device also allows fans to follow the race online. Failure to 'dib' at any of the checkpoints or control boxes on the course will result in disqualification.
Live tracking will be available here.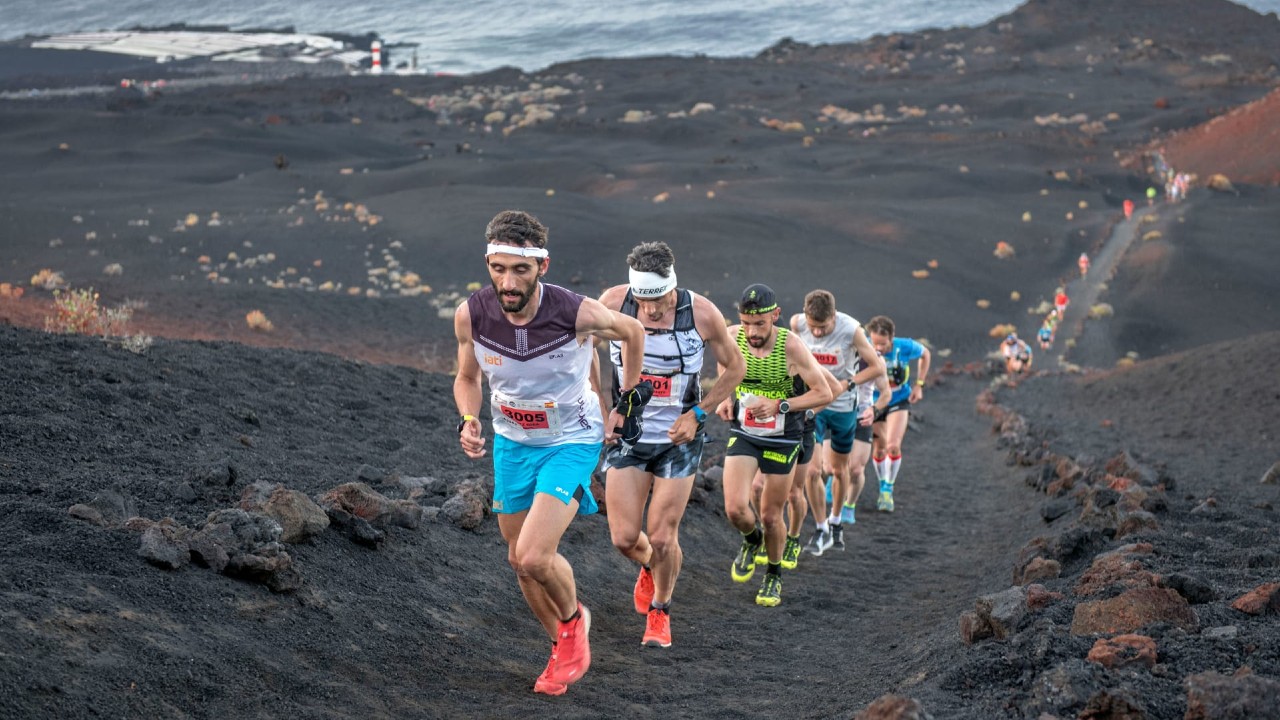 Transvulcania by UTMB Route
The 75km route begins at Fuencaliente Lighthouse, heads to Tazacorte and finishes at the Plaza de España in Los Llanos de Aridane. Enroute, runners face 4,735m of ascent and 4,405m of descent.
They reach the highest point on the island, Roque de Los Muchacho, at 2,426m, descend to sea level and then ascend again to the finish line.
Alongside this, the event offers a 46km marathon run, which begins at El Pino de La Virgen (El Paso) at 853 metres above sea level and heads towards Tazacorte, also finishing in Los Llanos de Aridane. By that point, runners will have climbed 2,816m, and descended 3,372m.
The third main race is a half marathon, covering the last 28km of the ultra route.
You can view a map of the 75km course here.
Facts, Tips & FAQ
Transvulcania was first run in 2009 and has grown to become a major player in the UTMB series.
The island of La Palma is a chain of volcanoes, rocks, lava, orography, and climatic changes.
Runners can have one support crew member, who is only allowed to visit two checkpoints on the course – at El Pilar and Roque de los Muchachos. Pacers are not allowed.
If runners choose to use hiking poles, they must carry them throughout the race. Participants can expect a variety of dramatic volcanic landscapes interspersed with pine groves.
How to qualify and enter the Transvulcania by UTMB
Runners must be aged 20 or over to enter the longer two races, or 16 plus for the half marathon.
In order to enter the ultra or marathon race, runners must have a valid UTMB index in the 50K, 100K or 100M category. Entries closed on October 1.
Completing the ultra marathon earns finishers three UTMB running stones, with two available for the marathon and one for the half marathon.
Transvulcania by UTMB records and past winners
Three-time winner Luis Alberto Hernando took the men's course record from fellow Spaniard Kilian Jornet when he secured his second title in 2015 in 6:52:39.
Another triple champion, Sweden's Ida Nilsson, set the women's record of 8:04:16 while winning her second title in 2017.
Past winners
2009 – Men: Salvador Calvo Redondo 9:00:36. Women: Marta Prat Llorens 13:57:51.
2010 – Men: Miguel Heras Hernández 9:09:32. Women: Nerea Martínez 10:53:33.
2011 – Men: Miguel Heras Hernández 7:32:11. Women: Mónica Aguilera 10:00:03.
2012 – Men: Dakota Jones 6:59:07. Women: Anna Frost 8:11:31.
2013 – Men: Kilian Jornet 6:54:09. Women: Emelie Forsberg 8:13:22.
2014 – Men: Luis Alberto Hernando 6:55:41. Women: Anna Frost 8:10:41.
2015 – Men: Luis Alberto Hernando 6:52:39. Women: Emelie Forsberg 8:32:59.
2016 – Men: Luis Alberto Hernando 7:04:44. Women: Ida Nilsson 8:14:18.
2017 – Men: Tim Freriks 7:02:03. Women: Ida Nilsson 8:04:16.
2018 – Men: Pere Aurell Bové 7:37:26. Women: Ida Nilsson 8:40:43.
2019 – Men: Thibault Garrivier 7:11:04. Women: Ragna Debats 8:09:25.
Who is taking part at Transvulcania by UTMB 2022?
Petter Engdhal and Abby Hall, who claimed victory and finished third respectively at this year's UTMB CCC, are among the starters in the men's and women's ultra marathon.
Lists of participants across all the Transvulcania by UTMB races are available here.
Transvulcania by UTMB kit list
Runners are required to wear and carry certain kit, while other items are recommended.
Mandatory kit
Backpack – to carry mandatory equipment
Water – minimum of 1.5 litres in a bottle or bladder
Food reserve – 800kcal recommended
Personal collapsible cup – 15cl minimum
Headlamp – with red rear light and spare batteries
Mobile phone
Waterproof jacket – with hood and breathable membrane; 10,000mm minimum
Additional warm layer
Survival blanket – minimum 1.4m x 2m
Whistle
Elastic bandages – self adhering, minimum 100cm x 6cm
Warm gloves
Hat or bandana