Taking place on a spectacular volcanic island, Transvulcania by UTMB is dubbed 'one of the hardest ultra trail races in the world'.
Held on La Palma in Spain's Canary Islands, the 2023 edition of the UTMB World Series race will attract over 2,200 runners for its 13th installment.
Here is our full guide for Transvulcania by UTMB, following it live or even taking part.
Date, start time & live tracking
Transvulcania by UTMB features four adult races taking place from May 4-6.
The event returns to its usual May date after the 2022 edition was held in October after a two-year absence due to a volcanic eruption on Cumbre Vieja.
Proceedings get underway with a 1.5km vertical challenge race at 2030 (All local time) on May 4, while the three longer events take place on May 6.
The flagship 72km ultra marathon starts at 0600 and runners have 16 hours to complete the course.
The 48km 'Volcanes' race then kicks off at 0900 before the 28km 'El Roque' begins at 0930, with competitors allowed 11 and seven hours respectively for those events.
Each competitor carries a GPS tracking device and a 'dibber' which allows race organisers to monitor their progress and ensure everyone stays safe.
The GPS device also allows fans to follow the race online. Failure to 'dib' at any of the checkpoints or control boxes on the course will result in disqualification.
Live tracking will be available here.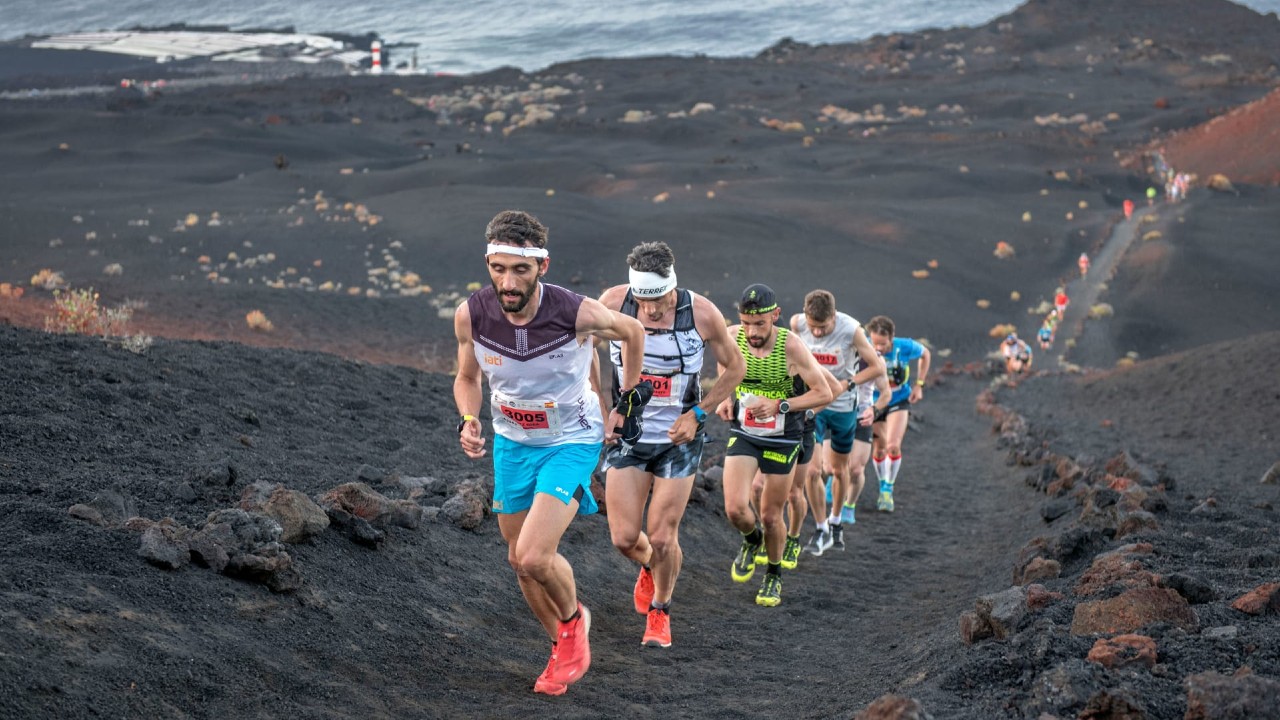 Transvulcania by UTMB Route
The 72km route begins at the Fuencaliente Lighthouse, heads to Tazacorte and finishes at the Plaza de España in Los Llanos de Aridane. Enroute, runners face 4,735m of ascent and 4,405m of descent.
They reach the highest point on the island, Roque de Los Muchacho, at 2,426m, descend to sea level and then ascend again to the finish line.
The 48km 'Volcanes' race also starts at the Fuencaliente Lighthouse this year and weaves through and over volcanic terrain to Los Llanos de Aridane, with the route peaking at over 6,200m.
'El Roque', the 28km challenge, features 'one of the highest starts of this distance in the world' as runners take on the last section of the 72km route, heading downhill for almost the entire race.
This year, the start of 'El Roque' will be at the Roque de los Muchachos Visitor Centre, but there is no significant difference to the distance or elevation gain.
Facts, Tips & FAQ
Transvulcania was first run in 2009 and has grown to become a major player in the UTMB series.
The island of La Palma is a chain of volcanoes, rocks, lava, orography, and climatic changes.
Runners can have one support crew member, who is only allowed to visit two checkpoints on the course – at El Pilar and Roque de los Muchachos. Pacers are not allowed.
If runners choose to use hiking poles, they must carry them throughout the race. Participants can expect a variety of dramatic volcanic landscapes interspersed with pine groves.
How to qualify and enter the Transvulcania by UTMB
Runners must be aged 20 or over to enter the three longer races, with 'El Roque Promesas' a 28km edition specifically for 16 to 19-year-olds.
In order to enter the main race or the 'Volcanes' event, runners must have a valid UTMB index in the 50K, 100K or 100M category. Entries closed on April 28.
Completing the ultra marathon earns finishers three UTMB running stones, with two available for the 'Volcanes' and one for 'El Roque'.
Transvulcania by UTMB records and past winners
Sweden's Petter Engdahl triumphed in the men's Transvulcania by UTMB in 2022, three months after winning the UTMB CCC. American Abby Hall claimed victory in the women's race, having finished third in the UTMB CCC.
Three-time winner Luis Alberto Hernando took the men's course record from fellow Spaniard Kilian Jornet when he secured his second title in 2015 in 6:52:39.
Another triple champion, Sweden's Ida Nilsson, set the women's record of 8:04:16 while winning her second title in 2017.
Past winners
2009 – Men: Salvador Calvo Redondo 9:00:36. Women: Marta Prat Llorens 13:57:51.
2010 – Men: Miguel Heras Hernández 9:09:32. Women: Nerea Martínez 10:53:33.
2011 – Men: Miguel Heras Hernández 7:32:11. Women: Mónica Aguilera 10:00:03.
2012 – Men: Dakota Jones 6:59:07. Women: Anna Frost 8:11:31.
2013 – Men: Kilian Jornet 6:54:09. Women: Emelie Forsberg 8:13:22.
2014 – Men: Luis Alberto Hernando 6:55:41. Women: Anna Frost 8:10:41.
2015 – Men: Luis Alberto Hernando 6:52:39. Women: Emelie Forsberg 8:32:59.
2016 – Men: Luis Alberto Hernando 7:04:44. Women: Ida Nilsson 8:14:18.
2017 – Men: Tim Freriks 7:02:03. Women: Ida Nilsson 8:04:16.
2018 – Men: Pere Aurell Bové 7:37:26. Women: Ida Nilsson 8:40:43.
2019 – Men: Thibault Garrivier 7:11:04. Women: Ragna Debats 8:09:25.
2022 – Men: Petter Engdahl 7:10:29. Women: Abby Hall 8:29:10.
Who is taking part at Transvulcania by UTMB in 2023?
Andreas Reiterer (ITA) is one of the leading contenders in the main event – he is a four-time Italian trail running champion, was third at the UTMB CCC in 2022 and claimed victory at Istria 100 by UTMB earlier this year.
Yanqiao Yun (CHN) is another favourite in the men's race after his wins at Val d'Aran by UTMB and Puerto Vallarta México by UTMB last year.
Tim Tollefson (USA) is a two-time podium finisher at Ultra Trail du Mont Blance (UTMB) and won Lavaredo by UTMB in 2019.
Yoel de Paz (ESP) is the reigning champion at Transvulcania while the French duo of Damien Humbert and Germain Grangier both claimed wins at UTMB races last year.
Dakota Jones (USA) is backed to go well – he beat Kilian Jornet at Transvulcania as a 21-year-old in 2012. Jared Hazen is another excellent American runner and finished second at Western States in 2019.
Meg Mackenzie (ZAF) was a top 10 finisher at the UTMB CCC last year and is likely to be prominent figure in the women's edition. She was also a winner at Ultra-Trail Drakensberg in 2022.
Emily Vaudan (CHE) was victorious at Trail Verbier St Bernard by UTMB in 2021 and 2022, with Fiona Porte (FRA) also set to challenge after notching a podium at Festival des Templiers last year.
Cristina Santerino (ESP) was second at Val d'Aran by UTMB 50K in 2021 while Martina Valmassoi (ITA) won the UTMB TDS in 2022.
Transvulcania by UTMB kit list
Runners are required to wear and carry certain kit, while other items are recommended.
Mandatory kit
Backpack – to carry mandatory equipment
Water – minimum of 1.5 litres in a bottle or bladder
Food reserve – 800kcal recommended
Personal collapsible cup – 15cl minimum
Headlamp – with red rear light and spare batteries
Mobile phone
Waterproof jacket – with hood and breathable membrane; 10,000mm minimum
Additional warm layer
Survival blanket – minimum 1.4m x 2m
Whistle
Elastic bandages – self adhering, minimum 100cm x 6cm
Warm gloves
Hat or bandana