French pair Germain Grangier and Amandine Ginouvès shone in the Pyrenees with victories at Val d'Aran by UTMB.
The first of two UTMB World Series Majors this year, the race saw more than 3,700 runners from over 70 countries take on some of the most spectacular trails in Europe, with the 161km VDA the flagship race.
Grangier was the only athlete to complete the course, which featured 10,200m of ascent, in under 24 hours. His time of 23:24:54 saw him finish more than an hour ahead of Spain's Gaspar Bartra (24:27:36) and Alexandre Urbina (24:56:17).
No respite
It was Grangier's first-ever 100-mile race and he said afterwards: "I am quite surprised how difficult the race was. There's never a respite. I love running at night so that was good and I saw quite a few wild animals. It was very pretty – I love the Pyrenees, so the fact that this race is here for me was very attractive."
Ginouvès' victory was even more emphatic in the women's race where her 30:17:22 clocking brought her home eight hours ahead of her nearest rival.
Peru's Martha Ccorahua Huallpa was second in 38:18:03, with Spain's Ludes Palao Belda (38:45:08) third.
Ginouvès, from La Gaude in southeastern France, was taking on her second 100-miler and had been attracted to Val d'Aran by UTMB by the beauty of its setting. "An absolutely beautiful course," said Ginouvès after the finish. "I had chosen this ultra for the Pyrenees and the landscapes and I was not disappointed. It was an incredible finish with the crowd on fire – it was magic and my months of training paid off."
'Enjoying the moment'
Alongside the main event, the Val D'Aran weekend featured three shorter races.
Spain's Andreu Simón was the men's champion in the Camins d'Hèr 105km race with a time of 11:48:45.
"I am super-happy about this win, but exhausted, so I need some time to process this victory," Simón said. "Now I'm enjoying the moment of having won my first UTMB World Series Major."
Italy's Philip Ausserhofer (11:59:08) was second, ahead of Sweden's Johan Lanz (12:29:52).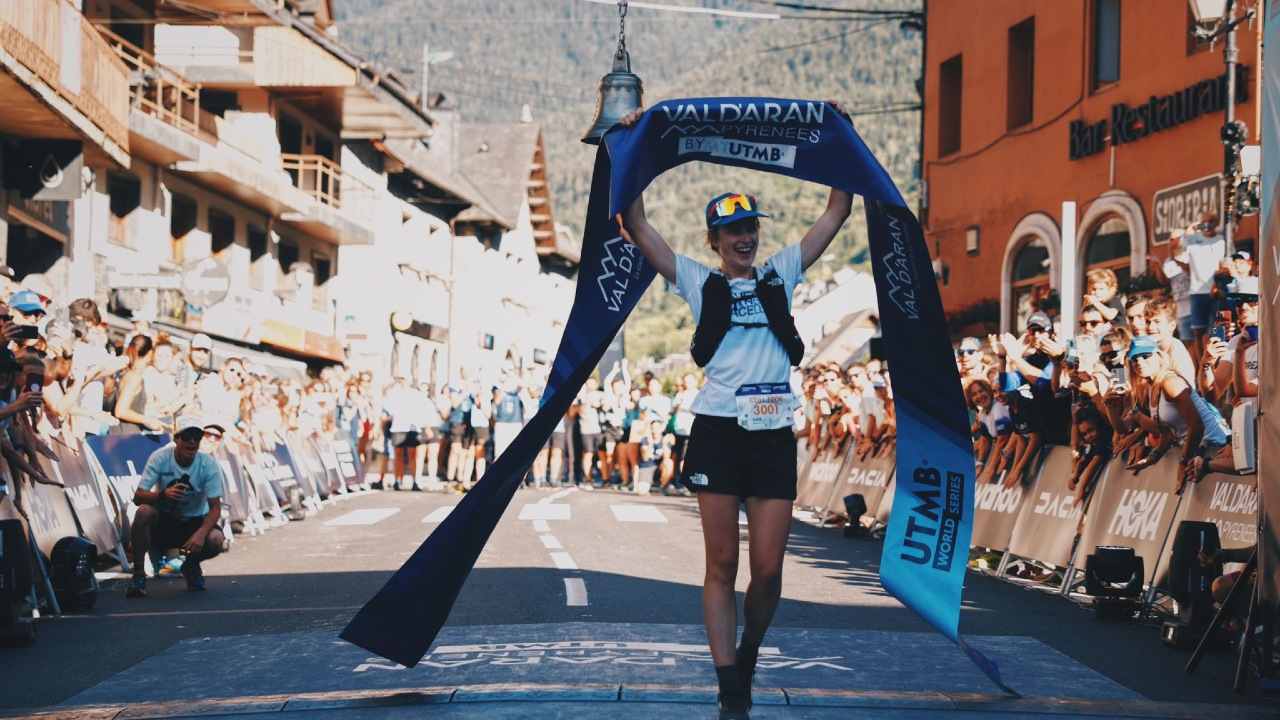 American Katie Schide took the women's honours in 13:06:34, with Bolivia's Elisabeth Rios Peredo (14:53:03) second and France's Alix-Anne Farque (16:25:24) third.
China's Yun Yanqiao pipped Romania's Ionel Cristian Manole (5:38:48), who won last year's main race, for the men's honours in the Peades d'Aigua 55km event.
Argentina's Sergio Gustavo Pereyra 05:46:32 was third over a course that featured 3,300m of ascent and 3,700m of descent.
Yun is spending the summer in Europe before the UTMB Mont-Blanc in August, and he said afterwards: "This race is very technical and the first time I ran in the Pyrenees, so I didn't dare to run it very fast.
"I only sped up in the last section of the race and I really enjoyed this. I am from Beijing and the trail running is very different to home and from the Alps but it's very beautiful."
Spain's Maite Maiora Elizondo enjoyed a more comfortable win in the women's race, clocking 6:55:20.
American runner Emily Schmitz was second in 7:03:53, with France's Aurélie Paul (7:33:29) third.
The 15km SKY Baqueira Beret race saw wins for Spain's Roger Comellas (1:18:03) and Gisela Carrión (1:26:41).
Argentina's Sergio Gustavo Peyreya (1:19:54) and Spain's Andres Jimenez Rey (1:20:57) completed the men's podium behind Comellas.
Spanish pair Andre Rico Gonzalez (1:29:19) and Claudia Tremps (1:31:09) were second behind Carrión in the women's race.