Ultra-Trail Australia by UTMB is a multi-race UTMB World Series event taking place in and around the town of Katoomba in the heart of the World Heritage-listed Blue Mountains, New South Wales.
The event is one of the most famous in Australia and has been won by the likes of Kilian Jornet, who took the 2011 title. It is the largest trail running event in the Southern Hemisphere and second largest globally.
Ultra-Trail Australia offers four races of varying distances – with three offering UTMB World Series running stones which give finishers a chance of competing in the UTMB World Series finals at the legendary Ultra Trail du Mont Blanc (UTMB).
The longest race, the UTA100, also acts as a qualifier for the prestigious Western States 100.
Here is our full guide to learning about the event, following it live or even taking part.
Date, start time & live tracking
The 2023 Ultra-Trail Australia – the 15th edition – will take place over four days, from 11-14 May inclusive, with all races starting and finishing at Scenic World in Katoomba.
The UTA100 will start on Saturday May 13 between 6:20am and 7:54am (all local time). The 100.4km route will have a cut off time of 28 hours.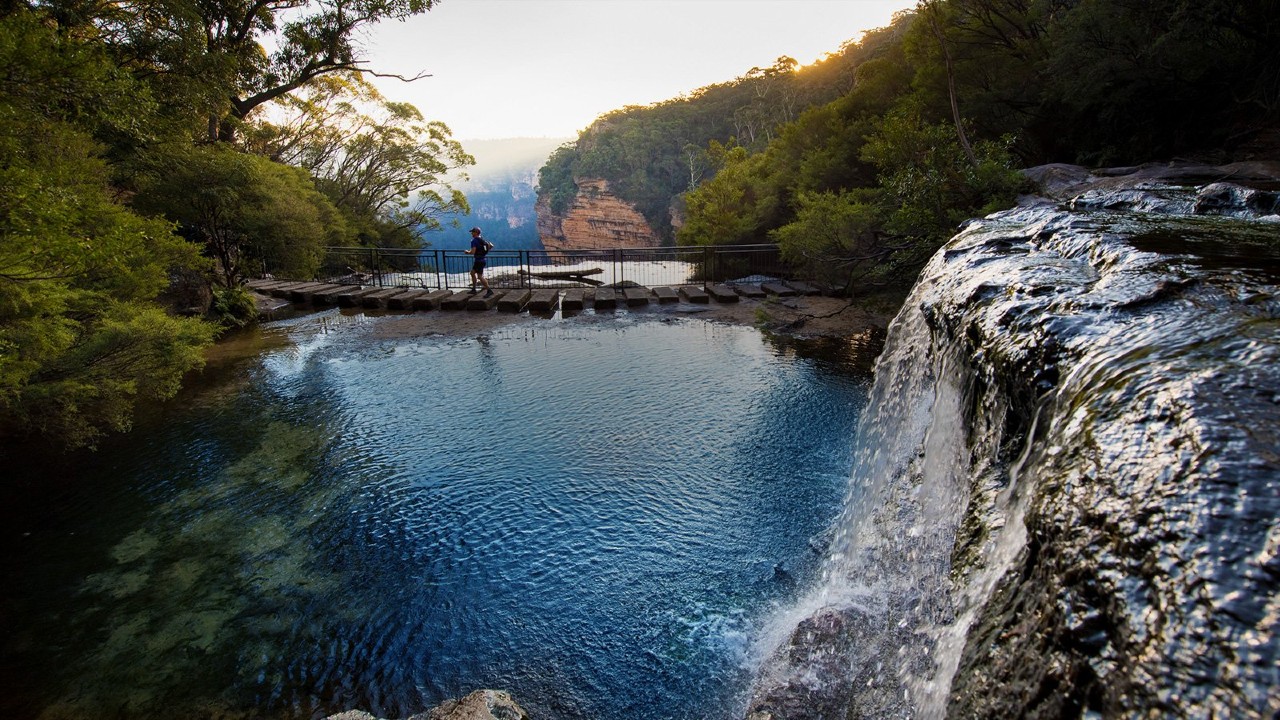 UTA50 starts at the same place on the same day between 6:32am and 8:02am, and will have a 14hr 30min cutoff time.
UTA22 starts on Friday May 12 between 6:20am and 8:30am, with a cut-off time of 7hr 30min. UTA11 starts on Thursday May 11 between 11:00am and 12:20pm, with a four-hour cutoff time.
All runners will be available to track via the UTMB live website HERE.
Ultra-Trail Australia by UTMB route
All races in the Ultra-Trail Australia by UTMB 2023 will start and end at the Scenic World on Violet Street and Cliff Drive.
The Ultra-Trail Australia 100, or UTA100, is the main event – a 100.4km race with 4460m of elevation gain, it poses a difficult challenge to experienced ultrarunners and is billed as "the race that every trail runner in Australia aspires to do at least once."
Taking runners into the Blue Mountains, the UTA100 route features such landmarks as Golden Stairs walking track, the stunning Leura Forest and the picturesque Wentworth Falls. Perhaps most famous is the end, where runners must contend with the 951 Furber Steps before making the finish line.
It has a total of seven checkpoints, with checkpoints three, four, five and six accessible to support crew. Checkpoints three, four and six are also the only ones where a drop bag is allowed.
The UTA50 follows the final half of the UTA100 course; it has 2450m of elevation, with the Wentworth Falls featuring at around the 25km point and the run up the Furber Steps preluding the finish line.
There are two main checkpoints and an Emergency Aid station on the route, with drop bags not available at any point aside from start-finish at Scenic World.
Both the UTA100 and UTA50 feature a mixture of single track walking paths and wide dirt roads- with a small portion of normal road running.
The UTA22 also includes a number of the highlights of the larger courses such as the Golden Stairs, but it only features the final section of the Furber Steps and 910m of elevation gain across the 21.6km route.
UTA11 is designed to be an accessible introduction to trail running and the Ultra-Trail Australia by UTMB but features all 951 Furber Steps. It has an elevation gain of 477m.
Facts, Tips & FAQ
As a UTMB World Series event, running stones are on offer to any finisher of three of the four races at Ultra-Trail Australia by UTMB.
Running stones are distributed as follows:
UTA100: three running stones
UTA50: two running stones
UTA22: one running stone
UTA11: no running stones
In addition to this, the the 2023 Ultra-Trail Australia 100 is a qualifying race for the 2024 Western States 100; all runners who complete UTA100 in 19 hours or less will qualify to enter a lottery for Western States.
In addition, there are a number of race-speicifc prizes on offer. First place male and female overall in the UTA100 will both claim a prize of $1,500 AUD, while the ten fastest male and females will receive a trophy, the five fastest free entry to next year's event and trophies for the first finisher in each sub-division.
In the UTA50, the five fastest male and females receive a trophy with the three fastest male and females receive free entry to the following year's event.
The three fastest male and female finishers receive a trophy and free entry to the following year's event in UTA22, but while trophies will be awarded there is no free entry on offer to those in the UTA11.
All checkpoints will be signposted around 200 metres before, with exit signs indicating the distance to the next checkpoint. They will be stocked with a variety of resources and facilities, from food and water to baked goods and lollies.
The UTA is a 'cup-less' event, meaning no cups will be available at any checkpoint and as such runners will need to provide their own.
The UTA 100 has a number of rules related to running poles. Poles are not permitted to be used in leg one of the course 'due to creating a dangerous tripping hazard' but are permitted to be used from Checkpoint 1 onwards. They must also be fully collapsible so as to be able to either fit inside your running pack or strapped to the outside when not in use.
Drop bags are also subject to a number of rules pertaining to them. The bag needs must be closable, soft and of a reasonable size. They must be handed in on Friday May 12 between 10:00am and 7:00pm.
How to qualify and enter Ultra-Trail Australia by UTMB
There is no qualifying for Ultra-Trail Australia by UTMB, but there is some age criteria entrants must reach in order to be allowed to race.
For UTA100 and UTA50, runners must be at least 18 years of age on race day while this limit is lowered to 16 for the UTA22 and 12 for UTA11.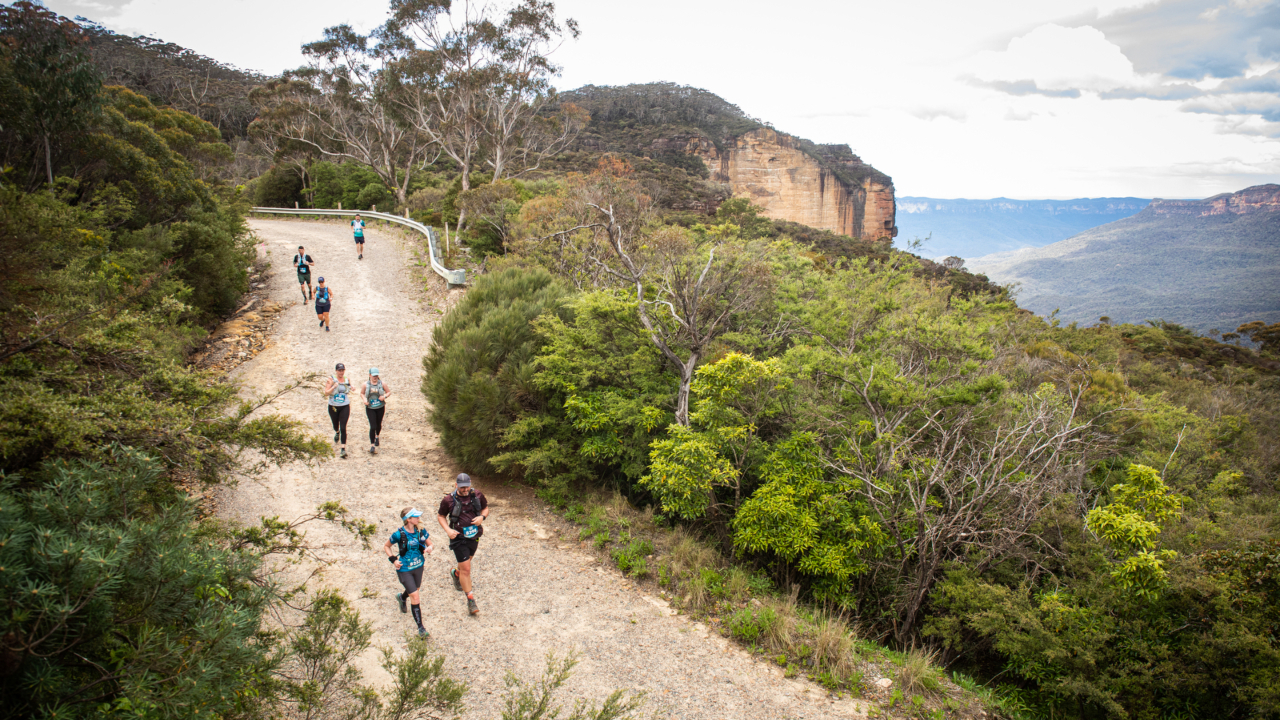 For 2023 prices are as follows:
UTA100: AUD $485.00
UTA50: AUD $325.00
UTA22: AUD $180.00
UTA11: AUD $115.00
More details on entry and links to sign up for the next edition can be found HERE.
Ultra-Trail Australia by UTMB records and past winners
UTA100 Past Winners
2008 – Men, Andrew Kromar 10:22:00. Women, Heather Logie 12:45:00.
2009 – Men, Andrew Lee 10:20:51. Women, Julie Quinn 12:13:45
2010 – Men, Stu Gibson 09:54:19. Women, Beth Cardelli 12:16:15
2011 – Men, Kilian Jornet 09:19:06. Women, Julie Quinn 11:39:07
2012 – Men, Ryan Sandes 09:22:45. Women, Beth Cardelli 11:18:49
2013 – Men, Brendan Davies 09:16:12. Women, Beth Cardelli 11:01:08
2014 – Men, Stu Gibson 09:31:11. Women, Nuria Picas 10:57:46
2015 – Men, Dylan Bowman 08:50:13. Women, Dong Li 11:05:22
2016 – Men, Pau Capell 09:20:14. Women, Beth Cardelli 11:16:14
2017 – Men, Tim Tollefson 08:52:00. Women, Lucy Bartholomew 10:52:35.
2018 – Men, Brendan Davies 09:18:10. Women, Kellie Emmerson 11:05:48.
2019 – Men, Marcin Swierc 09:31:15. Women, Amy Lamprecht 11:03:28.
2021 – Men, Matthew Pellow 09:51:32, Women, Cecilia Mattas 11:35:40.
2022 – Men, Reece Edward 08:10:11, Women, Anna Mckenna 09:15:23.
UTA50 Past winners
2013 – Men, Vlad Shatrov 04:15:21. Women, Kylie Murray 05:19:50
2014 – Men, Matt Cooper 04:29:16. Women, Jane Gordon 05:30:56
2015 – Men, Andrius Ramonas 04:23:41. Women, Emma Rilen 04:59:05
2016 – Men, Mark Green 04:24:30. Women, Hanny Allston 05:08:15
2017 – Men, Samir Tamang 04:07:12. Women, Kellie Emmerson 04:42:31
2018 – Men, Sam Burridge 04:34:55. Women, Cecilia Flori 05:00:22
2019 – Men, Rhett Gibson 04:25:18. Women, Gemma Jenkins 05:13:46
2021 – Men, Tom Brimelow 04:35:44. Women, Ruth Croft 04:52:09
2022 – Men, Ben St Lawrence 03:54:29. Women, Patricia McKibbin 04:48:17
UTA22 Past winners
2016 – Men, David Byrne 01:43:27. Women, Stephanie Auston 02:03:28.
2017 – Men, Vlad Shatrov 01:42:31. Women Sophie Horrocks 02:04:24.
2018 – Men, Ben St Lawrence 01:35:23. Women, Lucy Bartholomew 01:49:54.
2019 – Men, Ben Duffus 01:34:27. Women, Stephanie Auston 01:49:12.
2021 – Men, Charles Hamilton 01:51:39. Women, Paige Penrose 02:01:52.
2022 – Men, Robbie Begg 01:16:23. Women, Ingrid Cleland 01:31:44.
Who is taking part at Ultra-Trail Australia by UTMB in 2023?
Lucy Bartholomew is a former UTA100 winner and is the top-ranked female at this year's race, having won the Tarawera Ultramarathon in February.
Lou Clifton will be looking to get the better of Bartholomew this time around, with her best finish at Ultra-Trail Australia being a third-place finish behind her compatriot in 2017.
Jessica Collins was fourth in 2021 while Brooke Thomas (NZL) won last year's Taupō Ultramarathon 100km.
Ronnie Sparke is the leading contender in the men's UTA100 – he was second in the UTA50 in 2022 and was second in his first ever 100km race at Ultra-Trail Kosciuszko by UTMB.
Mike Carroll is a three-time top 10 finisher at the UTA100, managing fourth last year. Morgan Lindqvist (SWE) and Dominic Bullock have both finished inside the top five before at Ultra-Trail Australia, while Shane Johnstone was fourth at Ultra-Trail Kosciuszko in December.
Ultra-Trail Australia by UTMB kit list
The following is all listed as mandatory equipment for the UTA100.
Long Sleeve Thermal Top (polypropylene, wool)
Long Leg Thermal Pants (polypropylene, wool)
Waterproof and Breathable Jacket with Fully Taped (Not Critically Taped) Waterproof Seams and Hood
Beanie, Balaclava or Head Sock (Buff)
Full-Fingered Lightweight Thermal Gloves (Polypropylene, Wool)
High-Visibility Safety Vest that complies with Australian Standard AS/NZS 4602:1999 – D/N Class for Day and Night Time Wear
Headlamp
Small Backup Light
Mobile Phone in Working Order with Fully Charged Battery and working SIM Card
Compass
Whistle
Emergency Space Blanket (or Light Bivvy Sack Equivalent)
Compression Bandage (Minimum Dimensions 7.5cm Wide x 2.3m Long Unstretched)
Lightweight Dry Sack
Water Bottles or Bladders, 2 Litre Capacity
Food Bars / Portions
Ziplock Bag for Personal Rubbish
Waterproof Map Case
Long Leg Waterproof Pants
100-Weight (Minimum) Long Sleeve Synthetic Fleece Top
Course Map & Course Descriptions
Participants Emergency Instructions Card
Race Number '
Timing Tag for Backpack (Bag Tag) '