The Ultra Trail du Mont Blanc (UTMB) is one of the world's best known endurance running events, taking place each August.
It is the centrepiece of a week-long event named after it, the UTMB World Series Finals. Based in Chamonix, France, it sees almost 10,000 runners compete in seven different races.
A brutal 170km route, the UTMB itself features more than 10km of ascent.
Here is our full guide to learning about 'the Superbowl of ultrarunning,' from following it live to even how to take part in it yourself.
You can read our full report of the 2023 men's race and Jim Walmsley's win HERE.
You can read about Courtney Dauwalter's historic win in the 2023 women's race HERE.
UTMB 2024 date, start time & live tracking
UTMB 2024 will take place at the end of August/ start of September. In 2023, the UTMB started at 1800 local time (1700 BST) on Friday September 1, 2023, with runners having 46 hours 30 minutes to complete the course.
Each competitor carries a GPS tracking device, which allows race organisers to monitor their progress and to ensure every competitor stays safe. The GPS device also allows fans to follow the race online.
You can follow the UTMB live HERE.
Ultra Trail du Mont Blanc (UTMB) Route
The UTMB is a 170km loop that takes runners through three countries; France, Switzerland and Italy. On many occasions the course goes above 2,400m in altitude as competitors follow the Tour Du Mont Blanc route.
The race begins in Chamonix and heads anticlockwise to Saint Gervais, Les Contamines and La Balme. Les Chapieux and Lac Combal are checkpoints five and six before the race descends to Courmayeur before climbing once more, eventually hitting Grand Col Ferret- the highest peak of the race at 2,537m.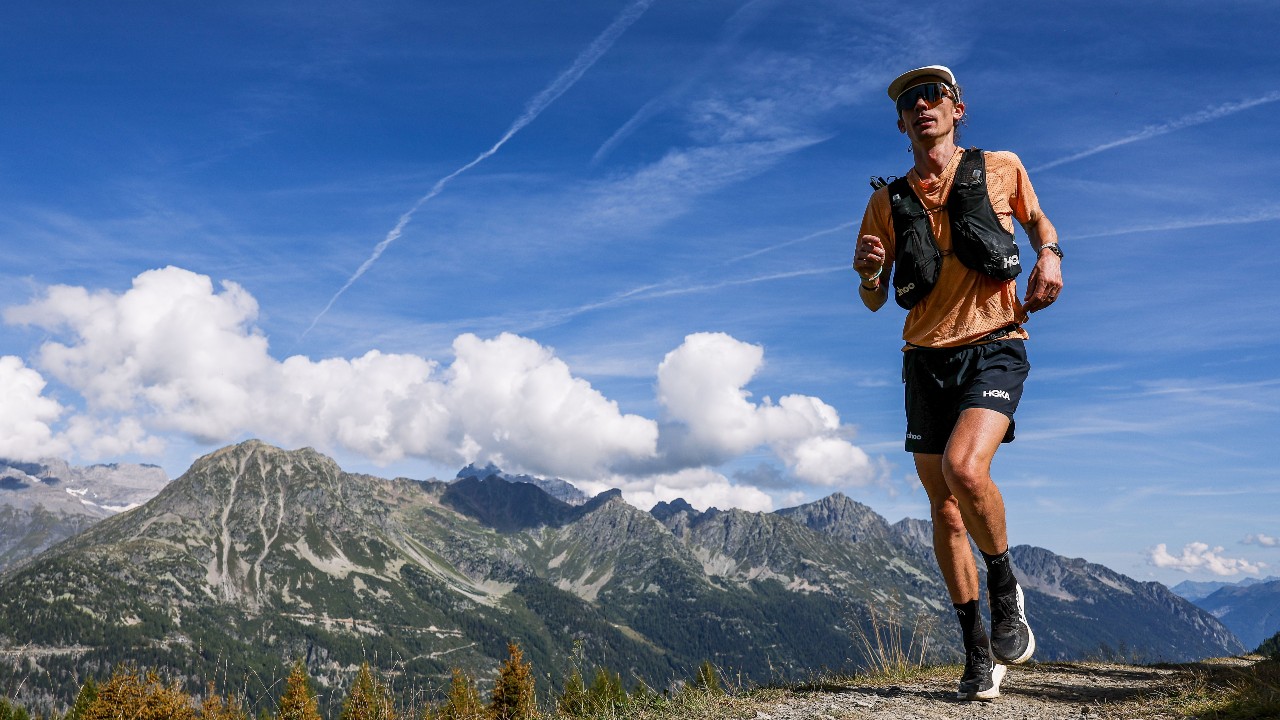 The route continues via La Fouly and Triente, with the final checkpoint coming at La Flégère, 166.3km into the course. From there it's all downhill, resulting in an exciting finish as runners descend into Chamonix hoping to be inside the 46:30 cut-off time.
There are several climbs and subsequent descents runners find difficult. The first comes around 10km in, when runners will climb to Col de Voza (1700m) around 13km in. After descending all the way down to Saint Gervais (21km), runners then begin a long climb to Croix du Bonhomme (2500m) 45km.
Other notable climbs include going from Cormayeur (81km) to the Cormayeur Refuge Bertone (87km) and the subsequent climb to Grand Col Ferret (104km), Champex-Lac (127km) to Le Giete (138km) and Trient (143km) to Les Tseppes (147km)- all of which have seen race-changing overtakes throughout the years.
Generally there is always some modification to the route due to weather or route condition. Last year,at UTMB 2023, organisers took the decision to modify the route, changing the Col des Montets section. Runners instead headed via the Béchar and the Bois de la Trappe, a variation planned for bad weather conditions.
Facts, Tips & FAQ
The UTMB was first held in 2003 when only 67 runners completed the course. Tackling rain, hail and cold weather, Nepal's Dawa Sherpa and USA's Krissy Moehl were the inaugural men's and women's winners.
Two years later, Britain's Lizzy Hawker won her first UTMB title. She has since recorded another four victories and holds the record for podium placings with six, having also finished second in 2009.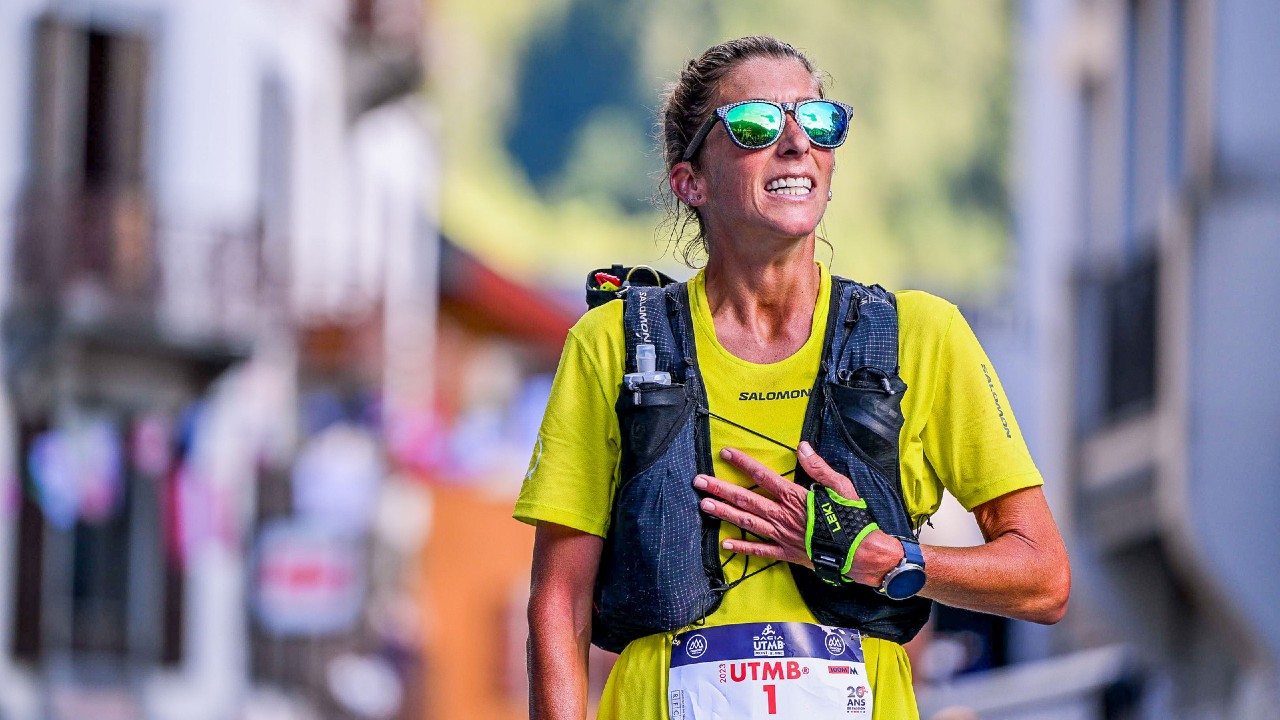 While Hawker is the UTMB's leading lady, Frenchman Francois D'Haene and Spaniard Kilian Jornet top the men's rankings with four wins. D'Haene's came in starts: 2012, 2014, 2017 and 2021, with Jornet triumphing in 2008, 2009, 2011 and 2022.
It took 20 years for an American man to win the UTMB, with Jim Walmsley finally breaking the barrier in 2023. By contrast, five US women have won the race on nine occasions between them.
The age range of elite competitors at mountain running's most famous event is illustrated by the men's winners from 2006 to 2008. Italian veteran Marco Olmo finished strongly to take victory aged 58 and 59 in 2006 and 2007, clocking 21:06:06 and 21:31:58 respectively.
The following year saw the now legendary Jornet claim the spoils aged just 20 and the youngest entrant in the race.
As well as tackling the challenging terrain, runners must be prepared for a considerable range of weather conditions.
The average maximum temperature for Chamonix in late August/early September is 26°C, with the daytime average around 21°C. Overnight, temperatures average 10°C, with 6°C not uncommon.
With every 1000m of ascent, you can expect a 6.5°C drop in temperature, which is why runners are required to carry such a variety of clothing.
On average, the last week of August/first week of September only features one day of rain, but light showers are fairly likely.
How to qualify and enter for Ultra Trail du Mont Blanc (UTMB)
Qualification for the UTMB is based around a points system called Running Stones.
Running stones are awarded for UTMB World Series events, with the UTMB acting as the UTMB World Series Finals event for the 100 mile category.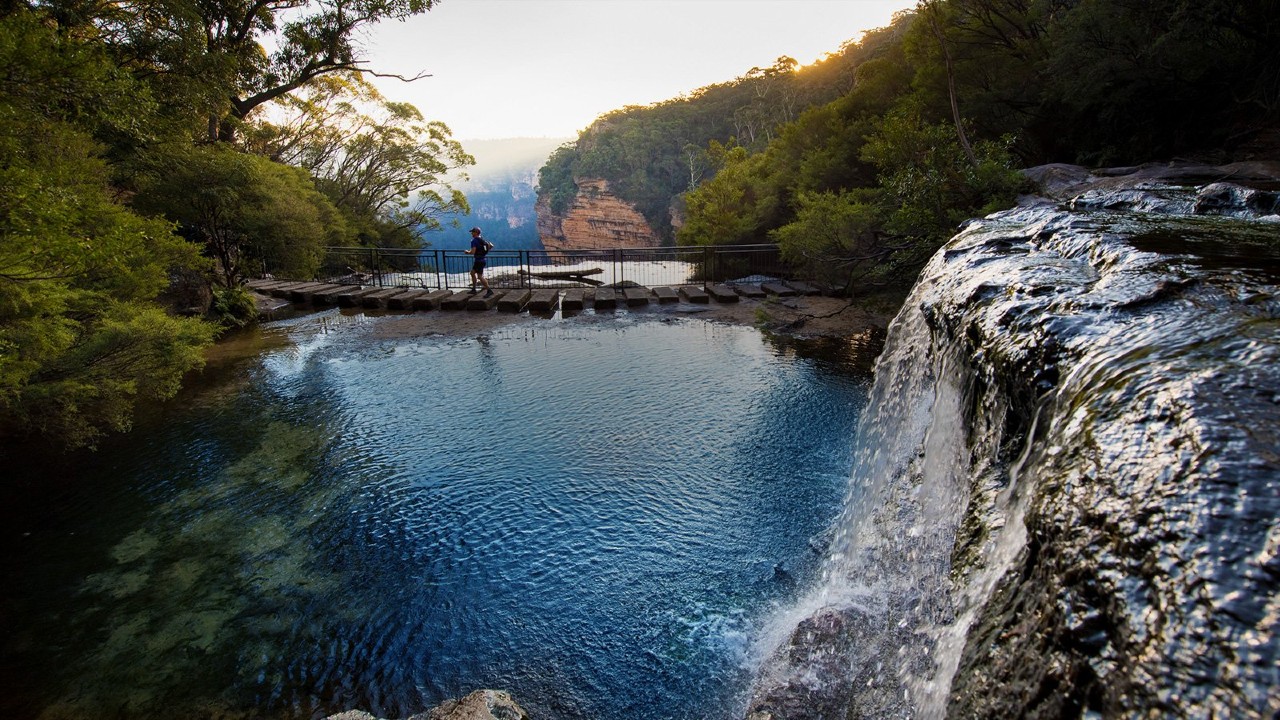 The more qualifying races runners compete in, the greater chance they have of earning a place through the ballot by way of having more Running Stones- which act as an entry to the lottery for a spot.
Generally, one running stone is earned for a 20k index race, two for a 50k, three for a 100k and four for a 100 mile.
All running stones earned at a UTMB World Series Major are doubled.
A list of UTMB World Series Events can be found HERE.
Ultra Trail du Mont Blanc (UTMB) records and past winners
France's Francois D'Haene and Spain's Kilian Jornet are the most successful male runner in UTMB history with his four wins apiece. Great Britain's Lizzy Hawker is the most successful female runner, having also won four times – in 2005, 2008, 2010 and 2011.
Prior to 2022, different reports had credited D'Haene and Spain's Pau Capell with the men's course record. D'Haene clocked 20:11:44 in 2014 and Capell 20:19:07 in 2019, but distances have been adapted over the years due to weather conditions. In 2020, with the race postponed due to Covid-19, Capell attempted to break the 20-hour barrier in a solo effort, but his "Breaking 20" bid came up short.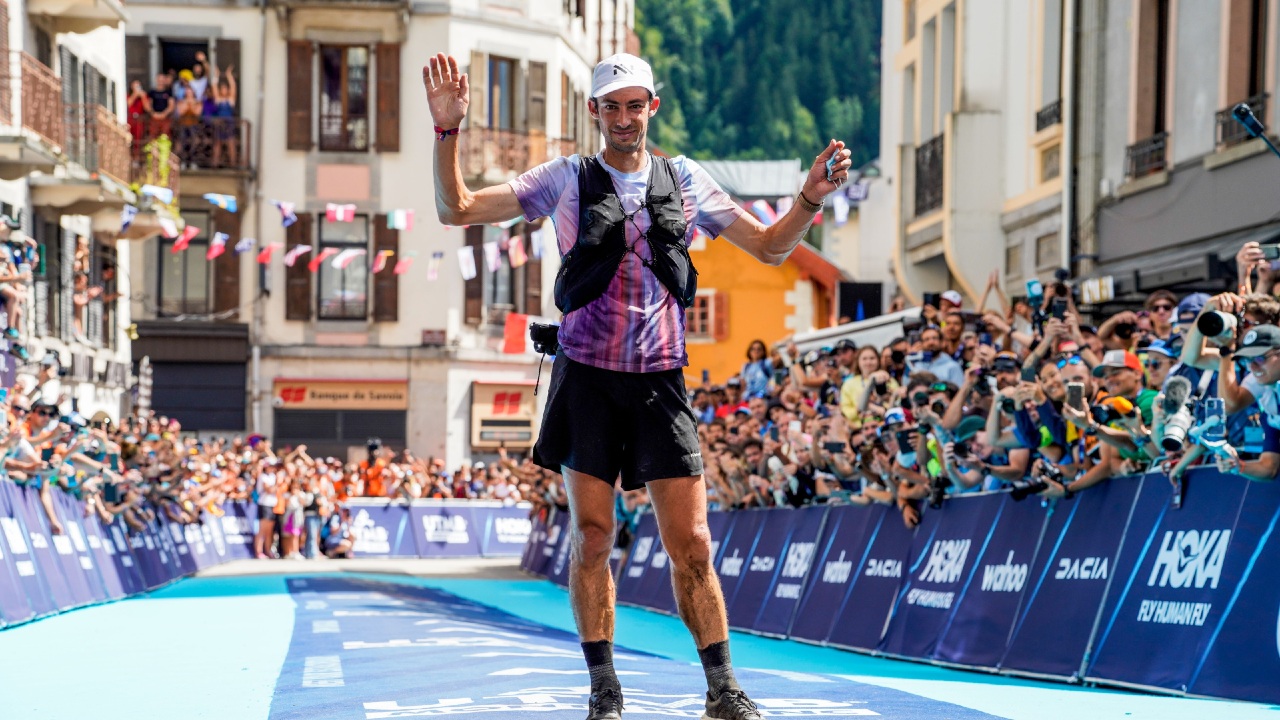 However, Jornet's 2022 winning time of 19:49:30 resolved that debate. Indeed, 2022 runner-up Mathieu Blanchard (France) recorded the second fastest time ever with 19:54:50.
There is universal agreement that USA's Courtney Dauwalter set a new women's record in 2021. Dawaulter finished seventh overall as she clocked 22:30:55 that year. This was six minutes 42 seconds faster than the previous record set by fellow American Rory Bosio in 2013. Dauwalter's effort was even more impressive, since the course was around 3km longer in 2021 than in 2013.
Past winners (since 2010)
2010 – Men: Jez Bragg (GBR) 10:30:37. Women: Lizzy Hawker (GBR) 11:47:30*
2011 – Men: Kilian Jornet (SPA) 20:36:43. Women: Lizzy Hawker (GBR) 25:02:00
2012 – Men: Francois D'Haene (FRA) 20:34:57. Women: Lizzy Hawker (GBR) 12:32:13*
2013 – Men: Xavier Thevenard (FRA) 21:09:15. Women: Rory Bosio (USA) 22:37:26
2014 – Men: Francois D'Haene (FRA) 20:11:44. Women: Rory Bosio (USA) 23:23:20
2015 – Men: Xavier Thevenard (FRA) 21:09:15. Women: Nathalie Mauclair (FRA) 25:15:40
2016 – Men: Ludovic Pommeret (FRA) 22:00:2. Women: Caroline Chaverot (FRA) 25:15:40
2017 – Men: Francois D'Haene (FRA) 19:01:54. Women: Núria Picas (SPA) 25:46:43*
2018 – Men: Xavier Thevenard (FRA) 20:44:16. Women: Francesca Canepa (ITA) 26:03:48
2019 – Men: Pau Capell (SPA) 20:19:07. Women: Courtney Dauwalter (USA) 24:34:26
2020 – Postponed due to Covid-19
2021 – Men: Francois D'Haene (FRA) 20:46:00. Women: Courtney Dauwalter (USA) 22:30:55
2022 – Men: Kilian Jornet (SPA) 19:49:30. Women: Katie Schide (USA) 23:15:12
2023 – Men: Jim Walmsley (USA) 19:37:43 Women: Courtney Dauwalter (USA) 23:29:14
* Courses shortened due to poor weather
Who is taking part at Ultra Trail du Mont Blanc (UTMB) 2024?
Our overview of the elite contenders for UTMB 2024 will be available closer to the time, but out preview of the 2023 UTMB field can be found HERE.
Ultra Trail du Mont Blanc (UTMB) kit list
All participants in the UTMB must carry mandatory kit at all times. A full kit check takes place prior to the start. Depending on the conditions, organisers may require competitors to carry additional hot or cold weather kit.
Basic kit
Backpack – needs to carry mandatory kit throughout the race.
Mobile phone – runners must be reachable at any time before, during and after the race. The phone must be enabled for roaming in France, Italy and Switzerland. A battery pack is recommended.
Water beaker – 150ml minimum capacity. Bottles or flasks with lids are not permitted.
Water – minimum supply is 1 litre.
Torches – runners must carry two, each with spare batteries. Recommended brightness is 200 lumens.
Survival blanket – minimum size is 1.40m x 2m.
Whistle
Bandage – self adhesive, for bandaging or strapping. Minimum size 100cm x 6cm.
Food – 800kcal recommended (eg 2 energy gels + 2 power bars, each 65g).
Jacket – must have integrated hood and be waterproof to minimum of 10,000 Schmerber.
Trousers or leggings – must cover legs completely.
Headgear – either cap, bandana or buff.
Base layer – must be long-sleeved, weighing at least 180g or 110g if combined with a windproof jacket
Hat
Waterproof gloves
Waterproof over trousers
ID – passport or ID card
Hot weather kit
Sunglasses – can double up as protective eye wear in cold weather kit
Cap – Saharan cap or any combination which completely covers the head and nape of the neck
Sunscreen – minimum is SPF 50.
Water – minimum 2 litres
Cold weather kit
Protective eyewear
Third warm layer – to go between baselayer and waterproof jacket
Extra jacket – Fleece or compressible down jacket
Trail shoes – must be closed toe, minimalist or ultralight shoes are not permitted.
UTMB Events
The UTMB is the showpiece of a festival of running that includes six other events of varying difficulty.
These are the 100km CCC, the 145km TDS, the 55km OCC, the 300km PTL, the 40km MCC, and the YCC youth series.