Monday 8th March is International Women's Day (IWD) and we're taking the opportunity to celebrate some of the inspirational women who have helped to shape the sport of mountain running. Not only are there some truly exceptional female runners who have continually pushed the boundaries, but there are also some key women in coaching, event organisation and in the sport's management who have contributed so much. 
The theme of this year's IWD is 'choose to challenge', because 'a challenged world is an alert world and from challenge comes change'. Mountain running should have gender equality in every respect – race distance, prize money, and team numbers. WMRA events and World Cup events have equality written into the rules in all of these areas at junior and senior level. Media coverage of races should also have equality or it should rightfully be challenged. If there's one thing that will encourage more women to take up the sport it's seeing other women taking part.
Inspirational athletes
There has been no shortage of inspirational female athletes in mountain running throughout the history of the sport. We will name just a few.
Isabelle Guillot of France won bronze in the European Mountain Running Championships in 1988 and then she proceeded to string together an incredibly consistent and lengthy set of impressive results! This included 4 gold, 3 silver and 2 bronze medals in the World Championships, as well as European gold, then she bookended those with another bronze in the European Championships in 2006 . She has had considerable success as a masters athlete since. There are few athletes in any sport who can claim so much success over such a long period!
A few years after Isabelle began her run of success, Poland's Izabela Zatorska began one of her own. There followed an amazing run of podium and top 10 finishes between 1996 and 2005, including 2 European Championship golds in 1999 and 2000, and 3 World Cup wins. In the World Championships she achieved a silver and 3 bronzes. She also won iconic mountain races like Drei Zinnen, Challenge Stellina and Smarna Gora. As well as achieving success in the mountains, she also won many road races all over the world, from 5k to marathon.
At around the same time as Isabela burst onto the scene Melissa Moon, a track and cross country athlete from New Zealand, was coming to the conclusion that mountain running might be the sport for her. The reasons? Firstly, a 3rd place at the 1997 World Championships, which she was persuaded to take part in after staying on in Europe for a week after the World Student Games. And secondly, she said, "I also loved the culture of the mountain runners, just like an extended family, and I felt energized in the mountain and villages of Europe." After a 3rd and 4th place in the World Mountain Running Championships she went on to win in 2001 and defended her title in 2003. Read our full interview with this inspirational athlete here: https://www.wmra.info/news/latest-news-from-the-wmra/796-where-are-they-now-melissa-moon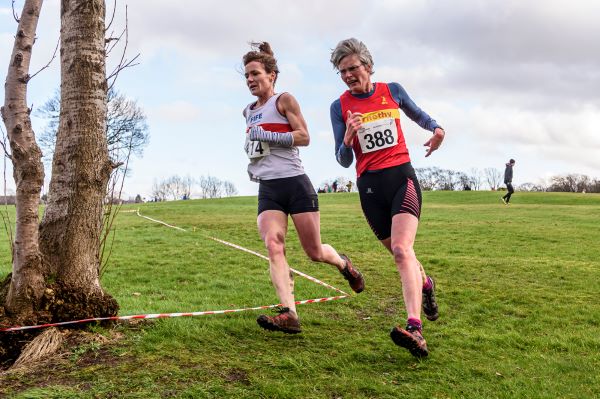 One of the athletes Melissa enjoyed an epic tussle with at the 2003 World Championships was Angela Mudge of Scotland. Coming from the world of hill and fell running (Angela won the British Fell Running Championships 5 times), she achieved great success in mountain running. She won the World Cup 3 times, won the 2000 World Championships and came 2nd in 2003, leading Scotland's women's team to the gold medal (incredibly the 3 counters all ran for the same club – Carnethy Hill Runners). She won Pikes Peak Marathon and Sierre Zinal, breaking many course records at iconic international races during her career.
She continues to give so much back to the sport as the National Lead for Hill and Mountain Running in Scotland and she has inspired many runners along the way. Sarah Tunstall says of her: "Angela Mudge has probably been my greatest inspiration and personally I have always looked to her times as a guide of how well I have raced on the mountains. When I was still a junior I saw her storm the Inter-county XC (even though the commentators didn't know her name) and qualify for the 1999 World XC. This always stuck with me and gave me confidence when I used to race the (much) quicker track girls over XC. In 2009 when I finished 2nd on the same course, seeing her win all those years previously had given me some kind of weird belief that mountain runners could mix it with the Steph Twells of the world!" Read our interview with Angela https://www.wmra.info/news/latest-news-from-the-wmra/799-it-s-just-you-against-the-elements-an-interview-with-angela-mudge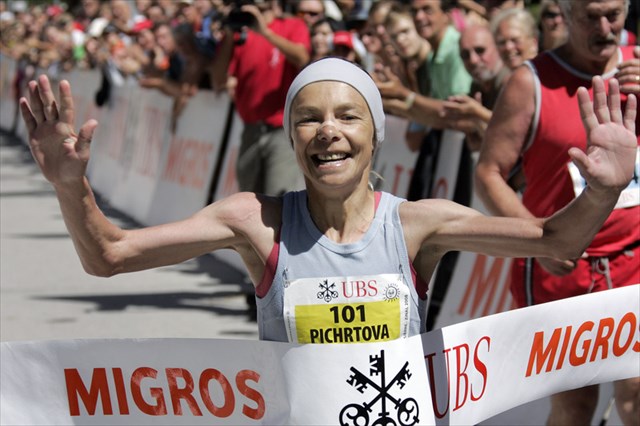 Around the same time as Angela, Anna Pichrtova of the Czech Republic was beginning a long and successful period in the sport. She was born in the Slovak Republic and initially balanced marathon running with mountain running. Her mountain running debut was in the World Trophy in 1992, where she won the silver in the junior race and then finished 13th in the senior race (for Slovakia) – in the same competition! An early feat which set the scene for her hugely successful career. She proceeded to do well in the World Trophy in 1993 and 1994, but it was the period of 2001 – 2009, competing for the Czech Republic, where she really dominated. She won gold, 2 silvers and a bronze in the World Championships, 2 golds, 2 silvers and a bronze in the Europeans, 2 golds in the World Long Distance Mountain Running Championships and she won 2 World Cups. Her Sierre Zinal Course Record stood for 11 years, finally falling in 2019.
The female athlete who has dominated most recently is of course Austria's Andrea Mayr. It's hard to sum up her illustrious career, particularly as it is still very much ongoing. Her results speak for themselves – she is a 6-time World Champion (2006, 2008. 2010, 2012, 2014 and 2016) and won the World Cup in 2010, 2014, 2016 and 2018 – but it also has to be emphasised that many of her victories were by large margins. Her speed and climbing ability are legendary. And, as Anne Buckley puts it "Andrea Mayr used to finish well up among the decent men!".
As well as her success in mountain running Andrea has had huge success in ski mountaineering, Red Bull 400 and even tower running. But what might be most inspiring about Andrea Mayr is the fact that she fits all of this around her job as a medical doctor in a hospital. It's hard to imagine a tougher job in the midst of the current pandemic.
This just highlights a few of the inspiring female mountain runners we could mention. There are many, many more, such as Lucy Wambui Murigi (winner of the 2017 and 2018 World Championships), who has done so much to put Africa at the forefront of mountain running.
A shout to the race directors
As well as athletes we'd like to mention race directors like Danelle Ballengee, director of the Moab Trail Marathon, which is the 2021 USATF Marathon Trail Running Championships. Danelle is also a 4 time winner of Pikes Peak Marathon and a former member of the US mountain running team.
Also behind the scenes are strong team leaders like Anita Ortiz of the US under 18 team, who is a 2 time US mountain running champion and world masters mountain running champion (as well as former Western States winner). She now shares the benefit of her wealth of experience with junior athletes. Similarly, Ellen Miller has been the US women's team manager for the classic distance for the last 14 years, overseeing some great successes during that time.
Please join us in celebrating some of the great women in mountain running, who have helped to shape this sport and drive it forward with equality.