I started running in 1982, inspired by the London Marathon, did my first race (10 miles) in October 1982, first half marathon in March 1983 and first marathon in May 1983 aged 16. Even back then I had read about the Comrades Marathon and over the years got to hear more. Fast forward to 2011 I was gripped by Tom Williams and Martin Yelling on their Marathon Talk podcast as they recounted their experience at Comrades – the seed was planted. In 2012 my friend Mark was running for his first time alongside our friend Jack who had completed it on 20+ occasions and then last year they achieved their sixth and 30th finish respectively. With their encouragement I was able to realise that it was possible and I should do it. One the day entries opened for the 2018 race, I was in (and then got my qualification time in February).
All accounts of the race have spoken of the deep traditions within the event and how it is revered not only in the ultramarathon world but within the whole of South Africa (it is televised from start to finish). The two excellent articles on the event elsewhere on Run247 (Jo Zakrzewski's article 'The Ultimate Human Race' and Bob de la Motte's commentary on its social and political background) detail this very well but what you get is a sense from other runners and supporters that you are part of a significant sporting event in their country. The overseas entries number around 2,000 out of a total entry of over 23,000. As you will see below in my stats round up, you have to qualify (basically a 5 hour marathon or better) after entering to get onto the start line so there were 2,200 people who entered but for one reason and another didn't submit a qualifying time. Of the 19,058 who started, 16,477 made it to the finish (86.4% finish rate) – so 2,600+ didn't make it. And let me tell you, DNFing on that course holds no shame in my eyes….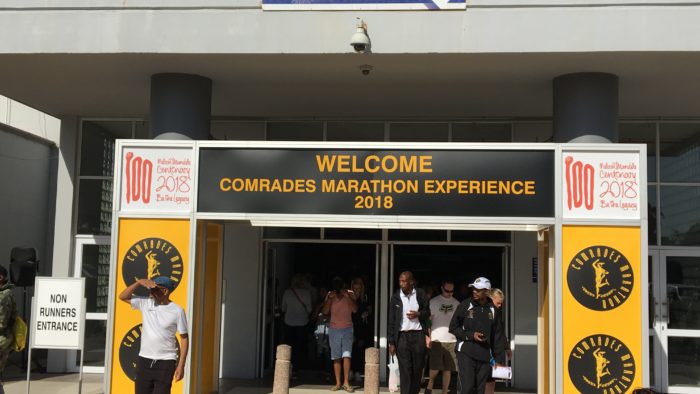 The expo is buzzy and exciting, international athletes are well looked after and we collected what we needed without any fuss, then had a look around. In our group we had a lot of experience which had served me well in the months leading up to the race. I was very nervous and very excited as the day drew closer. A very enjoyable parkrun the day before near to where we were staying set us up perfectly for a relaxing Saturday and then an early night.
We were up at 2.15am to drive the 90 minutes to the start. Pietermaritzburg is a small town that is 50 miles inland from Durban and has been part of the Comrades tradition every year since 1921. This year we were doing a 'Down' run which meant a net 650m of downhill but with the undulating course we still had 1400m of ascent to navigate as well. Thanks to Grant (13 times finisher but who wasn't running this year) he delivered us to within half a mile of the start and we were there with 45 minutes to go which was perfect. There was an early morning chill as we did all of the usual pre-race faffing about. Grant took our spare kit so we didn't have to negotiate the baggage buses and by 5.15am we were on the start line. With about eight minutes to go the announcer was in full flow. He announced the South African national anthem which was sung by the 17,000 South African runners with great gusto and then the sounds of Shosholoza filled the air. This is a miner's song (see https://en.wikipedia.org/wiki/Shosholoza) and signifies that we were not alone but part of a team. Even as I write this the hairs on the neck stand up with the excitement and emotion that we all felt. This was followed by Chariots of Fire and with less than a minute to go, two cock crows were heard. This was a recording of Max Trimborn who, as a nervous Comrades runner on the start line in 1948, decided to let off some energy by doing two cock crows. This was so popular that the runners asked him to do it again which he did until his death in 1985. The recording survived and is played just before the start. With 10 seconds until 5.30am the cannon went off and we were underway!
Despite it being dark and 5.30am there were a lot of people out watching. We did have to be careful as there were a few hazards on the road (discarded clothes, cat's eyes and arc lights that weren't lit!). I came across Jack at 3km and we ran together for the next 20 kms or so at a pretty decent pace. As the sun was coming up we were well into the first hills with names – Polly Shortts and Little Pollys. The reason for mentioning hills with names is that there are the Big Five (Polly Shortts, Inchanga, Botha's Hill, Fields Hill and Cowies Hill) but rather cruelly this can lead the novice (me) into thinking there are no other significant ups or downs. Oh how wrong could we be – there are lots of unnamed hills to catch you out! There was a great phrase that regular competitors used many times when I spoke to them – "The Down run has lots of ups and the Up run has lots of downs". Basically there isn't an awful lot of flat on the course.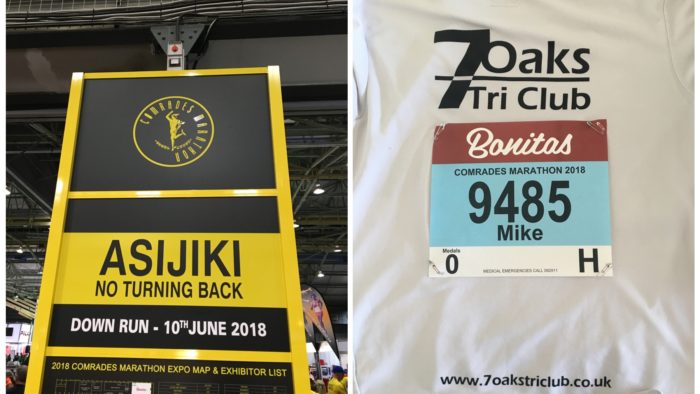 One of the many aspects of the race that is different from other races I have done is the distance markers are 'km to go' so the first one you see is 89km to go, then 88km to go and so on. They each have a large thermometer type scale on them so you see the distance remaining constantly reducing and thus you can work out how much time you have left. Maths on the run – love it……
Aid stations come thick and fast – something like 47/48 of them, which meant that about every mile there was another one. Water and Energade was given out in plastic bags / pouches which meant you just ripped a hole in it with your teeth and sucked in the liquid. It worked really well and they also had coke in cups, bananas, fruit etc and lots of other stuff here and there. I had a few gels with me and decided to stick to my Ironman nutrition plans of generally only liquid intake ie gels plus water and Energade with a few salty cheese biscuits now and again to break up the monotony of sweet tasting things.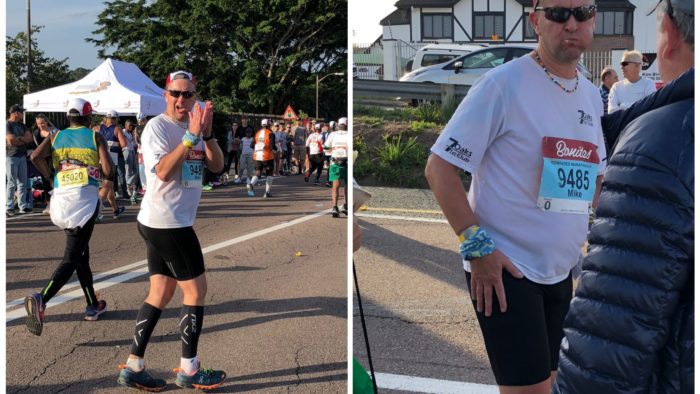 And so I kept running. And walking. Another one of the favourite pieces of advice I was told by Jack and Mark in advance together with many experienced runners I spoke to on the day was "Walk the uphills, work the flats, run the downs" which I generally did. I'm not a lightweight runner so the downs were giving my legs a bit of a pounding, but it seemed to be working.
Along the route there were rarely more than a few minutes gap between bunches of spectators. They were, without exception, enthusiastic, welcoming, friendly, encouraging, lively, smiling etc. If you were having a tough patch there were spectators to give you a lift and along the way there were many many folks who called out encouragement to 'Mike' (our names are on our numbers) and a lot of people knew that the blue of my race number meant I was an international athlete. Many of the South African runners also said hello, where are you from, thanks for coming to do the race, are you enjoying it etc etc. Just so friendly.
The race numbers contain a lot of info to see. A blue number means international athlete; the digits on the bottom left of the number show how many previous Comrades finishes you have under your belt; a green number means you have finished 10+ Comrades (and the number you have will never be used by anyone again ever); a number with a 1 in the bottom left and a black border arch around the sides and top means the runner ran in 2017 and was going for a 'back to back' medal ie they have done their first two Comrades in consecutive years and thus in different directions; and a yellow number means they have 9 (or 19 or 29 or 29) previous finishes so when they cross the line they are taken to one side to be presented with their Green Number (or double Green for 20, triple Green for 30 or quadruple Green for 40) by one of the Comrades legends. The Green Number that they are given in a large cloth number and also a small fabric patch with their number on that many people sew onto their vest. Within Comrades anyone with a Green number is afforded a lot of respect by all concerned – and rightly so.
My run plodded on. I was running as much as I could, walking where needed but always moving forward (another piece of advice I was given "every step gets you nearer to the finish line so always keep moving"). I completed the first marathon distance (42km) is about 5h10 which was pretty much what I wanted towards my aim of getting to halfway in about 5h30. Just before the half way point at Drummond I went over the timing mat at 5h23 and knew I was doing well. With 45km to go (halfway) is had been running for 5h32 and felt great. The aches and pains in my legs that I would normally have in a marathon had come at about 30km but not got any worse – it was as if there was a plateau to the pain and to be honest, it felt manageable.
Just around halfway another Comrades tradition came along – Arthur's Seat. This is a spot by the crest of a hill where, reputedly, five times Comrades winner in the 1920s Arthur Newton use to have a resting spot. The tradition is to touch the plaque that is there, drop a flower by this point and acknowledge him to get you good luck in the second half. Although not superstitious at all, I nevertheless doffed my cap and said "Good Morning Arthur" as I ran past. Tradition that does not impede progress can be celebrated!
With 6.5 hours to cover 45km I knew that I had to do each km in an average of about 8m45. As you will see from my cumulative and segment splits below I was inside of this but didn't have a huge cushion and therefore needed to continue to focus on time and effort. There were cutoffs along the way at six points but I was well inside of them which was a relief.
I was having a great day. I'd seen Jack's wife and friends who were on the course at several points which gave me a massive lift and it turns out Jack and I were only a couple of minutes apart for most of the race but didn't ever see each other again! I was loving the atmosphere, chatting to other people, soaking up the encouragement from the crowds and despite being tired, never felt like I wasn't going to make it. At about 50km one of the pacing 'buses' came along – they were the 11h30 bus being 'driven' (paced) by Gary from the Northwest of England. I decided that this would be a good way to get myself along and so I ran 20m in front of them to still hear Gary shouting out instructions, plans, updates etc. I stayed with Gary's bus right the way up Botha's Hill, Fields Hill and into Pinetown. This section included a lot of downhills which we ran some and walked some. By this point I was overtaking more people than were overtaking me (just) but I still felt good. My previous longest ever run was 34 miles in the South Downs Way 50 miler where I got timed out so everything after this point was unknown territory.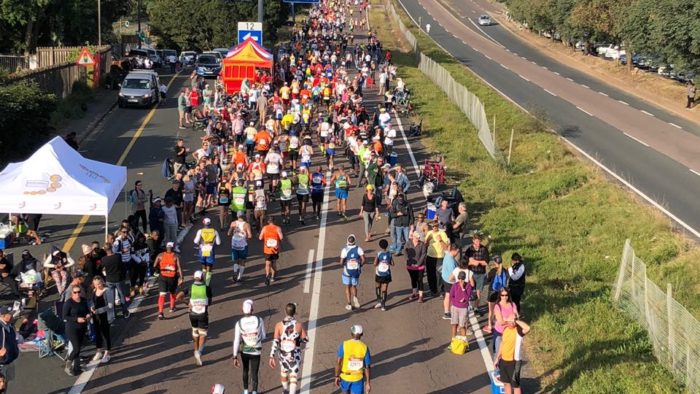 As we ran through Pinetown (about 21km to go – only a half marathon…) the bus started to come past me and much as I tried, I just couldn't keep up with them. It started to disappear into the distance and so I had to look after myself. 3km later and with 18km to go we started climbing Cowies Hill. It was hard but the support from the crowd meant I kept going – mostly walking – but still moving. At the bottom of Cowies I had just under three hours to go – I knew the uphill would be slow and I knew there were more uphills but didn't know how many or how far but I did know that we were still going downhill overall and my downhill running was going well.
There were a few more uphills, a lot of downhills and I was fixated on my time. After Cowies I was mostly doing sub 8 minute kms so I knew I was going well and just had to stick with it. With 'just' 10km to go the clock showed I had 1h40 remaining to beat the 12 hour cutoff. The crowds were getting louder and more enthusiastic as I ran and I continued to pass people. I got chatting to Martin Luyt who was doing his 7th Comrades and was from Cape Town. He really helped me by telling me what hills we had left, how long they were etc and so we kept together up the final incline which was on a dual carriageway. Cresting the hill I greedily drank my Energade, water and Coke as we kept moving. As we passed the 5km to go we both said 'only a parkrun to go' and then got chatting about parkrun. He was a regular parkrunner as am I and we marvelled at the global phenomenon that links people like it did us. Martin was a strong runner and with about 3km to go I had to let him go ahead but he had helped me a lot.
The light was receding into dark (had I really been going 'all day'?) as we passed the Kingsmead Cricket Stadium where the finish used to be and headed out of Durban towards the Moses Mabhida stadium that was being used as the finish for the first time. There were no more hills, just flat road to run along. With 2km to go I had 40 minutes to beat the cutoff and barring some extraordinary problem was going to finish. I couldn't stop smiling. I ran mostly, walked a little, but just tried to drink it all in and as I had done all day tried to say thank you to anyone that encouraged me along.
And with one kilometre to go I realised it was nearly finished. I felt great, tired and achy, but generally still was fine. As we got to the stadium the cheers and applause from spectators was warm and congratulatory. We peeled off the road and onto the pavement and within a few seconds were turning into the tunnel. Arc lights faced us in a blinding sea of glare but we could see a stadium beckoning to us. My emotions that are never far from the surface after long events were bubbling up and those moments as I entered the stadium were magical. We ran around half of the stadium and the lower tier was full of spectators. There was so much noise all I could do was plod round trying to savour every moment.
The finish line came into view and my fun was nearly over. I'd made it. I looked into the stands for our group but couldn't see them among the thousands of spectators all of whom were making loads of noise. I ran to the side of the finish to get some clear space….and then it was all over.
11 hours, 47 minutes and 23 seconds.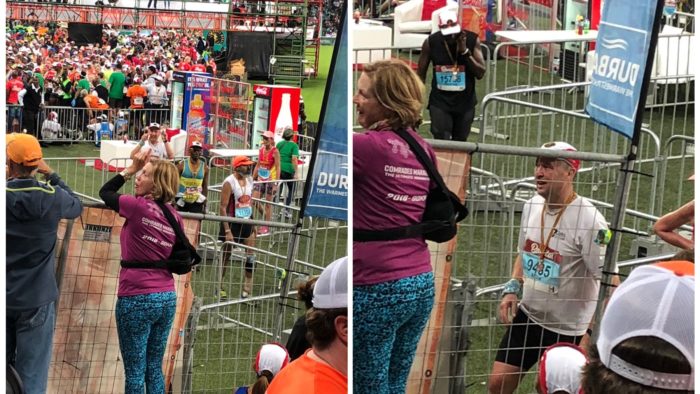 Physically I was fine. Tired but fine. Mentally and emotionally I was shattered. Tears (of happiness) flowed as I slowly walked forward amongst then throng of other happy finishers. A chap ahead of me had his arms in the air and saw me with tears down my face and came over to me. He said "you've done it" to which I replied "so have you". He started to cry "I've DNFed the last three years and now…." His voice tailed off as we manhugged each other. I carried on and got my medal. As you will see from the picture it is one of the smallest I have ever got from a race but apparently it is a similar size and style that have always been done. Size isn't everything. My international bib then gave me a short cut through the crowds to the international area where Mark (injured but had made it to 55km) and Jack (who finished his 31st Comrades only seconds apart from me) were sat with the rest of our support group. I retrieved my phone from Grant and switched it on. The alert signal pinged away as I received a lot of wonderful messages from friends who were tracking me along the way. I phoned Janine and the girls to tell them I was safely home with a medal around my neck. I think they were proud of me. I hope so.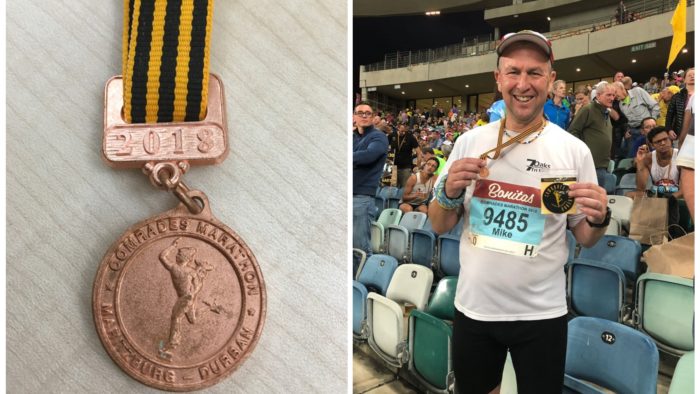 Within a few minutes we saw the drama of the finish line cutoff as the 12 hour mark cruelly decided the fate of those a few seconds too slow. We willed them all on but sadly some people came up just metres short. Heartbreaking stuff but demonstrated the power and cruelty of sport. The walk back to the car was slow, getting out of the car even slower and the next few hours disappeared. Instead of 'shower, change and a few beers to spend the evening savouring our success' it was 'one beer, shower, bed'.
People have asked me whether it was harder than Ironman (I have done a few of these) and the answer is…… I don't know. My last Ironman was almost seven years ago and time dulls the pain. I think the similarities are that the fatigue the body experiences lasts a lot longer than a marathon (I am still recovering two weeks later) but the muscle pain of just one sport is probably harder. I used a lot of the lessons I learnt over the years of long distance triathlons to good effect in the race (mental preparation, nutrition, hydration) that seemed to carry across well which was very useful.
Everything I had ever heard about Comrades was true. The atmosphere, the history, the traditions, the camaraderie were all demonstrated and I can't wait to go back to do it again. If you have the chance to experience it for yourself then do so. It was truly a day to remember.
Massive thanks to my fellow runners and friends – Jack and Mark whose encouragement, inspiration and support in the months, days and hours leading up to the start made me as well prepared as any novice on the start line.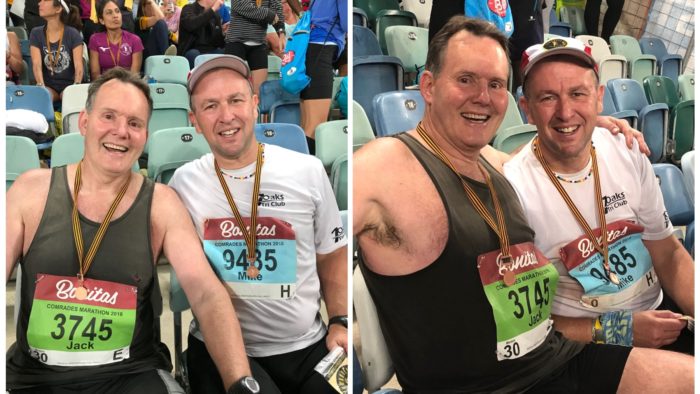 Below are a range of stats about the event and my race. Whether you are planning your 10th ultra or your first parkrun – I hope you gain as much pleasure from your running as I have done over the last 36 years.
See you out there!