The Comrades Marathon takes place on June 10th. This race is the stuff of legend and is seen as a must-do races for many runners. But what is it that makes it so special? Jo Zakrzewski, who came 4th in 2012 and 2013, tells us about her experience of the race.
The Comrades Marathon is the world's biggest ultramarathon, with up to 24,000 people on the start line, all having run a sub-5 hour marathon to qualify. It has been fully live-televised nationally in South Africa for years and may be followed on-line worldwide.
It first took place in 1921, with 34 runners starting outside the City Hall in Pietermaritzburg, and has occurred annually ever since, skipping the war years of 1941-45, making this year the 93rd event. It has grown in popularity year on year, so it is now an event that captures the imagination both of the entire nation (you will hardly meet a South African who has not either run it, dreamt of running it, or had a family member/friend run it), and of runners worldwide (with British, US and Russian winners to mention a few).
The race alternates direction every year, with an "up run" going from coastal Durban to Pietermaritzburg at an altitude of 650m (>2000') with about 2000m (6,600') of ascent and 1400m (4,700') of descent, and a "down run" doing the opposite. There are five major hills (known as "The Big Five") en route, with many other unnamed hills and other points of interest also negotiated. The total distance varies slightly (between 87 and 91km) from year to year, depending on roadworks and road closures, and due to the fact that both races start along wide roads and finish in a stadium, which means that the course cannot be simply reversed as each race requires a different start/finish area.
I ran the race with some of my fellow Dumfries Running Club clubmates in 2012 (we were all novices for our first "up" run), and I was lucky enough to be invited back in 2013 to run for Nedbank International in my first "down" run (Nedbank is one of the biggest South African running clubs). Everybody I had spoken to prior to the trip told me to treat up and down runs as completely different races, but there are some constant features that characterize a Comrades marathon.
The numbering/bib system, for example, is unique to the event, and bibs are worn front and back so all runners and spectators can see them. First timers, foreigners and locals have different coloured bibs to make them easily distinguishable to the massive crowds. As an international runner, your blue bib (which also gives you access to the international tent afterwards for free food and beer) states your name and country of origin. I was entertained along the route last year by people trying to say my name in encouragement and then just switching to "Go Lady", and also by runners with strong Afrikaans accents who, on reading "Scotland", attempted to speak to me with a Scottish accent. Previous winners and those who placed in the top 5 in the preceding year, wear their name on their bibs instead of a number.
In 2013 my number was orange to signify that I was going for a "back-to-back" medal, awarded to runners who complete their first up and down runs in consecutive years. There is also a "green number club"; green numbers are for those who have completed at least 10 Comrades (or won 3 times, or gained a gold medal 5 times – more on medals in a minute), so it is a great honour to become a member of the club and means that you may keep that number forever, so nobody else will run Comrades under that number. Runners wear a yellow bib on their first attempt at a 10th run, so they get extra support and encouragement along the way, as everyone knows they will then earn their green number on the finish line. A green stripy number is then worn by a runner on their 20th run (going for a double green) etc.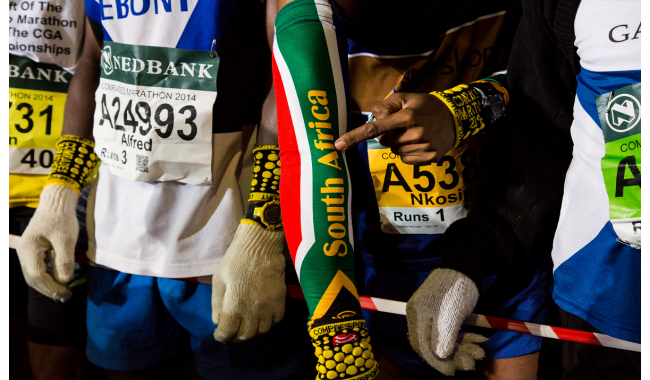 Medal categories (6 in total) are also fixed from year to year (though there are obviously separate up and down records), and are earned as follows:
Gold: Gold, Top 10 men and top 10 women
Wally Hayward: Silver-centred surrounded by gold ring, 11th position – sub 6hrs (only men qualify though women are theoretically eligible)
Silver: Silver, 6hrs – sub 7hrs30
Bill Rowan: Bronze-centred surrounded by silver ring, 7hrs 30 – sub 9hrs
Bronze: Bronze, 9hrs – sub 11hrs
Vic Clapham: Copper, 11hrs – sub 12hrs
No medals are given to those who run in even a second after the finishing gun and each medal cut-off is strictly enforced by bouncers. The same is true for the 5 time cut-offs along the route. There are also "hotspot" prizes, awarded to the first runner to reach a certain point on the course (as long as they finish within 7hrs30 – so no sprinting for a prize then walking the rest of the way).
You will NEVER forget the start of your first Comrades. It's chilly in the floodlit pre-dawn blackness (the race starts at 5:30am), you're nervous, you wonder if you've tapered enough, you wonder if you've trained enough…..but mostly you wonder what you're doing there. Suddenly a hush descends and the air becomes electric with expectation. Thousands of voices then take up the words of the local song Shosholoza (the song sung at the end of "Invictus") and it is sung with great emotion and intensity. You think of what lies ahead of you that day, and wipe away the tears you find running down your cheeks. The music then changes to the iconic theme from Chariots of Fire, which you will never hear the same way again.
The last note dies away, you hear a cockerel crow to signify the start and you're off, trying to hold back as adrenaline urges you to run fast even as your head is reminding you how far you have to go. The closest thing to which I can relate the start, is a controlled riot. It is dark, everyone is wearing a black liner over their coloured vests (given to you at the expo so you can try to keep warm at the start of the race), and then suddenly there is a surge of thousands of runners all heading down the main streets of the city. Start pens are now seeded on qualifying times, but as with every race, there is a melee of runners going various speeds, jostling each other and leaping over discarded black liners, until they settle into their rhythm.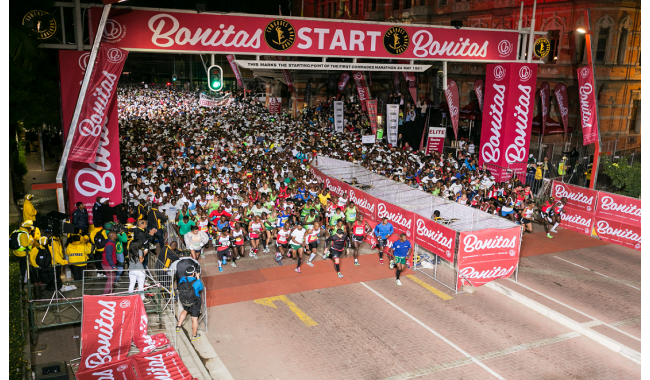 The top runners have "seconds" along the route, who are friends/team members/supporters that they have arranged to meet at specific points on the course, to get drinks/gels/sunglasses/food/anything else they might require along the way. There is strict drugs testing before the gold medals and any prize money is released, so these athletes will only take drinks/nutrition from people they recognize to avoid any chance of doping. There is a strict "stand and hand" rule enforced so that seconds are not allowed to run on the course for any distance. For ladies, the rules can be even more strict, as they can be disqualified if seen to run with a specific man for a period of time, as they are then thought to have been paced.
The vast majority of runners do not have "seconds", though family and friends (and complete strangers) will be along the route offering support. They run using the "tables" – 47 refreshment stations along the route, spaced about 2km apart. It seems crazy when you watch people jostle to get to the first table, as they've only run 2k of the course. All the tables offer water and energy drink, which are served in rectangular sachets. This is a great idea as you can easily pick up several from outstretched hands and then either run with them in your own hand, or bite off the corner and drink from them. There is actually no need to run right alongside the tables (which stretch along both sides of the road) as a runner between you and the edge will pass you sachets without you even having to ask. Further along the race, the tables start to offer other goodies, such as chocolate, cookies, coke, and my own two favourites – cold, salted pieces of boiled potato, and portions of banana. That may sound like a very strange thing to like, but when you've been running and perspiring for hours, there is nothing like a salty bit of solid (non sweet) carbohydrate washed down with a sachet of water.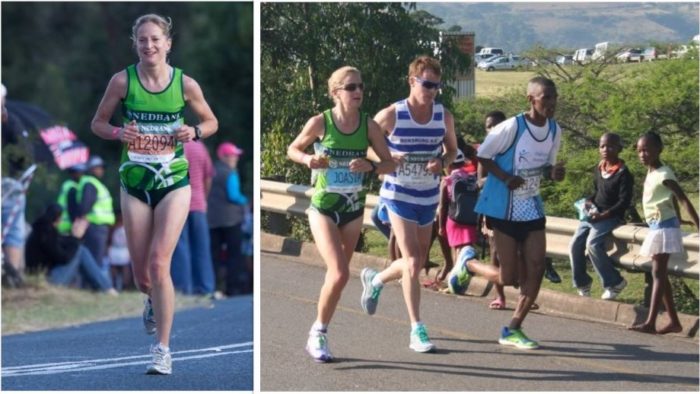 Even on a "down" run, the descent is mainly in the second half, so you really need to be conservative and save your quads for later; thus the aim at first is to run "comfy" and enjoy the ride. Initially, the main thing is not to trip over cats eyes in the road, or get stuck on poor surfaces as the road can be crowded and it is still dark. After descending the first steep hill, it starts to get light, but this means the temperature also plummets (partly as you are down in a pocket, but partly as it is just pre-dawn), so another thing to beware of is not to throw away extra clothing/gloves too soon. People camp alongside the road with fires and barbecues even at 6am, and then go along picking up discarded clothing. As a lady running further up the field, many people start to use you as a pace maker, so you sometimes feel as if you are driving one of the famous "buses" (these are groups of people running together to make a certain finish time, led by a very experienced Comrades runner – the bus "driver", eg the 11hour bus). Being treated this way gives you quite a special feeling and also means that you can have great chats along the way with people from all over the world, if your breathing permits it.
The race is not marked in a way that is familiar to most of us, as the km markers count down the distance to the finish, but once you get your head around this, it actually works very well as you can split the race up and imagine differing race distances as you go along, though I did find myself thinking once on the up run, "just 3.5x10K races to go" as I passed the 35K sign.
In 2013 I had moved into the top 10 by the halfway point and was feeling really good at this point, but had to stay relaxed as I'm not a very strong/confident downhill runner and I knew this was all to come. I'd been told many stories of people at the sharp end of the field having to walk up the hills and then walk down the later hills backwards, and I certainly did not want to have to do this. The race distance just passes you by without you realizing it, and you start to enjoy the atmosphere more and more. Schoolboys line up outside their school to cheer you on, dancers and singers appear, and members of a school for the disabled come out to "high five" you as you pass (story has it that some runners jump into their swimming pool, swim a length and then carry on). Many local women encourage you with "Do it sister" as they ululate alongside you for a few metres, and the closer you get to Durban the noisier it becomes, the number of people ever increasing to the extent that it sometimes appears hard to find a way through. I found myself enjoying the hills and to my surprise, heard myself whispering "only a half marathon to go now" when I caught sight of the sea by Durban.
I completely surprised myself with how well the race went – I was just enjoying it and picking off a few runners the whole way, but expecting some of the more experienced ladies to come by me down the big hills and especially on the long run through downtown Durban. The last 2Km must have been some of the longest kilometers of my life. I was running alone as I could see a man about 100m in front of me, and I refused to look back, convinced another lady was bearing down on me. All I wanted to do was stop and walk, but again the crowds were several deep on the pavements cheering me along so I realized there was no way I could give up in front of them.
The stadium entrance was such a welcome sight! As I turned in, I was handed a single red rose, which at first I proudly held high. (Roses are handed to the top 10 finishers to run in with signifying their positions to the watching crowds – apart from the race winner who is given a scroll to carry as a message of friendship from the mayor of the start city to the mayor of the finish city). Unfortunately there was still a way to run, past a screen, round corners and under gantries. At every corner my arm dropped lower and lower, but then finally I could see the line and I knew I'd done it. I raised both arms and crossed the line with a smile on my face, proud in the knowledge that I'd put injury niggles behind me and completed the course over 40minutes quicker than the up run the previous year, and in 4th position overall. It was an amazing feeling, and both the Nedbank Team and Dave, my brilliant second, were there to greet me, while I knew my friends and family at home had been watching it online.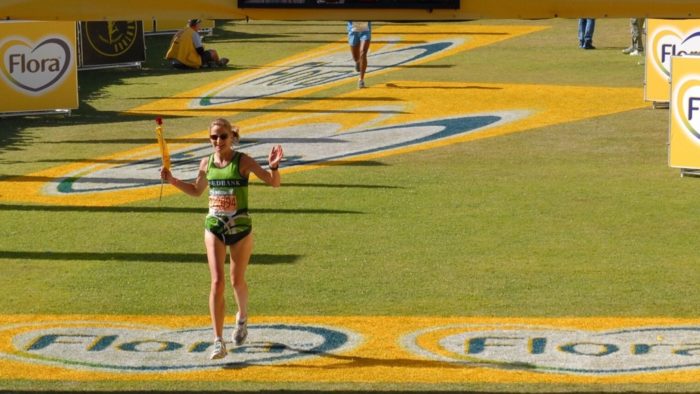 The great thing about the event is the atmosphere and experience – 2012 was special as it was my first Comrades, and I ran with friends, so we could cheer each other in (the international tent has a huge screen showing everyone crossing the line), and 2013 was special in a completely different way. I had not known much about the dramas going on at the front of the field – the first South African winner since 2005 in the men's race, and the amazing battle in the ladies' field between the eventual Russian winner (her 7th win) and a good friend and amazing runner Ellie Greenwood (British, living in Canada) – but at home (after massage, drugs testing, food and drink) you can watch the TV coverage to see exactly what had happened ahead of you, and also watch the finish cut-off with the bouncers rugby tackling the first person not to make the 12 hour gun.
Comrades Marathon is a race I would recommend to every runner given the opportunity, as words fail to convey the emotions that surface just thinking about it, and for me it stands head and shoulders above every other race that I have done.
This article originally appeared on the Dumfries Running Club website.
Find out more about The Comrades Marathon here.  This year's run is a 'down run' and among the favourites is Brit Steve Way, who will be hoping to repeat his amazing success from last year's race, where he finished in 9th place (and 1st novice). Last year's men's winner, Bongmusa Mthembu, returns. Unfortunately last year's women's winner, Camille Heron, has had to withdraw, The favourites in the women's field are now Charne Bosman (the reigning 'down' winner) and Gerda Steyn (the Two Oceans Winner).