Damian Hall's name is often mentioned in connection with the UTMB these days. As he puts it: 'I've got a UTMB problem'. He first ran it in 2015, finishing 29th. We're talking about a race that's probably the most competitive and prestigious trail race in the world, so 29th is pretty good. But he went back in 2016 and bettered his place to 19th. Then the following year, 12th. Woah! What could he do in 2018?
That's what Summit Fever Media, adventure film makers, wondered too. So much so, that they decided to follow Damian in the run up to, and during, this year's race and make a film, which we've just been fortunate enough to view. Damian was open in saying that the quest for 2018 was top ten and nothing else would do. And yet, according to his ITRA points (the number of points he's amassed from results in ITRA approved races) he was only ranked 50th. Hence, the name of the film – Underdog. But Damian wasn't just an underdog in ranking, he's, err, oldish, isn't a full-time athlete, he lives in the Cotswolds at an altitude of about 100m, he only started running seriously 7 years ago, and he's British. And he uses words like 'bimble' rather than 'crush', and he enjoys a nice cup of tea rather than chugging a can of product-placed Red Bull, unlike many of his rivals. Men who eat 5,000m of vert for breakfast and drop a five minute mile at the start of a hundred miler.
So in some ways he was an underdog, and yet in others he wasn't. 12th place in the UTMB and 7th place in Lavaredo in 2017, and 6th place in MIUT and 2nd place in Mozart 100 this year indicated that Damian was holding his own with the best in the world. When he said that top ten was his aim for UTMB I don't think anybody thought that was a crazy goal. But the UTMB is a notoriously fiendish race, which often eats up and spits out even the fastest and fittest, and anything can happen.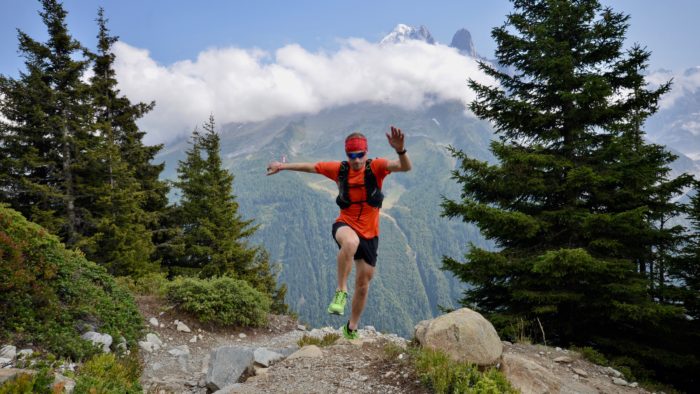 The film follows Damian in training and you quickly appreciate the sacrifices he makes to compete with the best in the world. We see him at 5am in the pouring rain, on the summit of Skiddaw in a gale, picking his way through the bogs on his beloved Brecon Beacons loop and hiking at night in a weighted vest. We hear about the family occasions he's missed in pursuit of this goal. You get the sense that he is incredibly focussed and his preparation has been meticulous. This is the stuff that separates the top runners from the masses.
Then the film moves to Chamonix, where race day is imminent. If you've ever been out to Chamonix during race week you'll see how well the film captures the electric atmosphere. We also get a sense of Damian's nervousness and the pressure he's put himself under. He's generally a very smiley subject but there are certainly a few jitters evident on race day, understandably. Then a super relaxed Kilian Jornet walks past the camera, grinning…
As most people probably know, 2018 was definitely a year that the UTMB didn't go as scripted, with favourites laid low by wasp stings, overtraining, setting off too fast and possibly even overconfidence. But did Damian's meticulous preparation and carefully constructed race plan go to script? I won't spoil the film for you, but suffice to say that what he achieved made Nicky Spinks cry and I can't imagine that's easy to do!
If you're curious to know what running at this level takes and get an insight into the mindset of a top runner, I would urge you to watch this film. Damian may not talk the brash talk we hear from some of the top elites, he still talks in very modest terms, but he certainly walks the walk. He may have quietly and modestly risen through the ranks over the last few years as an underdog, but what this film shows is that it hasn't happened by accident. It's taken years of hard work, determination, sacrifice and mental strength. He's an underdog no more.
Watch a trailer for the film here:
View the full film on demand at VIMEO or AMAZON (click on links to view)