It was a pretty exciting London Marathon for many reasons. The pre-race press conference went a bit weird, and the days leading up to the race were dominated by strange stories. Mo fell off a treadmill at the expo. Then he got back on it and fell off it again. Like I say, it wasn't dull.
But the race itself went much more to script. As expected Eliud Kipchoge dominated the men's race, looking super cool the whole way through. Then, when the time came, he just seemed to stretch his legs a bit more and open up a 20 second lead. He smiled, he waved, he looked like he was out for an easy long run. But he still finished in a blinding 2.02.37.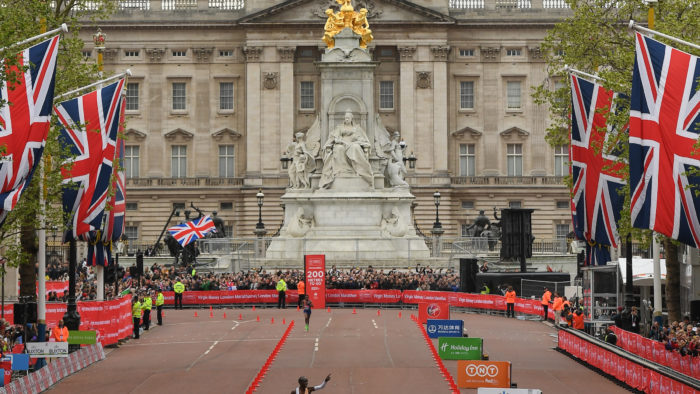 The women's race was a bit more open and it looked for a while like a big upset might be on the cards as Australia-based (but Irish born) Sinead Diver, frustrated with the slow pace, took it on. She was eventually caught but hung on for a fantastic 7th and a PB of 2.24.11 at the age of 42. Brigid Kosgei won in 2.18.20, with almost two minutes between her and second-placed Vivian Cheruiyot, in what was apparently the fastest second half of a marathon run by a woman ever (66 mins).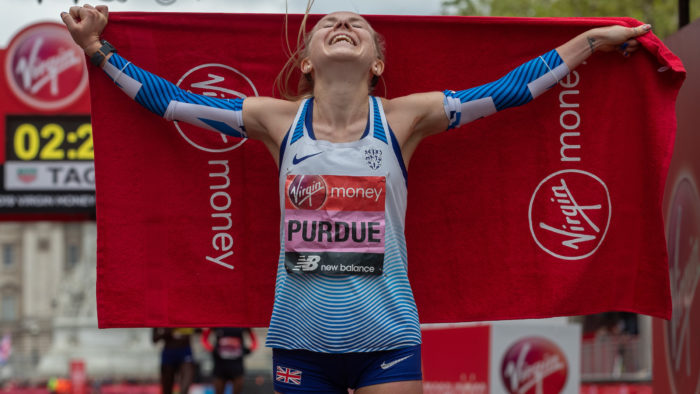 But the real excitement was with the British athletes. We may not have had winners yesterday but we had strength in depth, with some fantastic breakthrough performances. Charlotte Purdue ran an incredible race to finish inside the top 10 in a new PB (by almost 4 minutes!) of 2.25.38. This also made her the 3rd fastest British female marathon runner. Callum Hawkins also ran a fantastic PB (by 2 minutes) of 2.08.14, which put him inside the men's top 10. Mo Farah was also 5th in 2.05.39. It was definitely a day to be optimistic about British marathon running.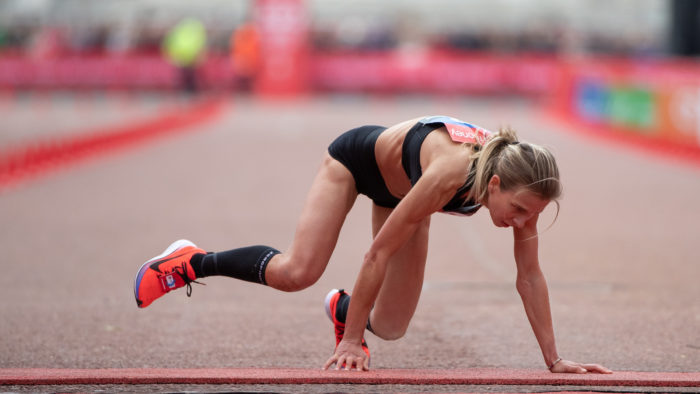 Other British female breakthrough performances included Tish Jones, who ran 2.31.00, a new PB by 3 minutes and Hayley Carruthers, who people will have seen collapsing over the line. She was clearly completely spent and struggling as she approached the line and she stumbled an agonising few steps away from it. She then crawled over the line to get her time, which was 2.33.59, a PB of nearly 3 minutes despite the painful last metres. It was probably the image of the marathon this year, summing up the determination and suffering needed to be an elite.
One runner who wasn't on the elite start but achieved a massive breakthrough performance was Stephanie Davis of Clapham Chasers. She finished in 2.32.38, an incredible improvement on her PB of 2.41, and hopefully one which will propel her on to bigger things.
Daniel Romanchuk and Manuela Schar won the wheelchair races this year, with David Weir 5th. El Amin Chentouf and Misato Michishita won the World Para Marathon Championships, with Derek Rae 2nd in the T45/46 category.
For full results see HERE
To find out how to enter next year see HERE
Header image by Jed Leicester for Virgin Money London Marathon