It probably hasn't escaped your notice that the Virgin Money London Marathon is taking place this weekend. More than 40,000 runners will be taking to the streets of the capital to raise money for charity, run their first marathon, hunt a PB, as a personal challenge or even to break a Guinness World Record. (Our contributor Eileen Naughton will be attempting to break the record for the fastest female runner dressed as a hospital patient).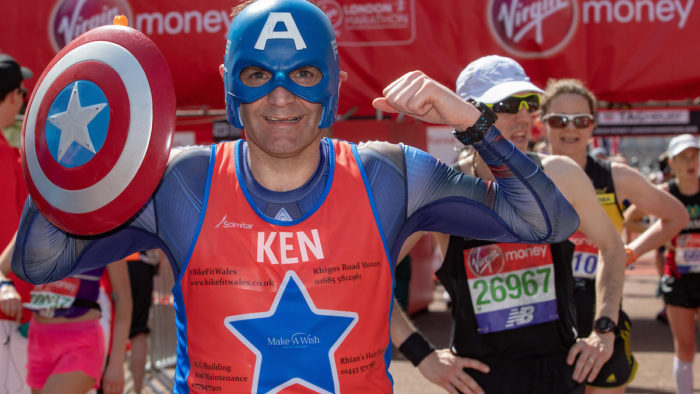 If you know somebody who's running, what's the best way of following their progress?
In person
If you live in London or you're making the journey to support friends and family you really need to make a plan. Supporting could possibly be harder than running it, but don't say that to your runner. Firstly, make sure you tell your runner where you're going to be and make yourself visible (think giant foam finger, flag or massive hat). It's unlikely that you'll be able to spot each other unless you've agreed a spot and a rough time. Secondly, unless you plan to get there early and reserve your space (towel on sun lounger style) it's best to avoid the very busy spots like Tower Bridge or Embankment. Thirdly, consider how you're going to get around as the tube stations around the course are likely to be like scenes from Black Friday but with no discount goods on offer. We've always found Limehouse a good spot. It's quieter there, you can catch your runner at 15 miles and 21 miles and, as long as your runner isn't Mo Farah, you should just about be able to make it to the meet and greet point at the finish by the time they do.
Here's a map of the course to help you.
On TV
This is probably the method involving the least amount of effort on the supporter's part. Just switch on the TV, get a coffee and cheer the runners on. OK, it's unlikely you will actually see your runner, but you can always lie. And it's the thought that counts, right?
Here are the timings for the races:
09:05 – Elite Wheelchair Race
09:10 – World Para Athletics Marathon Championships
09:25 – Elite Women
10:10 – Elite Men, the British Athletics and England Athletics Championships for Men and Women and the Mass Start
And here is the planned TV coverage:
08:30 10.00 – BBC Two
08:45-12:20 – Elite races, BBC Red Button
10:00-14:00 – BBC One
14:00-14:30 – BBC Two
14:35-17:00 – Finish Line, BBC Red Button
18:00-19:00 – Highlights, BBC Two
Enjoy the fact that our sport is on mainstream TV for one of the only days of the year!
Runner Tracking
If your runner is planning to Instagram their way round the route you may be able to track them from the landmarks in the background behind their gurning faces. Or they may plan to phone you every mile, alternating excited jabbering and despondent sobbing. However, with so many people using phones the networks get busy, so both these methods are unreliable (you may be relieved to hear). A much more reliable method of tracking is using the London Marathon live tracking, which will be accessible from their home page on Sunday. The tracker will show what time they cross the start line, then all the subsequent timing mats (every 5k), giving an estimated time that they'll cross the next one.
There's also an app you can download which provides a whole host of information, and the facility to track runners on the day.
And if you want some reassurance that your runner will finish, read our article on the stats – which are overwhelmingly on the runner's side – HERE.
However you decide to follow the race just remember to keep hydrated, stay on top of your nutrition and make sure you factor in some recovery time afterwards. Good luck!