Today is the fourth day of our London Marathon Elite Preview. Three days out from the main event and we turn our attention to the two main attractions in each field. Brigid Kosgei and Eliud Kipchoge.
Brigid Kosgei (Kenya)
London Marathon: 2:20:13 (2nd – 2018), 2:18:20 (1st – 2019)
PB: 2:14:04 (Chicago 2019)
26-year-old Brigid Kosgei is the one to beat in the women's race. No doubt about it. The only question surrounding Kosgei this Sunday is just how quick she can go and whether or not her own World Record is in sight?
Kosgei broke Paula Radcliffe's 16-year record at last year's Chicago Marathon, she lowered the previous 2:15:25 mark by some 80-seconds. Her finishing time 2:14:04.
Brigid Kosgei's career began in 2015 at the Porto Marathon. She won the race that day with a time of 2:47:59. Since then she has mostly stuck to the marathon distance, with a few half marathons and the odd 10k thrown in. A solitary 5k in Portugal last May where she ran 15:13 for the win.
Not only has her career been predominantly in the Marathon but her results have predominantly been in the top 2. Of her ten career marathon races to date only one of them has resulted in a finish outside the top 2; her 8th place finish in the 2017 Boston Marathon (2:31:48). She followed up her astounding 2015 debut by winning her very next marathon outing in April 2016 at the Milan Marathon (2:27:45). Later that same year she finished 2nd at the Lisbon Marathon where she ran 2:24:45. In 2017 came the previously mentioned 8th place in Boston, but she complimented that by coming 2nd in Chicago in the October (2:20:22) and then winning the Honolulu Marathon that December with a time of (2:22:15).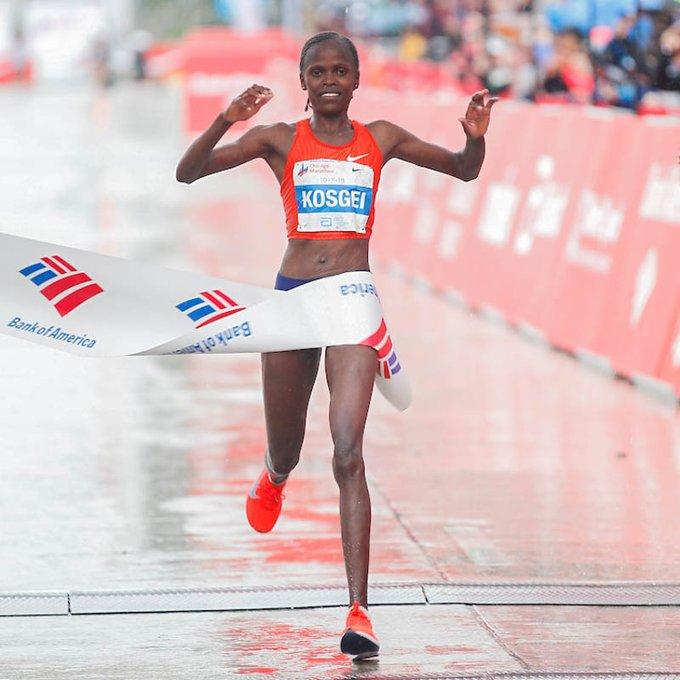 2018 saw her first turn out in London. She ran 2:20:13 that April to finish 2nd and a little over 90-seconds behind Vivian Cheruiyot in 1st place. Later that year Kosgei returned to Chicago and was able to take 2-minutes of her 2017 time by running 2:18:35, elevating her to 1st place. In 2019 Kosgei followed the familiar London > Chicago pattern only this time around in particularly quicker fashion! Her 1st place in London last year with a time of 2:18:20 saw her become the youngest ever winner of the race and in a role reversal from the previous year she finished a full 90-seconds ahead of Cheruiyot in 2nd place. Then came the return to Chicago last October and her world record 2:14:04 time.
It remains to be seen whether, as was the case in Chicago, third times a charm for Kosgei in London this Sunday. Hugh Brasher has said that the course has been setup in a way that will make world record times possible, assuming the UK weather is kind. Regardless of times the race will be one for the ages without doubt.
Eliud Kipchoge (Kenya)
London Marathon: 2:04:42 (1st – 2015), 2:03:05 (1st – 2016), 2:04:17 (1st – 2018), 2:02:37 (1st – 2019)
PB: 2:01:39
So it would seem Mr. Kipchoge is a little bit good at this marathon thing. However, in the interest of trying to at least make him seem a little more human here's a fun way to look at it – he's only been successful 50% of the time when trying to break the 2-hour mark for 26.2 miles. Now I don't know about you but in any walk of life, in any working environment, in any endeavour you undertake, if you only succeed half of the time then it really can't be considered a great return surely. Obviously you have to look past the finer details of physically running 26.2 miles in 1:59:41 and 2:00:25 (insert 2 x mind blown emojis). All I'm seeing is 50%.
Enough beating about the bush. There is no doubt about it that when a race is being run over 26.2 miles there is nobody, and has never been, any better at doing so than Eliud Kipchoge. His numbers, times, results speak for themselves and so too does the consistency of them all. Of all his twelve professional races in the marathon he ran eleven of them in under 2:05:30; his 2016 Rio Olympics Marathon time of 2:08:44 being the one outlier, but even that was still good enough for the gold medal that day. You can only race what's in front of you I guess, and after the event Kipchoge was quoted as saying "It was a bit slow so I decided to take over. It feels great. I felt I had a little bit in the tank and it was comfortable, it was very comfortable." OK then; a comfortable Olympic gold medal with some left in the tank. Again, of all his twelve marathon races Kipchoge has finished inside the top 2 in all of them. In fact he's finished inside the top 1 in eleven of them. His only 2nd place finish coming in the 2013 Berlin Marathon where he ran 2:04:05 and finished behind Wilson Kipsang who lowered the World Record to 2:03:23 that day.
Kipchoge had made the jump up to the marathon in 2013 having previously experienced a rather solid and somewhat impressive, not by his later standards clearly, career on the track, most notably in the 5000m where he won Bronze and Silver medals at the 2004 Athens Olympics and 2008 in Beijing respectively. That 2nd place in Berlin was only his second competitive marathon having already won the Hamburg Marathon in the April with a time of 2:05:30.
In 2014 Kipchoge won the Rotterdam Marathon in the April (2:05:00) and then the Chicago Marathon in the October (2:04:11). The following year, in 2015, saw the first of his four wins at the London Marathon where he came home in 2:04:42. He returned to Berlin that year and ran a PB at the time of 2:04:00 to win. 2016 saw Kipchoge lower that PB by almost a minute to 2:03:05 at London again, and later in the August came the previously mentioned Gold medal in Rio.
2017 was Kipchoge's first attempt at breaking the 2-hour mark at the exhibition event in Italy. He was able to run 2:00:25. Later in the year was a third return to Berlin and a 2:03:32 1st place finish. The following year Kipchoge was somehow able to outdo himself and his already impeccable standards once again. After winning his third London Marathon with a time of 2:04:17 he again returned to Berlin where he lowered the world record, at that point it stood at 2:02:57 from Dennis Kimetto, by 79 seconds to the current 2:01:39.
Last year Kipchoge won his fourth London Marathon with an astonishing 2:02:37 and then on the streets of Vienna in October was his second attempt at the 2-hour mark and he succeeded by running 1:59:41. Regardless of the extenuating factors surrounding the exhibition event, the fact of the matter remains – his legs moved quick enough for 26.2 miles for him to complete it in less than 2-hours.
For running fans around the world the London Marathon this Sunday, in all its re-shaped glory, is shaping up to potentially be one of the races of a lifetime. Just 2-seconds separate Kipchoge and Bekele's PB, both of which are streets ahead from their closest rivals. Could we see an upset? Could we see an unprecedented 5th London Marathon win for Kipchoge? Could we see the World Record fall? And if so by who?
Next up tomorrow: The Brits