Greg Kelly is a well-known face on British TV, having been in Hollyoaks, Coronation Street, Waterloo Road and Emmerdale. However, another of his claims to fame is that he is the Guinness World Record holder for running a marathon dressed as a (male) doctor. A very impressive 2.50.17. Greg is also running the Wiggle Manchester Half Marathon on October 13th. 15,000 runners will be taking part in the race, making it the biggest half marathon in the North West. The route is slightly changed this year and will take the runners through Chorlton. It's one of the biggest fundraising events in Manchester and like many runners Greg will be fundraising for a cause close to his heart, St Ann's Hospice. We spoke to Greg about his running and his Guinness World Record.
Greg, you've run a lot of marathons. Can you tell us a bit about your first one?
I ran my first marathon at London in 2005. I was 21 years old and very inexperienced in terms of what to do in training. As a result I picked up an injury in training, but I still wanted to complete the marathon. I finished the London Marathon in 5 hours and 18 seconds. It was at times a painful experience, in particular with the niggle that I had, but there was something that made me want to have another go and 15 years on, I've now completed 17 marathons.
Based on your experience, what advice would you now give somebody running their first marathon?
My main advice would be look online for a beginner's marathon training plan, once you've found one that you think is manageable begin your training. But do remember the training plans are just a guide and that when life gets in the way, adjust your training plan accordingly. I would also say join a local running group. It not only helps to share your runs (long ones especially) with other runners, you can pick up many tips from more experienced runners too. I found running with more experienced runners than myself, helped towards getting a sub 3 hour marathon.
What gave you the idea to go for the Guinness World Record?
My friend Matt Berry had got a Guinness World Record (GWR) the year before in a wedding dress, so I was inspired to attempt one after seeing him achieve this. I also thought it would be a good way to fund raise for local Greater Manchester charity, St Ann's Hospice. I decided to attempt the 'Fastest marathon dressed as a doctor (male)' at the London Marathon as a tribute to all the medical staff their, who played such a vital role in ensuring my Dad's palliative care was dignified and the best it could be at such a difficult time. I also wanted to choose a GWR that would push me in terms of marathon time too. The time to beat was 2 hrs 53. I had only beaten this time once before, (and not in a doctor's outfit!) so I knew this would be a challenge for me! My return to the London Marathon (14 years on) went much better than my first one in 2005 and I did get the GWR, completing the marathon in 2 hours 50 minutes and 17 seconds!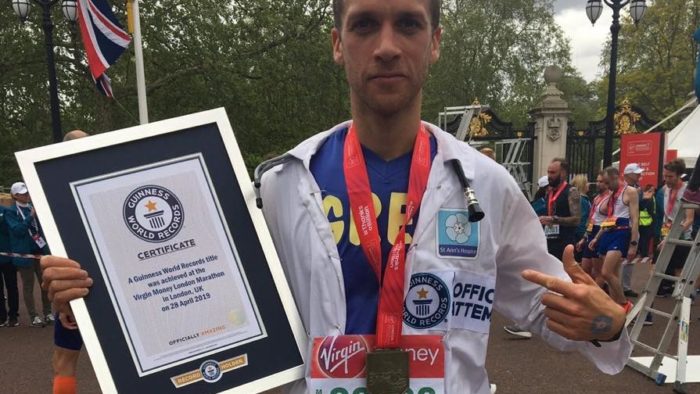 How important is the charity element to your running and racing?
The charity element is very important to me. I get to run, which I enjoy doing and also fund raise for a hospice close to my heart. It gives that added incentive to achieving my running goals.
What are your hopes for the Manchester Half (in terms of times and fundraising)?
My hopes are to get under 80 minutes for the first time and get closer to my £1750 target this year as I am currently £221 off that at the moment! [Please help Greg out with this if you can by donating HERE]
Good luck to Greg and all the runners in the Wiggle Manchester Half, including the team from the Running Charity.
If you're looking to take on a marathon and do some fundraising the Manchester Marathon takes place on 5th April 2020. If you'd like to enter and support your chosen charity go to https://www.manchestermarathon.co.uk