The Spine Race returned with a bang this month, after a two-year COVID-enforced hiatus, and 'Britain's most brutal race' provided another memorable edition for the competitors, race volunteers and everyone who was 'dot watching' the ultramarathon from home.
Eoin Keith crossed the finishing line in first place as the Irishman became a Spine Race champion for a third time in his ultra career. Having won the 2021 Summer Spine in a course record time (77:34:52) it also made him the first back-to-back winner of the two versions.
Keith reached the Kirk Yetholm finish in 92:40:30 and was filled with joy as the crowd congratulated him on a stunning performance, with the 53-year-old celebrating by eating a cheese toastie.
In an interview with RUN247, the 2022 Montane Spine Race hero reflected on his race, revealed how he prepared and what his plans are for the rest of 2022.
Spine Race preparation
Keith went into the Spine Race with an overall 11th place finish in the La Gomera 360° Challenge in November, winning the 50-54 men's category.
Feeling fatigued after racing in Spain's Canary Islands, the Cork native then decided to rest his legs before returning for Spine Race training in the weeks leading up to Christmas.
Heading to the Spine start line in Edale, Keith believed he had prepared well and was ready to take on a tough field of ultrarunners.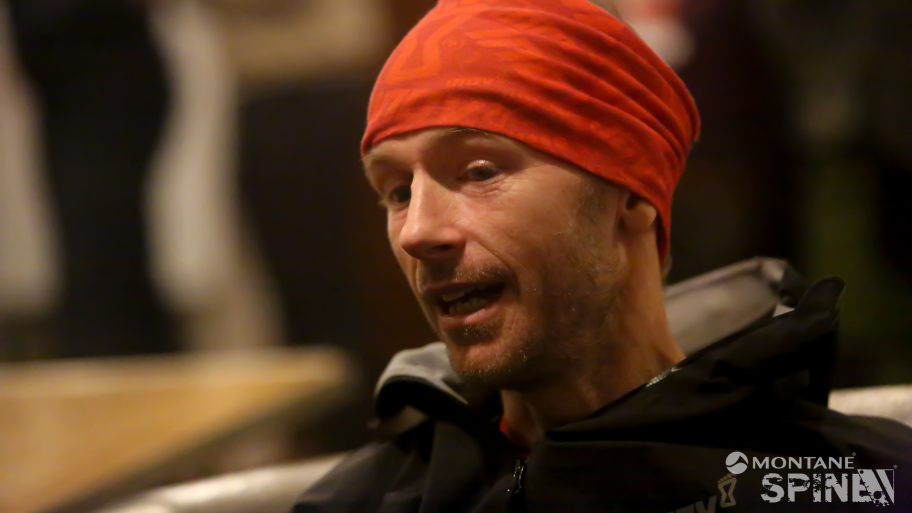 "Going into the race, I was looking and thinking Damian Hall was the red-hot favourite," Keith said.
"I was looking at Kim Collison, Doug Zinis and Eugeni Roselló Solé there as well, so I was thinking a top-5 finish would mean I have done pretty well here but if I could get onto the podium, finish in the top-three and walk away with a trophy that would be an absolute bonus."
Crucially, Keith believes he was well rested before taking on the Pennine Way and made sure to take an extra day to travel from his home in Dublin to the UK.
He added: "The one thing I did get right was I got my rest beforehand pretty good. I made sure I got a good night's sleep two nights beforehand, that probably helped a lot there, given the lack of sleep deprivation I felt during the race."
The race
Keith's pre-race favourite Damian Hall and Kim Collison stormed into a healthy lead as the Spine Race got underway, but this did not alarm the Irishman – who vowed to 'stick to his own race' and was heading towards Scotland beside eventual runner-up James Leavesley during the first few days.
As Keith and his fellow ultrarunners tackled the unforgiving 268-mile trail, the Spine Race began to remind its competitors of its cruel reputation – forcing them into early retirements.
Just over 16 hours into the event and Collison had retired, shortly followed by the then-women's race leader Sabrina Verjee, before the overall leader Hall succumbed to a groin injury when holding a significant advantage.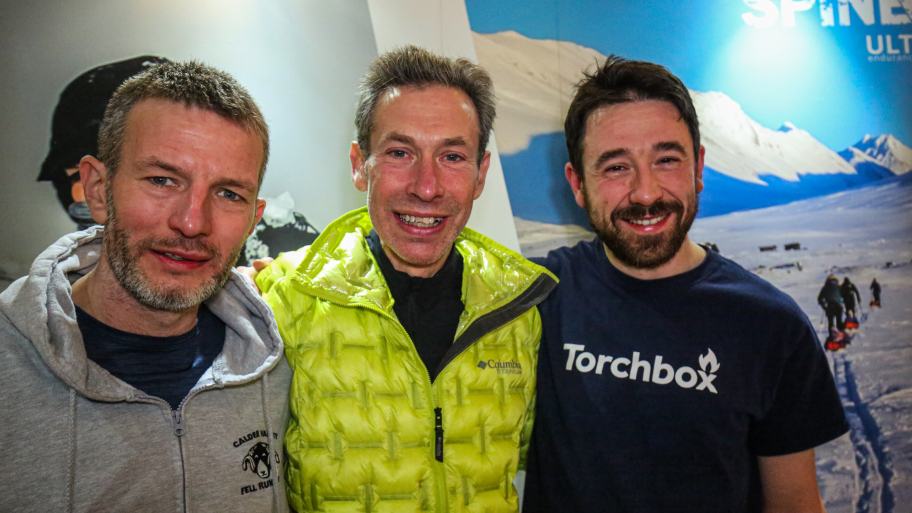 Keith, who works in the IT department at the Royal College of Surgeons, said: "Myself and James Leavesley were beside one another for quite a long time, at least 48 hours of being visible to each other.
"We were well aware of what was going on with other people – it looked like they were too far in front and boom, we were a place up again.
"It was just happening all the time, it was such a dynamic race, definitely one of the most entertaining Spine Races from that point of view – there was just so much going on."
After Hall's retirement, Eugeni Roselló Solé took the lead, with Keith now in pursuit of the 2013 winner.
Taking the lead
By Wednesday lunchtime, the tension was rising further.
Race leader Roselló Solé had reached Horneystead Farm and was resting – with Keith then using this opportunity to close the gap – to the thrill of all dot watchers.
The Columbia-sponsored athlete then proceeded to overtake Roselló Solé, who later joined the unfortunate list of DNFs, taking pole position for the first time in the race and was determined to now stay in front for good.
"I was like an excited three-year-old when I got into the lead," Keith reflected.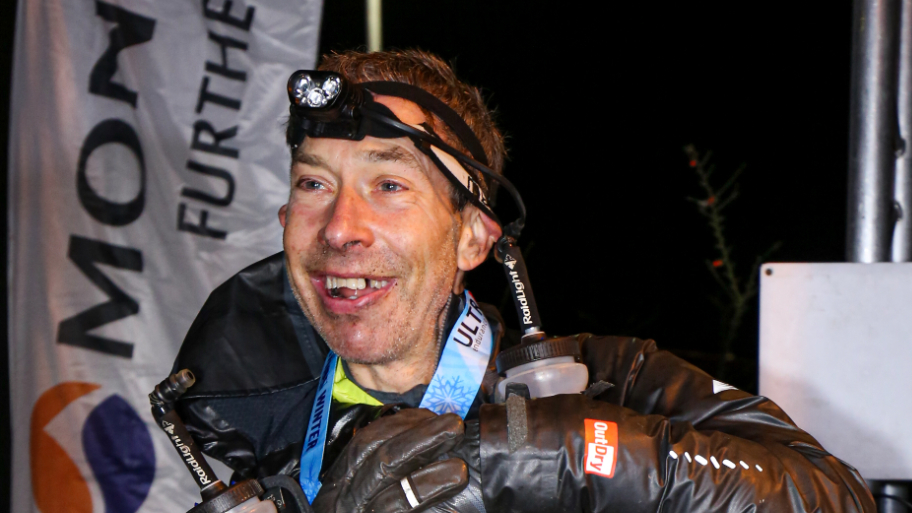 "There is a picture of me when you can see that I am absolutely ecstatic to get into the lead because I was just not expecting it, so when I got to the front I was just absolutely over the moon – I tried to hold onto that feeling all the way to the finishing line, which was a long way.
"The other thing of course is you have to hold on to the lead, but I was confident that I had the physical ability to do it, it was just 'keeping it going, keeping it going'.
"I was halfway through the Cheviots and pretty much knew I had it, but the pace started slowing as a result because it is hard to stop the pain coming through and keep the pace up when you know that you are in a good position – that is to be expected."
Celebrating the win
Despite his pace slowing, Keith says this gave him more time to savour the 'top, top feeling' that comes with a third Spine Race win.
Keith capped the victory off with a cheese toastie and a deserved lie-down, giving him the chance to rest his feet into a bowl of water.
"It's the little things, but by God, it is one of the nicest feelings at that stage," Keith said.
Reflecting on his win, Keith says it underlines the importance of racing at your own pace – concentrating on your own performance.
He concluded: "A summary of the race would be that classic even pacing wins out as opposed to 'get to the finish in the fastest time'.
"I thought to just go out there and do my best, hang in there, keep the pressure on and snap up any mistakes that anyone else makes and take full advantage and try and minimise the amount of mistakes I make myself. Looking back, the plan couldn't have gone any better!
"My finishing time at the end – I was really happy with that. It was pretty much as fast I have gone before in a winter Spine so I can only be very happy with that.
"I think I will rank this winter Spine victory as the best because it was more unexpected, whereas the other two [2016 overall and 2019, when first male] I would have gone in absolutely wanting to win and that's the same for the summer Spine – they were all targeted as wins whereas this one was just targeted as doing the best you can, when you get the win out of those conditions – that is awesome."
Plans for the rest of 2022
Having admitted 2022 will now be 'a good year no matter what' following his Spine win, Keith will still be looking to challenge himself at different events this year.
Currently, the 53-year-old has signalled his intention to compete at the Northern Traverse, UTMB as well as a last man standing event.
And if Keith can replicate his Spine Race exploits throughout the rest of the year then a 'good' 2022 will no doubt become a great one for the Irishman.