James Cracknell is a man with many sporting achievements to his name. He's won two Olympic gold medals, he's rowed the Atlantic, he was the highest ever placed British man (at the time) at the Marathon des Sables, he's completed the Yukon Arctic Ultra, he's walked to the South Pole and he's a sub-3 hour marathon runner. His sporting exploits have been the subject of many television series, most of which fall under a general heading of 'endurance suffering'. He's also an ambassador for the Great West Run, Cheltenham Half Marathon and the Weston Super Half. We spoke to him about his love of the pain cave, marathon PBs and Celebrity Masterchef.
Did you incorporate running into your training as a rower?
I did but it wasn't really in our training programme, except as a warm-up before weights. Rowers aren't usually keen on running as they're quite heavy so they find a weight-bearing activity like running hard. It's definitely a hard exercise on the body but it is really effective.
You're renowned for your ability to put yourself in the pain cave, to endure pain to a very high level. When did you first find that out?
Rowing helps you find out what you're capable of. Unlike running, cycling and swimming, sports where you use both your arms and your legs, rowing is weight supported so you can generate more lactic acid. But everybody in the boat was different. Matthew Pinsent has 9.5 litre capacity lungs, so even altitude training didn't bother him too much. He was an aerobic beast but that meant he didn't generate that much lactic. My lungs weren't that big so I developed a really high tolerance for lactic. Steve Redgrave could tolerate lactic, and he had huge lungs and he was also really strong and quick. He could run a 12 second 100 metres, whereas my 100 metre time would be the same as every 100 metres of the marathon.
Did you have any injuries in your career and do you incorporate any cross-training into your running training?
I was really lucky with injuries. I never got a bad back like most rowers do. I've actually been more injured from running than I ever was from rowing. Rowing's tough but it's not totally weight bearing, whereas running is. One thing I realised about running is that if you start a run with a niggle, you won't run it off. When I started training for marathons I really didn't want to miss sessions, I felt like I had to do every one. But then I realised that when you run niggles only ever get more sore. I've only ever actually done one marathon injury free. A lot of running seems to become about mileage, about doing that long run, but for me it's intervals that are the key sessions. If I can do my intervals at 11 miles per hour, then a long run at 9 miles per hour feels quite slow and easy. Let's face it, the first half of a marathon is free, it should feel easy. But you can only make that pace feel easy by doing those shorter, faster, harder runs. You need to get better at running fast.
You took quite a chunk off your marathon PB in 2017 (from 2.50 down to 2.43 – read about James's perfect marathon over on Tri247). Did you do something different in your training for that race?
London in 2017 was the first marathon I've run injury free. And the difference in training was that I went to my local track – which is cheap and brilliant – and I could do specific, focussed sessions without having to stop for traffic and dogs. Some people might find the track boring but I'm really good at tolerating boring from years on rowing machines, so it doesn't bother me. The other reason I got a PB was that in the race I found myself running at the same pace as another runner for about 9 miles and when I asked him what time he was going for he said ' sub 2.40'. I thought 'oh sh*t!', I only wanted to go sub 2.50 but I just clung on. I also concentrated on Tower Bridge – where you get to halfway and see all the Kenyans flying back on the other side. I know I can hold on when it gets horrible, I can hold my speed but I can't speed up in the last 5 miles. So I went as hard as I could from Tower Bridge to Tower Bridge and just focused on holding on. When I know I've got a chance of a PB I can hold on.
And do you have a faster marathon in you?
Yes, I think I do, with a perfect build-up and if I was lighter I'd be faster. When I won Olympic gold I weighed 95 kilos, when I run a marathon I weigh 88. But that's when it starts impacting on your life and I'm not a full-time athlete any more. And have you been around cyclists when they can't eat anything? They're not the best company. Put it this way, if there was an 85kg marathon at the Olympics I would go for it! But those runners are all 50kg.
How did you get involved in Cheltenham Half, Weston Super Half and the Great West Run?
I started a company called Threshold Sports with my business partner but I left the company after my accident. Later on, the licenses came up for Cheltenham Half and the Great West Run and I'm a great believer in having a target and a goal to train for and build exercise into your life. We have to invest in our lives and our health.These events aren't about running fast, it's about getting together with your mates and family and going on runs and building exercise into your week. When we do it we find we have more energy but we find excuses not to do stuff, but they're not really reasons. I used to have exercise built into what I did for a living, now I make it part of my life.
Lastly, what's the strangest celebrity programme you've been asked to do?
Not strange programmes but strange to have me on them: Dancing on Ice and Celebrity Masterchef. Dancing on Ice because I can't dance or ice skate and Celebrity Masterchef because I can only cook one meal. When I was a rower the nutritionist took us to the supermarket, showed us what to buy and how to cook it, but it meant that I only ever mastered one meal: tuna pesto pasta. So being on a cooking programme would be like me sitting history A level and whatever the question was, answering it with everything I know on one subject!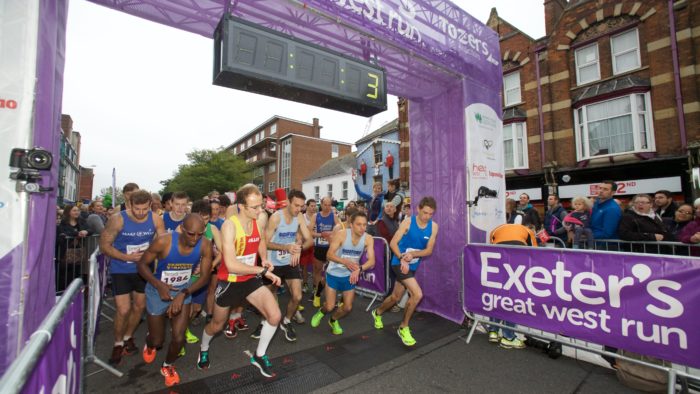 James Cracknell is part-owner and organiser for the Cheltenham Half Marathon (30 September), Great West Run (Exeter, 14 October) and Weston Super Half, Weston-Super-Mare, 24 March 2019). Entries are open for all three events now.