For Donnie Campbell, a race is not a race well run unless he's pushed himself to the max. Endurance runner and coach, Donnie motivates himself to the extreme, determined to give it his absolute all at every opportunity. For him, quitting is not an option. We spoke to Donnie about his story, "Reaching my Peak" to hear more about his racing tactics and how he motivates himself to be his best in every race.
When did you first get into running? At what stage did you decide to take it to the 'next level'?
I properly got into running in 2008/2009, after University. A friend suggested a 150-mile race over 5 days on Isle of Islay and Jura and I agreed to it. I loved the race and the training for it and finished 4th. That was my first step into ultra/mountain/trail running and it really became my passion.
What is it about trail/ mountain running that you really enjoy?
There is so much I like about trail/mountain running, it's a great way of exploring the hills and taking in amazing scenery. I like how it gives you the opportunity to explore yourself and your limits and it also keeps you honest and humble – if you don't respect the mountains you're running in, you can soon get into trouble. Trail/mountain running for me is also a way of de-stressing, clearing my head and connecting with nature.
What is your continued motivation to run? Have you ever thought of taking it back down, to a less extreme level?
I get my motivation from so many different places, the main one is I just love the sport: being out moving fast in the mountains. I also have a competitive nature and racing gives my training focus and allows me to explore how far I can push myself physically and mentally – something that I'm very curious about. But generally, it all comes down to just really enjoying it!
You talk a lot about the physical toll endurance runs take on your body – how do you push yourself when you're physically suffering during races?
Mental strength, toughness and experience. If you have a high level of motivation to succeed you will normally find a way to keep moving, although sometimes it involves a real battle with your mind. If you know how to control your mind though, then you can normally make the right decision and keep going. A book I find really helpful in winning that battle is "The Chimp Paradox" by Dr Steve Peters who has worked with Chris Hoy and Victoria Pendleton.
The psychology of endurance is clearly something that interests you. What do you find most interesting about it?
I find it interesting how incredibly complex the subject is and how much you can relate it to endurance running. I am really interested in how far we as humans can push ourselves to achieve incredible feats of endurance or survival – and it is a very individual thing. Just look at some of the early exploration to the south pole with Shackleton and the feats of human endurance/survival is incredible.
What's the most challenging race you've done and what got you through? How do you keep positive and keep going when you literally haven't got anything left?
The most destroyed I have been at the end of a race was Transvulcania Ultra Marathon in 2014. It's not the toughest or longest race I have completed – it's about 74km with 4000m of climbing. The year I ran it they made an error about distance between aid stations so I ran past one aid station thinking the next one was only 5km up the trail, when it turned out to be about 14km. By that point I'd run out of fluid in +30c and was severely dehydrated. I filled up my water bottle at the aid station and kept going but it was too late and I knew I was never going to properly recover. I ended up staggering the last 30km to the finish line where I collapsed and got rushed off to the first aid tent. I was put on a drip and given some drug to stop my body cramping, which was happening uncontrollably. What got me to the finish? Probably my determination, will to succeed and refusal to quit!
Why do you think some people have the desire to undertake punishing endurance exercises like you do? Do you think it's something that everyone has in them, or is it a certain type of person who would do it?
That's a really hard question. Everyone is an individual so everyone will have their own reasons for doing what they do. People who tend to do well in endurance sports are highly motivated individuals that seem to have a high level of enjoyment for the endurance sports they partake in. It's definitely not for everyone though!
What would you say your proudest moment is, as an endurance racer?
I would have to say winning a Sky Running World Series race in my backyard. It was the Ben Nevis Ultra 2017 and it was an incredible experience. 6 months of training came together and everything went to plan on the day. To have family and friends at the finish was really cool because I got to share that experience with them. But running from Glasgow to Skye for charity was also an incredible experience. Being able to raise over £22,000 for a local cancer charity is probably what I most proud off – that my running could help people and their families suffering from cancer was awesome.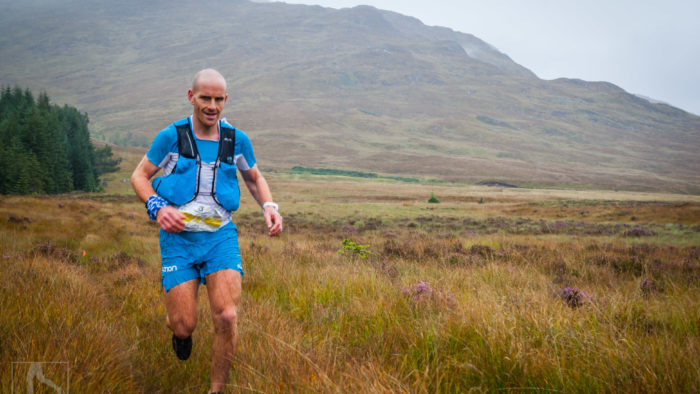 You mentioned that endurance racing is a very different for each individual. As a running coach, what are the key lessons you teach the runners you coach?
To improve stamina and endurance in running requires consistency in training and a gradual progression. When it comes to racing and pushing themselves, I remind them how important the brain is in the process and how sports psychology can help them push a bit harder. As I said before, everyone is an individual so will have different motivations for wanting to complete a race. As a coach I try and find out what their motivation is and then encourage them in that and get them to buy into their training which will also help increase their motivation.
What continued ambitions do you have? What races do you still want to run/win?
I have entered the Tor de Geants which is a 330km race around Valley Aosta in Italy, with 28000m of climbing. I've had my eye on this one for a while so I'm really looking forward to experiencing this race, to see if I can be competitive over this distance. There are loads of other races I would like to go and experience but for the moment I can't really think of anything past the Tor de Geants.
If you had any advice for budding endurance athletes out there, what would it be?
Get out there, have fun, enjoy the experience and create memories that you will remember! I received that advice from a good friend when I first started running and he had a lot more experience than me, so I took it as gospel. But it's true. Having fun motivates you, and motivation is so important in these competitions and races.
To read more about Donnie's experiences in endurance running, click here.