We had some great British success at Comrades this year, with Steve Way's amazing third place and Carla Molinaro in ninth. We also had Brits doing really well at Western States, with Ian Sharman in fourth and Paul Giblin in ninth. But you don't have to go back very far in the results for those races to find a Brit winning both and that Brit was Ellie Greenwood. Ellie won Comrades in 2014 (and came second in 2012) and she won Western States in 2011 and again in 2012, setting the course record which still stands. Ellie's incredible list of achievements includes winning the CCC in 2012, the IAU World 100k Championships in 2010 and 2014, Les Templiers in 2015 and even making podiums in big road marathons. But then unfortunately in 2016 she was hit by injury. We caught up with Ellie to talk racing, coaching and running Comrades when she's 60!
You seemed to burst onto the ultra scene and have success quite quickly. What was your running background prior to that?
I wouldn't say that I burst onto the ultra scene but equally nor did I run competitively growing up. At school and in my late teens I enjoyed running for fun, but really just going out for many 30 minutes or so around the roads where I lived. When I was at the University of York I decided to run the Great North Run (half marathon) for fun, so I was 22 years old then and knew very little about real running. I finished in 1:59:57 and had a great experience – it was a lot of fun! The following year I was living in Vancouver and my work manager was training for a marathon so I decided to join him and his friends to train for that. We trained with a group out of a local running store so it was a great way to make friends in a new city. That was my first marathon, 3hrs 25, in about 2002. For the next few years I was living in Vancouver off and on and in 2005 I ran my first ultra, a low key 50k on January 1st, simply because the distance intrigued me. For the next few years I started running more and more, joining a local running club, working on improving my marathon time and getting into trail running too. It was not until 2010 that I feel I really started to gain attention as I raced some events in the USA and also qualified for and ran World 100k on the GB team (where I won gold).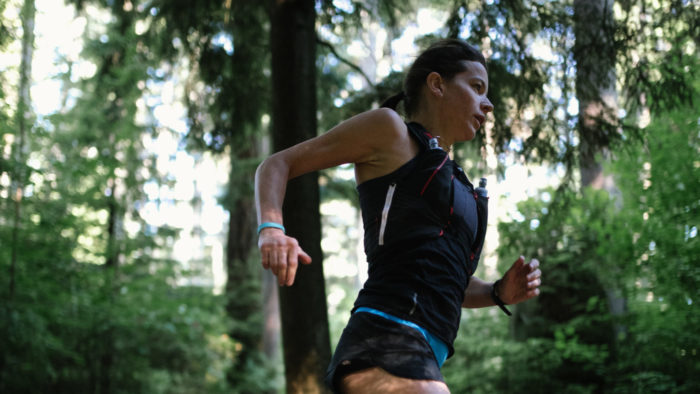 You had big wins on the road (Comrades, World 100k champs) and in the mountains (Western States, CCC, Les Templiers), which is a feat not many athletes can pull off! Do you have a leaning towards one or the other, or is it just about the racing?
I'm a runner. I'm not a road runner or a trail runner, I'm a runner. I enjoy the variety of running and competing on both surfaces. I like the pace and time element of road running – trying to go fast, consistent and even pacing and really focusing on times. But equally, I love trail running for the places you get to experience, the natural environment and also for running and racing more on effort level rather than looking at your watch too much for feedback. I definitely would have a hard time choosing my preference for one over the other and think I would get bored if I just focused solely on one surface.
(Ed: I have to say that Ellie's Comrades win is one of the most inspiring and determined runs I've ever seen. I couldn't find a video of her catching the Russians but here's her blog about it.)
You've suffered from injury for the last couple of years (which sucks). Can you tell us a little bit about what happened and what the current situation is?
In May 2016 I was gearing up for my fifth Comrades when I started to have strange groin pain in my left leg. This developed over time and soon took me out of racing that year, and ultimately the symptoms became more just like a really heavy and fatigued leg. The symptoms would vary but despite stopping and radically cutting back running, they proved hard to shake. This strange 'gimpy leg' stuck around until about May of 2018 and despite ongoing treatment, tests and consultations with various professionals no one ever came up with a diagnosis. For now my left leg seems relatively symptom free so I'll take that for now! However almost coinciding with the improvement in my left leg, I began to experience hip pain on the right – whether this is compensation, who knows? Right now we are treating this as if it is tendonitis but it is, once again, proving hard to shake. I am on a break from running right now but working to get back there.
Have you got any advice for other injured runners, to help them stay positive on those dark days?
Find other activities. It's ok to be sad and mope for a while but then you just need to get on with it, there are plenty of folks worse off. If you can find other activities like cycling or swimming or gym work than that is awesome as it will give you a little bit of the buzz of running. But ultimately if you are unable to cross train then make sure you get out and meet friends and keep social, find other activities to do – I have a whole box of really bad home-made jewelry that I made during six weeks of not being able to do any activity at all! Volunteer at races too – it's a great chance to give back and still see your friends in the running community.
You now work as a coach. Is this something you'd always planned? What's the most rewarding thing about working with athletes?
I had always considered coaching and over the course of a few years started to get more folks asking me if I coached, so in 2014 I took the jump to see if it was something I could do full time and now I have been doing it for fours years as my full time job, which I love. The most rewarding thing is helping guide folks to do things that they never thought possible but had dreamed of – that might be a trail race when they come from a road running back ground, or a first ultra or first 100 miler, or simply running more each week than they did in the past. It sounds cheesy, but helping people fulfill their dreams and realise that they are stronger and more able, both physically and mentally, than they had thought.
As somebody who is very speedy on the flat as well as in the mountains I'm guessing that you are a fan of speedwork for ultra runners! What key speed sessions do you swear by for runners focusing on longer distances?
Yes, road running and speed work keeps me fast for whatever races I am training for. Living in Vancouver we are very lucky to have trails like Stanley Park which are excellent for speed work – soft, non technical, some flat and some rolling hills. I train on those trails once a week with my running club, which is excellent for motivation and being pushed hard – I am decidedly middle of the pack in those workouts which is perfect! There is no one key workout but long intervals are great for ultras – 6 x 1k, 2 x 5k, or maybe 2 x 2 miles. I will also focus on a weekly longer tempo run, usually on the road, if I am keying up for a fast road or trail ultra. I don't do track workouts routinely but might do them seasonally if they fit into my running schedule, then I might do something like 10 x 400 or 6 x 800, or even some miles reps. I would generally not do anything shorter than 400s.
It's quite an exciting time for ultra running, with fields getting more and more competitive and deep. Who are the runners that really excite you at the moment?
My goodness, there are so many folks out there it is hard to keep track. Courtney Dewaulter seems pretty amazing and has real talent, it would be great to see what she could do in some European mountain ultras. But overall I'm rather old school in my loyalty to ultra running following – when I first got into the sport it was the likes of Lizzy Hawker, Nikki Kimball and Krissy Moehl who I looked up to and I still do, so I really love following what they do, even if they might not always be top of the most competitive races these days.
You won a lot of the key races that are out there before you got injured. Are there any big races which you wanted to do but didn't get the chance pre-injury, but still might, injury permitting?
My list of 'to dos' is still far longer than the list of races I have done or goals I have accomplished! That might seem greedy or over ambitious, and I appreciate that I might not get back to my previous levels but that is not going to stop me trying! I would have loved to have run a faster road 100k (more like 7:20 than my current 7:29), run a sub 2:40 marathon (my PB is 2:42). Races I would love to do are Hardrock, Leadville, Ultravasan, this list goes on… I appreciate that I likely won't run most of these and if I do, I may well not be very fast. But if I can get back to anything I would like to run Western States just one more time, and Comrades as many times as I can, even if I am scraping the 12 hour cut off when I am sixty years old.
Find out more about Ellie and her coaching at her website here.
Header image copyright Ivan Calderon