"It's true that one human body can do great things alone. But companionship and teamwork can take it to new levels" – these are the words of Swedish swimrunner Emma Wanberg which truly epitomise the spirit of the Ötillö Swimrun World Championship.
Every year, in the late Swedish summer, teams of two attempt to conquer the Stockholm archipelago. It is a true test of cooperation and teamwork as the world's best swimrunners battle it out in front of one of the most picturesque backdrops in endurance sports.
We spoke to two of last year's participants, Helen Wikmar and Emma Wanberg, about their Ötillö story – 'Synergy in Sweden' and how they used the power of teamwork to get through the ultimate test in swimrunning.
Swimrunning is an event many people are unfamiliar with. Can you tell us more about it?
Helen: Swimrun is an unpredictable adventure. You run and swim between lakes, oceans, islands or bays so unlike a triathlon, you feel a bit more like you are out on an adventure. The big difference for me though is that you are competing as a team – I love this dimension of the sport. The feeling of accomplishing something difficult together as a team is magical.
The Ötillö Swimrun World Championship is swimrunning's toughest test. What is it that makes it such a tough race? How do you prepare for a race like Ötillö both physically and mentally?
Helen: The distances is what makes it so tough. 65km running, including 20km on Ornö which is very challenging. The 10km swimming is also quite a challenge, but the sections are fairly short. The longest swim is 1700m and compared to some of the other races that is reasonable.
To prepare for it I just trained a lot, swimming 3-4 times a week and running 4-5 times a week. Apart from that I have also included strength, yoga and cycling in my schedule. Emma and I make sure to work-out together – it is an advantage to get to know each other as well as possible as you need to be a good team on race day. In terms of training myself mentally, I don't do any specific mental training but I do make sure that I have done everything I can for me to be as satisfied with myself at the start line as possible.
Emma: When you're racing for 6-10 hours as well, there's no room for vague comments and finger pointing. You have to know what you want and how to understand your teammate with minimal communication. And that element of the racing is tough too.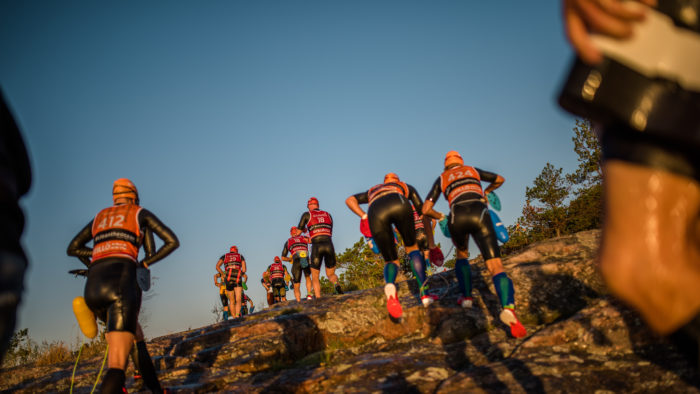 Teamwork and companionship are obviously important in enhancing your performance levels. Why do you think competing together is especially effective in allowing you to perform at a higher level?
Helen: Because when you go through your lows you either get help in getting through it or get help in pushing hard. There is no way out, you have to continue and push as much and as hard as you can to not let your teamie down. In an individual sport the only one you can disappoint is yourself and then maybe it is easier to give up or to go slower than you would actually be able to push.
Emma: One of the biggest advantages (with competing together) is that it makes you take fast decisions and balance each other out when suffering dips during long races. Competing together is especially effective if you can understand your teammate with minimal communication since you'll both experience lows. From our point of view, it was through competing together that we inspired each other to reach our goal.
The way your teammate is performing must affect your mindset. What goes through your mind during a race when your partner is thriving but you are struggling?
Helen: This is the worst scenario. I can get really low when I notice I'm struggling but my teamie is having the time of her life. I don't like being the weakest. This is something I'm working on to handle better. But I would never give up, and I think I can quite easily be convinced to get through the lows.
Emma: It can be difficult. During Ötillö, especially at the beginning, Helen was like a panther, jumping from stone to stone, over trees, mud, gravel and hills. I felt like a clumsy whale with poor stamina. I had to push myself to keep up with her pace.
On the flip side, what goes through your head when your partner is struggling but you are thriving?
Helen: When this situation happens, I have even surprised myself because of the mental and physical strength that suddenly explodes in my body. It's like I understand that I have to be extra super-duper mega strong during these moments. I would like to think that I'm good at talking to my teamie so she gets through the low faster, but as I'm getting stronger and stronger it is hard for my teamie to feel strong again!
Emma: It's very liberating racing with Helen, I can be very upfront regarding my thoughts, nobody gets hurt or irritated. During Ötillö, I could tell when Helen was struggling so I pushed her to keep up the pace.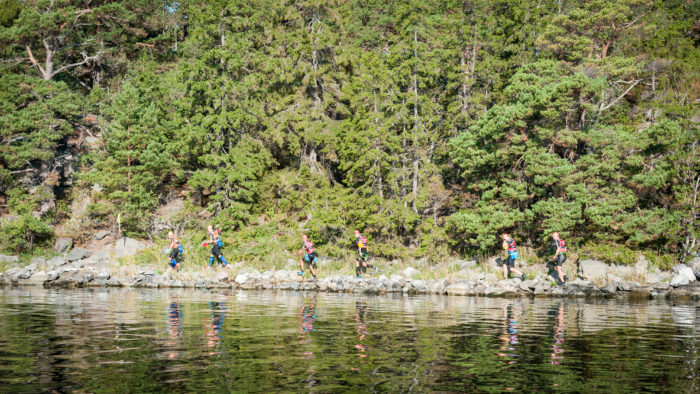 You both sustained injuries and had some lows in the run up to Ötillö and in Ötillo itself. It must be difficult to take on such a tough endurance event when you have injuries to deal with. How did you cope with the lows and how did it feel when you finally got over the line?
Helen: It was difficult at times, I picked up a hip injury prior to Ötillö which meant I was pretty sure I wouldn't be able to start the race. I'm really bad at coping with situations like injuries prior to a race. I always cry and get angry at everyone around me. But I think it's important to allow these feelings to express themselves. Nevertheless, Ötillö was such a big thing for me so when I thought that dream was crushed it was of course a very painful experience.
Emma: Helen makes things easier because with her the communication was very honest and straightforward. We could explain any thoughts or problems in a very easy way, not puffed up with fluffy words. At times though, I'm not sure how I coped. Somehow, I managed to find power in my legs. When we finally crossed the finish line Helen shouted to me "WE DID IT!". I was so happy, but I couldn't even smile due to the fact that I had zero energy left in my body.
There are many people out there who might be interested in giving swimrun a go. What advice would you give to someone who wants to be a swimrunner like you?
Helen: You need a good wetsuit! A shoe with great grip on slippery hills is important as well. After that, it's just about going on an adventure with some friends. Fortunately, there are so many swimrun communities you can get involved in who will answer any of your questions if you need support.
Emma: Find a teamie who you work really well with. When Emma and I race together our best team weapon is the ability to have clear communication. It's vert liberating to race with Helen, as we can be very upfront regarding decisions or thoughts. It's true that the human body can do great things but companionship and teamwork can take it to new levels!
To read more about Helen and Emma's Ötillö adventure click here.
Photos by Pierre Mangez and Jakob Edholm.