#MovedbyLondon was the campaign that launched the third outing for The Vitality Big Half and anyone that experienced the event couldn't fail to have been moved. As I ran (albeit slowly) I noticed a difference from other events that I had run, and I imagine this was down to the innovative approach taken by London Marathon Events (LME).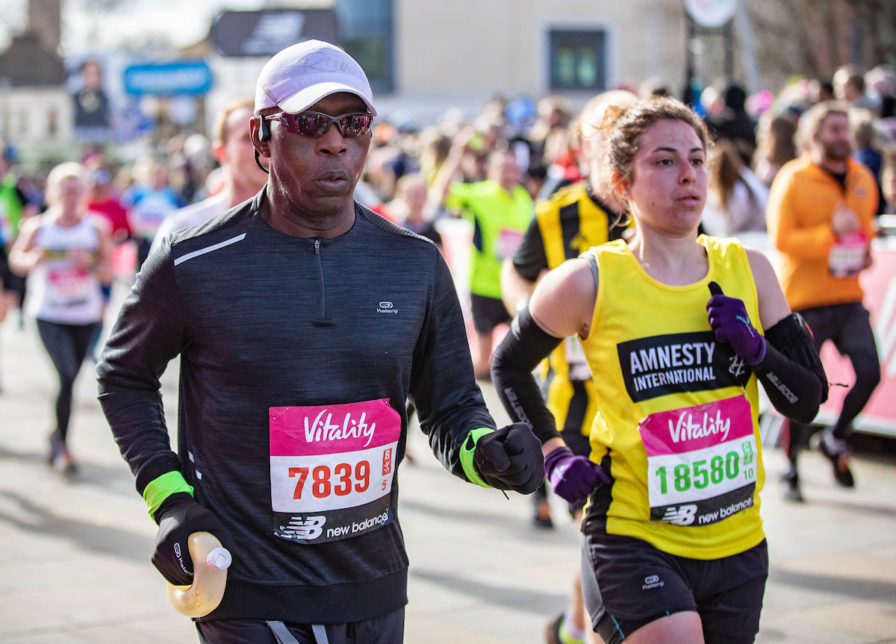 When I spoke to Hamid Vaghefian, Head of Community Engagement at LME, he told me that the original idea behind The Big Half was to inspire local communities to take part in running and to reflect London's diversity across participants, volunteers and spectators – "Most mass participation events aren't representative of the communities that the courses pass through and we asked ourselves, how do we stage events that encourage participation among those under-represented groups?".
I asked Hamid how large-scale events can make differences, maybe just small differences, that can influence change that he describes. "We wanted the Vitality Big Half to be a blueprint to reach under-represented groups and then scale it up" he told me, "How do you make events more inclusive and more representative. What insights do we need to make these changes?".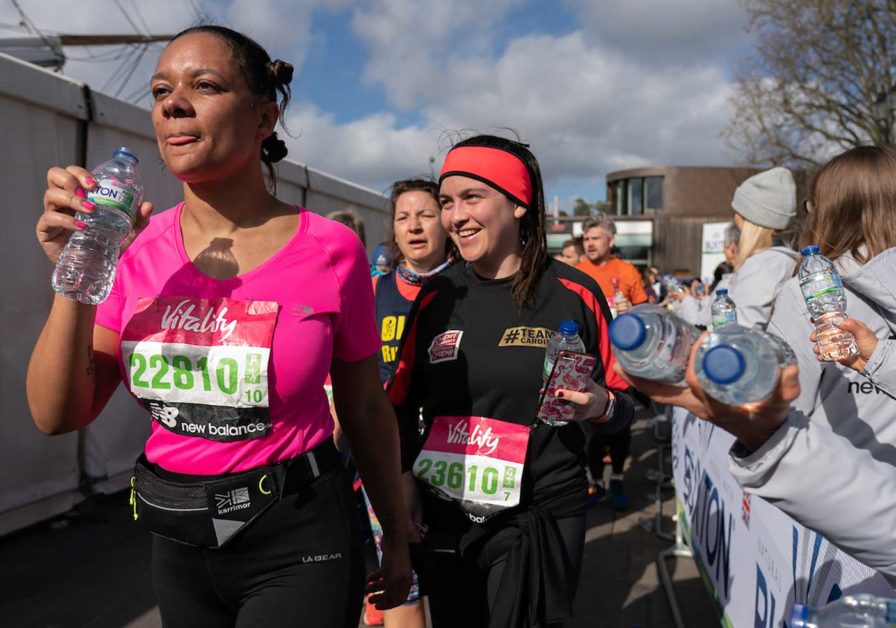 Rather than implementing their own ideas, LME have been working with local groups, communities and local influencers to look at equality of access and reducing barriers to participation. When I hear these phrases as someone who has been running and doing events since the early 1980s, I admit to thinking I know what they mean but probably hadn't thought through some of the finer points. I understand that cost may be an issue, but Hamid explained that sometimes there are physical barriers or process barriers that may put people off who have either never done such events or known people who have done them. "If you've never done such an event and neither have any of your family or friends; is it possible that just the entry process may feel daunting? Do I have any idea on how to predict my race time? Does someone know why we ask this? If a potential participant doesn't know this, is there a chance that they think they aren't allowed to enter because they don't know how fast they will run."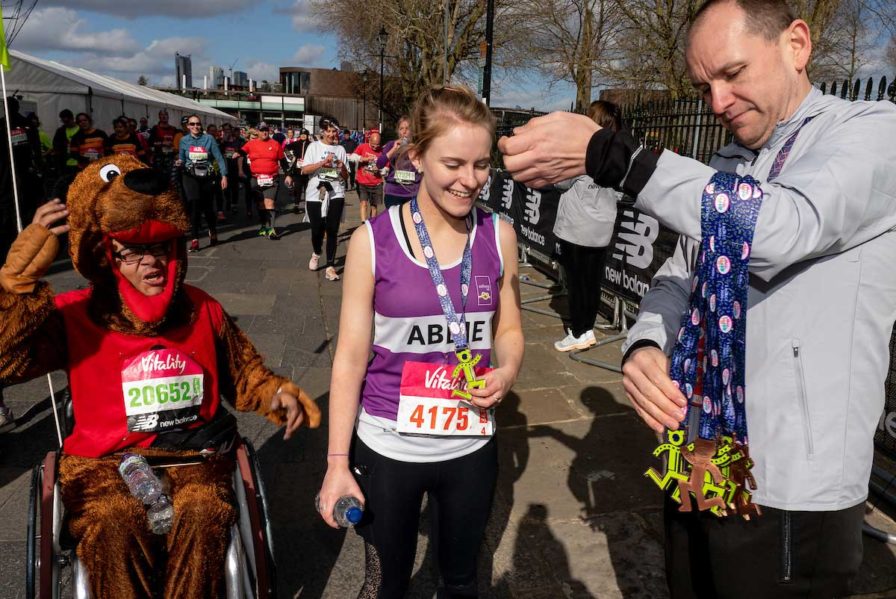 Hamid's thoughts made me think further on this. When I read the (very comprehensive) race instructions for the event they made perfect sense to me. If I had never done a race, would I know what a timing tag was? What is a baggage bus? Do I have to use it? What are wave starts? Will I be able to run with my friend? Does being in an event with 16,000+ people feel overwhelming? Will it be crowded? Will the start be a crush? And so on.
The phrase "If you can't see it, you can't be it" may sound very simple but once again, if I didn't know anyone who had done a race it makes it harder to access the event. Hamid explained, "we need greater visibility of non-traditional runners in marketing, advertising, and participating in mass participation events. There are some incredible groups engaged in physical activity at a grass roots level, supporting BAME and other under-represented communities to get active. We need to work in partnership with them to help amplify their work, scale up delivery and feel a greater connection to our events."
In addition to the half marathon distance, The Big Half also offers the chance for teams of four to run the distance in a relay, a 2.3 mile event (The Little Half) and then a family one mile race at the Vitality Big Festival in Greenwich Park. It may well be that potential half marathon participants use these shorter distances as a stepping stone to move up to the full 13.1 miles in future years.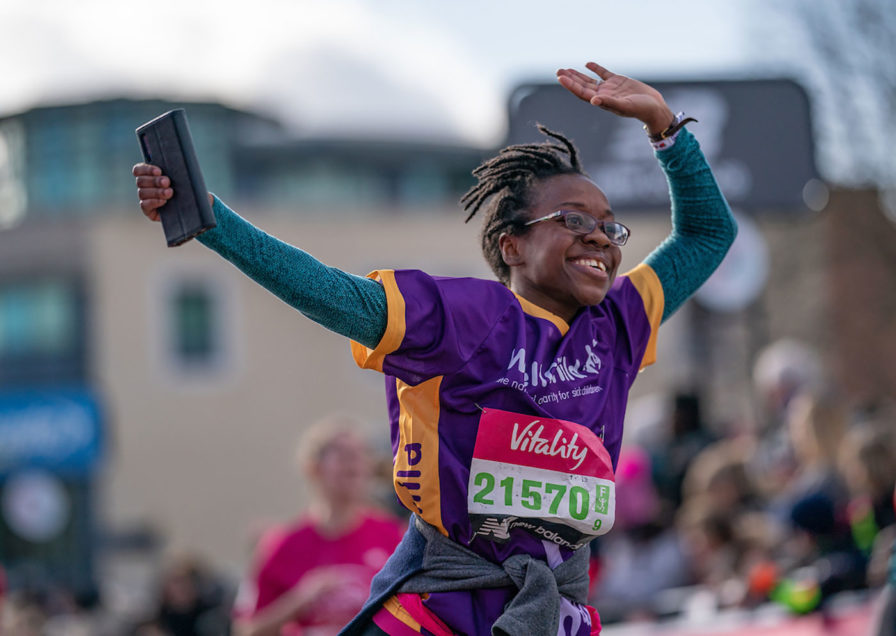 One of the very successful projects that LME have undertaken as part of The Vitality Big Half are to offer community groups the chance to apply for entries priced at £10 per person instead of the usual £46 entry fee. These 6,000 entries are coordinated through nearly 250 community groups ranging from five participants to more than 100. The groups not only facilitate a preferential entry fee, they can be the encouragement, support and positivity that an aspiring runner may need to get them to even consider an entry let alone getting them to the start line. Just imagine, coming across someone you know who is a runner and tells you that yes, people like you can be a runner. And people like you ARE runners. And no, you won't be laughed at; you don't need matching new kit; and no one minds whether you complete the course in 1h20 or 2h50.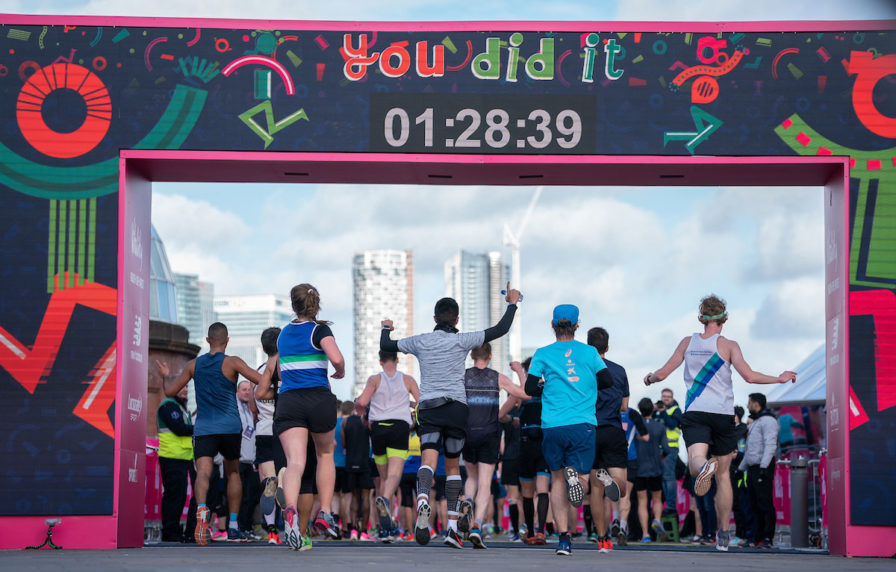 LME have also helped support community groups to train Run Leaders which them allows them to encourage others to take part in events like The Vitality Big Half. Hamid reminded me "we look for diversity in the broadest sense; we want our events to reflect London". I mentioned to him that when I did my first London Marathon in 1985 it felt much more male oriented than it is now. The flagship race is now pretty much 50/50 male/female. Hamid added that The Vitality Big Half was a chance for the organisers to test how we can do things differently whether it be looking at the entry process, encouraging more runners, working with community groups to increase participation etc. LME also organise Prudential Ride London and Children with Cancer UK Swim Serpentine along with the Virgin Money London Marathon, London 10,000 and Westminster Mile. Hamid said "I'd like us to get to a point where someone who doesn't own a bike can do Prudential Ride London – then we know we are reaching sections of the community we previously haven't touched".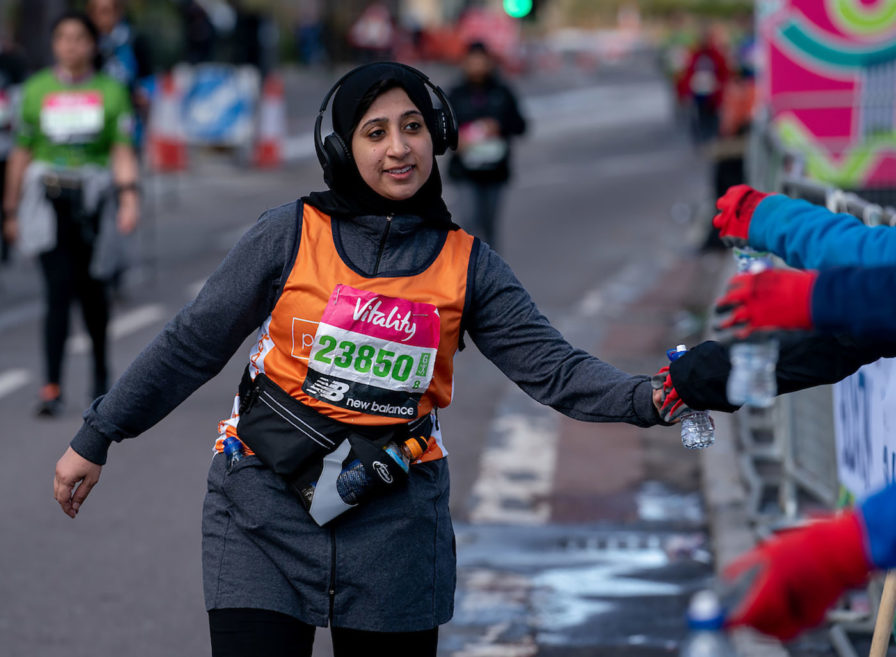 I spoke to Trojan Gordon from Emancipated Run Crew (ERC). This group was founded when two sisters, Denise & Jules Stephenson, got together with Trojan as runners because they didn't see much visibility of Black, Asian and minority ethnic (BAME) runners in the running community. Trojan told me "I'd done a lot of running events, but I just didn't see many people that looked like me. It struck us that if there was more BAME visibility it would encourage more people from those backgrounds to take part." He continued "if we went to a parkrun everyone was friendly, but I didn't feel that there were others like me. It was the same feeling that some people had told me about running clubs and when I commented on it, Jules and Dee said how running with others makes a massive difference". Trojan said "We felt that lack of representation in certain running events has had a very real effect of dissuading certain demographics, who don't feel welcome or included in running society. This is a story which ERC is working to change."
ERC were contacted by Hamid as part of the outreach programme that London Marathon Events were undertaking for The Vitality Big Half noting that the four London Boroughs through which the race passes (Tower Hamlets, Southwark, Lewisham and Greenwich) are very ethnically diverse but there was a low BAME participation in running events. Trojan told me "we believe, as many others do, that running is very good for people's physical and mental health so we want as many people to do it." With the support of The Vitality Big Half, ERC had twelve participants running in the event – one relay team and the rest doing the half marathon.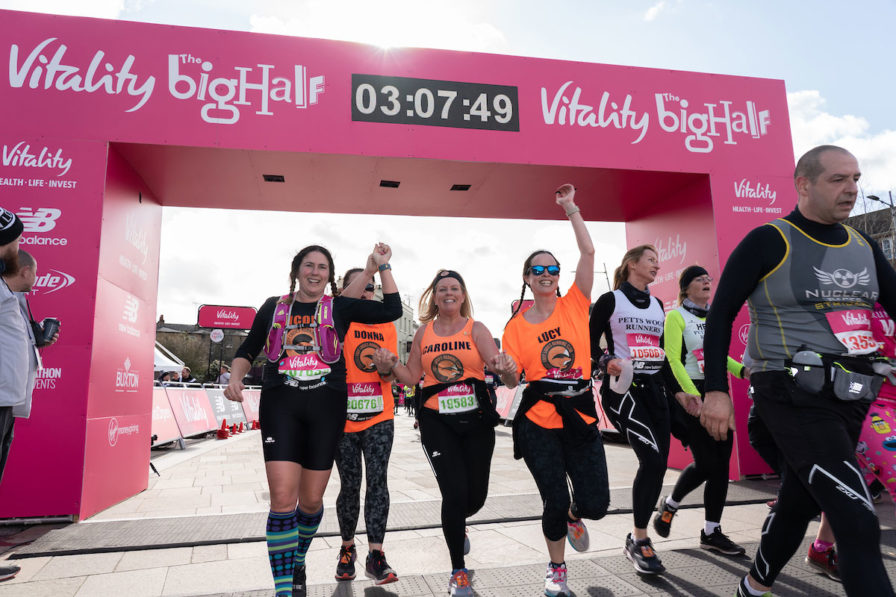 Alex Eagle is one of the co-founders of The Running Charity. They work with young people who are affected by homelessness believing that running builds resilience, confidence and self-esteem as well as bringing physical and mental benefits. Fresh from completing the 13.1 miles of the race, Alex told me "for a young person that has experienced homelessness, the chance to train for and take part in an event like The Vitality Big Half can make the world of difference. As you are running along the streets of London being cheered on by thousands of spectators, you are all treated equally, and your muscles scream at you in just the same way as they do for the other runners! Yet people affected by homelessness will have felt disenfranchised and excluded from society. When you run in a mass participation event, you are part of our society."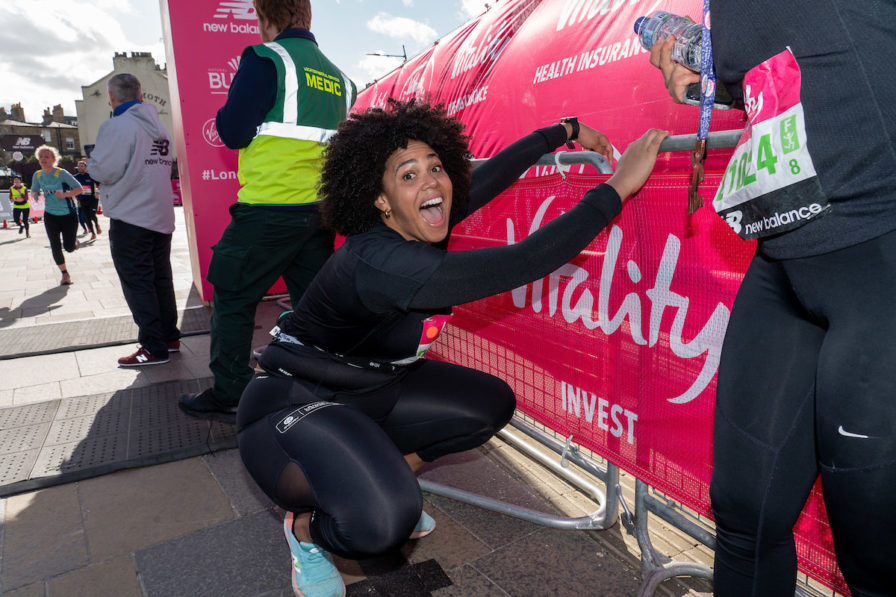 While researching this article, I realised how big some of the issues that are being tackled can be. I asked Hamid how organisations such as LME can even begin to make a change to issues that can at times, feel overwhelming. He told me that it was a gradual process. LME statistics show that about 19% of the 6,000 community entries are from BAME background – a year on year increase during the three years of the event but still with a way to go.
I'm a runner and have been for a long time. For me, it is very simple. I would like more people to be running. Actually, it doesn't really matter whether they run, or cycle or walk or play badminton or basketball or cricket. More activity is good for the individual, for our communities and our society. Maybe the challenge for us all is to take our own small steps (the pun is intended) to do our own micro outreach. Who do we know who may want to be more active but needs a little encouragement? Maybe someone heard us show off our medal from The Vitality Big Half and secretly harbours a desire to do it themselves one day but either don't know how to start or are scared of it. The responsibility lies with us all. Enjoy your running!
You can read how Mike rated The Vitality Big Half here.
Mike Clyne has been running since 1982 aged 16. At 53 he is still running and says he continues to love it but doesn't seem to be getting much faster. His first half marathon was in March 1983 and was the first of many. Along the way he has encouraged others to run as well. Not only a keen parkrunner and former triathlete, Mike has also completed a couple of Ultras (including Comrades), learning a thing or two along the way, and 10 Ironmans so isn't a slouch but in his words "isn't very fast". He recently ran his 50th marathon and is looking forward to running the London Marathon on Sunday 26th April. When he isn't running, he is often found with a microphone in hand as a race announcer / commentator (#mikeonthemic !) and virtually always with a smile on his face. You can read more from Mike here.
You can follow Mike on Twitter https://twitter.com/IronmanMike