How about something a little bit different to navigate through these strange times. Dr Loel Collins is an accomplished adventurer and outdoor educator who has explored throughout the globe, pioneering remote river exploration by kayak and canoe for over thirty years.
His own kayaking expeditions and guiding experiences include Nepal, Iran, Pakistan, Papua New Guinea, Peru, Cost Rica, Zimbabwe and Zambia, and have taken him on exploratory descents in some of the deepest, most dangerous gorges in the world. In addition, he has guided and taught extensively throughout Europe, the United States and Canada.Dr Collins currently works at the Director of Learning and Development at Plas y Brenin National Outdoor Centre, where his work focuses on developing future outdoor leaders, coaches and instructors to help everyone access the great outdoors.
Expeditions provide excellent opportunities to get to know people really well. Shared experiences under pressure can create unique bonds and I would describe many of my strongest friendships as having been forged 'on trip'. These friends are unique, and in many cases I only ever meet them in airports on the way to somewhere wild.
However, the pressures of living with the same few faces for several weeks are not to be underestimated. Given our current situation, here are a few top tips on how to survive being cooped up with the same small group of people.
The Human Condition. Humans are a contradiction; we are both social and solitary creatures, and we move between wanting different amounts of the two. Knowing when an individual wants one or the other can be challenging. Clearly somebody leaving camp with a trenching tool and a toilet roll (if they can find one!) it's pretty clear that they want some 'me' time. The trick needs to be to be able to recognise the signs and know the people you're with. Similarly, you need to know yourself. In particular the kind of things that frustrate you, are going to 'push your buttons', indicate that you're tired and irritable. Being able to spot these in yourself is really important as your reactions to the vagaries and eccentricities of the rest of your team is critical.
The Shared Mental Model. One of the frequent sources of friction on trip is sharing out the workload. One valuable way of dealing with this is to allow a routine to develop for some of the regular tasks. In the first few days of a trip folks settle into the roles they feel most skilled and comfortable at doing, not everyone does the jobs they prefer but folks settle into an implicitly agreed routine to get the jobs done, and as a result the team shares a mental model of how this get done.
Something to Escape Into. For me this is a good book. I have a bookshelf full of very dog-eared texts, not because they are literary masterpieces but because the dust on the pages and the cracks in the covers all tell a story of a particular camp, or a memorable evening. Ripped out pages or notes in the margins all allow me to revisit the trip and lose myself just for a while and can be a fantastic way of getting your own time. On trip, or in our current situation, you can escape into a book itself, so it serves as an indicator of 'me time' rather than having to grab the trenching tool!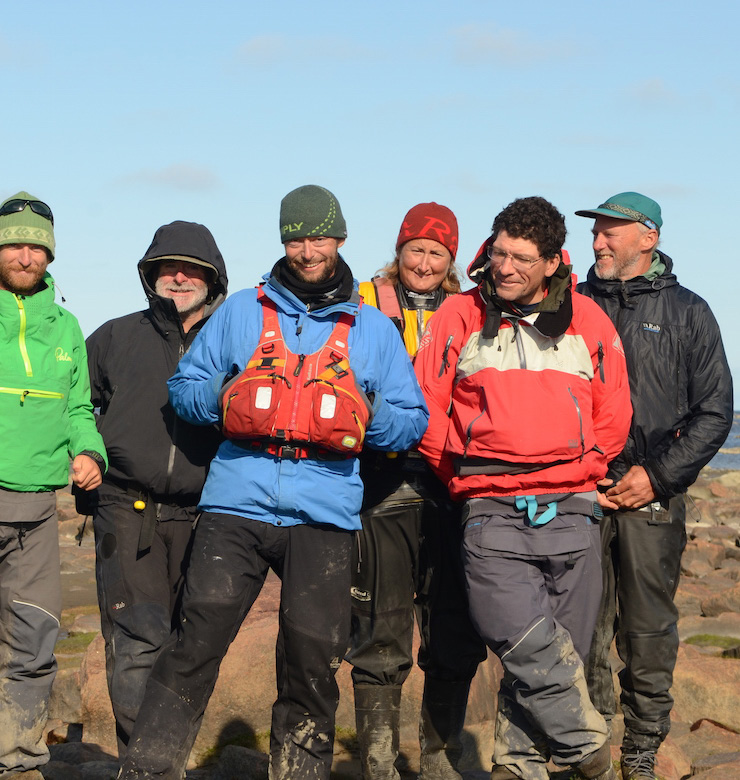 Deal with the bears closest to the tent. Don't stress the little things when the timescale changes. When you're not constrained to the 9 to 5 schedule you can live by the rise and fall of the sun and leave your watch and phone behind! Deal with the bear closest to the tent.
Embrace the eccentricities of your teammates. Trip teams are mixed, they have to be. Be tolerant and understanding of your team, it could be important to that person that they get coffee to everyone, or that someone has to spin their cup 3 times before they can drink it! Some of these habits can be quite challenging and certainly unique, but remember variety is fine and not a big bear to worry about!
Chill. Learn to relax. This doesn't have to mean yoga or meditation; it can be absorption in a particular task and achieving a state of flow. Essentially, this is the practical equivalent of being absorbed in the book. Absorb yourself in doing your bits well.
Humour. My final recommendation would be to develop your own 'commando' spirit. This, for me, is best encapsulated as having a sense of humour, tenacity, resilience and camaraderie. Importantly, laugh at yourself, and your eccentricities in particular.
It's an expedition! Importantly the expedition has an outcome not a time frame; holidays have a time frame. Try to avoid counting the days and instead imagine the progress towards the end goal. Right now, that means staying healthy, safe and well