The dust has settled. The kit has been washed. The trainers haven't yet been cleaned. The medal is still hanging in the kitchen. Although it has been a few weeks since the Virgin Money London Marathon 2021 took place, the buzz remains.
889 days after the April 2019 race, I was once again lucky enough to walk onto Blackheath Common in a tide of humanity 35,000+ strong, that was being drawn towards the start of the long run to the Mall.
And let me tell you. It felt fantastic. I took the train from Charing Cross along with many others and the atmosphere was already buzzing. I overheard snippets of conversations:
"Yep, my fourth marathon in four weeks…".
"I'm not sure whether to laugh, cry or throw up. I'm so excited and so nervous."
"Where is the 17 mile point? I've never run further than that before."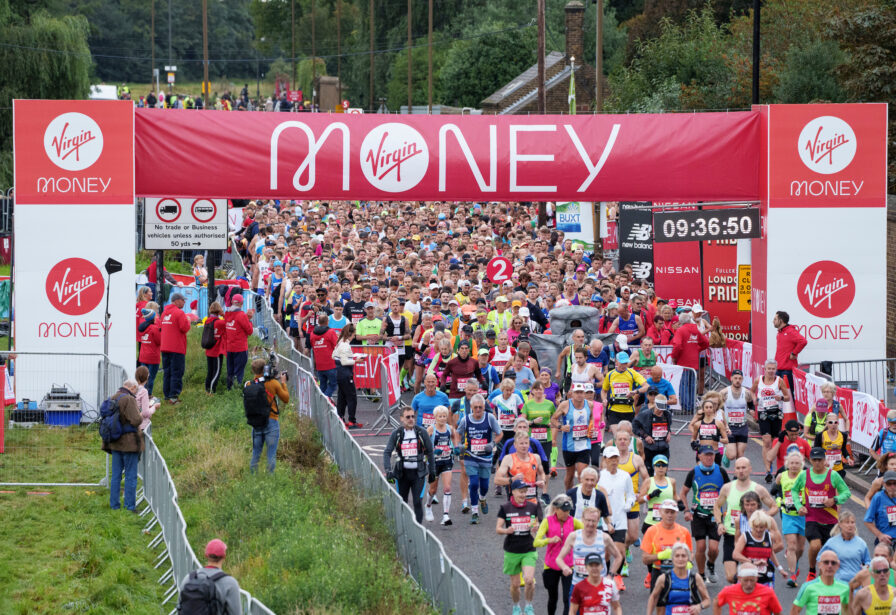 Organisational changes
Meeting up with friends at the start, all of whom had run one or more marathons before, one of whom had never run 'The London' (as everyone seems to refer to it). Tim and Sharon were on the Red Start, Mark, Kate and I headed over the the Blue Start.
There were many changes to the organisation. Firstly, we dropped off our finish line bags when we registered at the Expo. Secondly, we were given a time to arrive at the start rather than 'turn up at least 60/90 minutes before the start'. Third, we were allocated to start waves which worked really well.
The three of us had been allocated to different waves so we decided to go in together to the last wave. The whole start system was laid out really well and the corrals were separated.
The dulcet tones of Steve Trew (who I have worked with on the mic at some triathlon events) was once again coming over the PA and letting us know when each wave was being called. We bumped into Steve, got some pictures and then headed over as Wave 17 was being called.
As we were the last wave, we saw another one of the new innovations as the large group of tail-walkers gathered behind us. They were there to walk at an eight hour finish pace to help some of the slower runners to navigate the course as it reopened. It's a great idea and one that I hope will continue.
Our wave was then called forward and we strolled towards the start line. It is a rare occurrence to be on a start line with Mark and him not seeing someone he knows – this day was no exception!
As we got near to the start line, everyone started running. Because of the wave start set up, there was no congestion and we could run freely. Mark, Kate and I had agreed to run together for the first mile and then he & I would head on.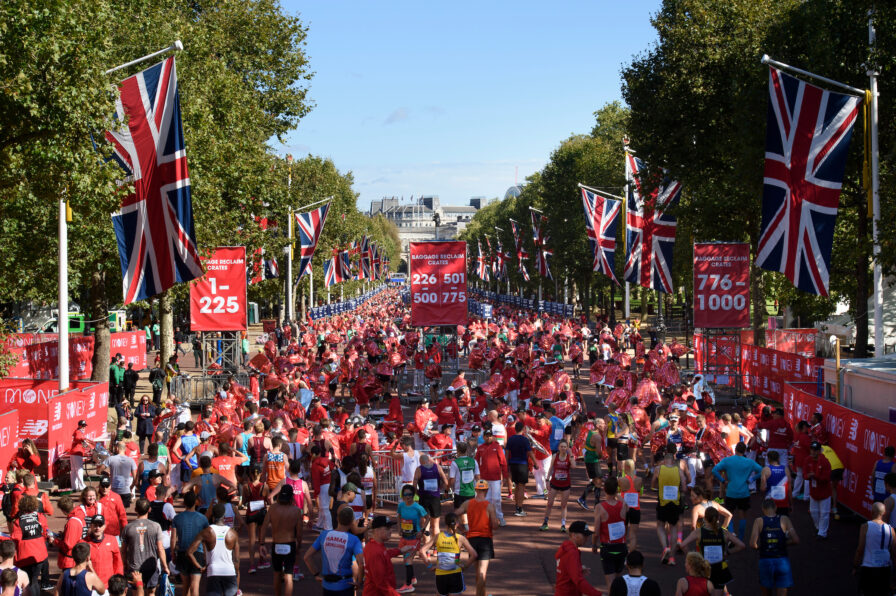 A day when everyone is your friend
This was my 17th time starting the London Marathon and I am an unashamed massive fan of the race. I'm not sure if it was just because it was London, or because I'd waited so long to be doing it again, or there was an inner pent up desire for being at a mass participation event – but I could not stop smiling. I was buzzing.
When anyone called my name out I smiled and waved or said hello back. We chatted to others around us and generally just had a great time.
Around four miles, Mark went on ahead as we'd planned and I was then on my own. Except I wasn't.
I have always told anyone that will listen that if you are ever cynical about the world (and I'm not), go run or spectate a big city marathon. It's a day when everyone is your friend.
Everyone is your supporter and every other athlete is your running buddy. I'm pleased to confirm that contrary to popular belief, the world is NOT going to hell in a handcart, it ISN'T full of bad people and people are NOT all out for themselves. Completely the opposite.
At the underpass around the 5 mile mark, I passed the big drum band that was always in the same place pumping out a rhythmn that made your hair stand on end.
I passed pubs that were blasting our every golden oldie you could think of. I passed choirs, steel bands, Pearly Kings & Queens dancing with anyone who wanted to join them; and thousands upon thousands of happy friendly spectators.
Marathons are an emotional time – it's a combination of your fatigue, the sense of occasion, the roar of the crowd and your fellow runners. I don't mind admitting that there were many occasions when I had tears in my eyes when you ran behind someone whose T-shirt had a message "In memory of my son, aged 5 who died in May" or "Running in memory of grandad" or "Raising money for the hospice where…".
I always tried to give additional encouragement to the folks who were fundraising and clearly had a very personal reason for doing so. I hope it lifted them as I know it lifted me.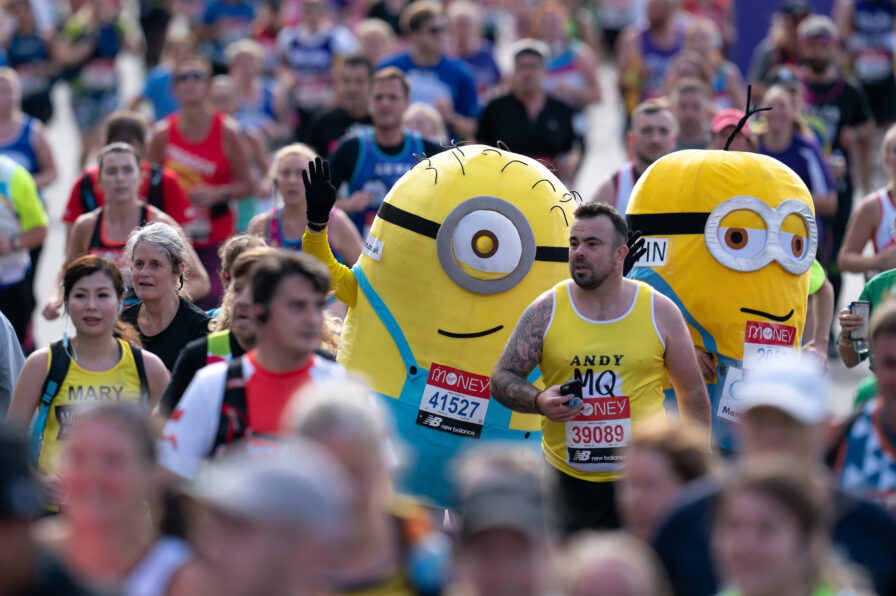 The greatest marathon in the world
The conditions were pretty much perfect for my until about 20 miles. A little breeze, lovely sunshine and as I strode over Tower Bridge (actually it was more of a shuffle) my smile grew even wider.
I was running in the greatest marathon in the world in the greatest city in the world (in my biased opinion). What's not to like.
Having done the event many times before, I know the course pretty well. Some parts have changed more than others over the years but I always know where I am and what's coming next.
As I came near to the half way point, I was curious to see how quickly the London Marathon Tracker App would update me going over the timing mat.
I pulled my phone out of the belt pouch and held it as I went over the mat. Within two seconds, it had alerted me that "Mike Clyne is FINALLY at half way". Actually it was more polite than that but still very impressive.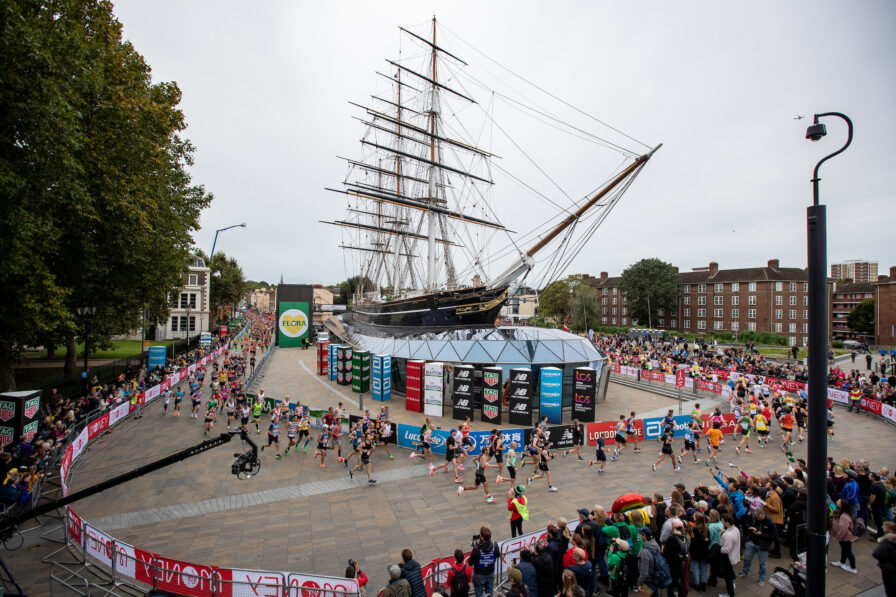 Inspirational people
When I was at around 18 miles, I went past someone who was walking and I tried to encourage her to run with me. She did so and we got chatting. Over the coming miles, we pushed each other to run as much as we could and to walk as little as possible.
She told me she'd never run more than 16 miles and was raising money for a charity that raised awareness of blood cancers in BAME people. Her cousin had died aged 16 and she wanted to raise money in his memory (more tears from me). She'd never done a marathon before and was loving it but was overwhelmed by it.
We ended up running the rest of the race together. I was able to impart a few nuggets of advice from my many years of running which I hoped helped her along. As she gave some of the kids spectating a high five, I commented: "Just think, some of these kids will remember watching this today and maybe in the future will run it themselves".
She told me: "Funny you should say that. I came to this country aged seven and the following year, I remember watching the London Marathon on TV. Once it had finished, I ran around the kitchen table shouting 'I'm running the London Marathon' to my mum.
She's still got the picture of me doing it. And 24 years later, here I am. I am running the London Marathon. Just as I'd always hoped."
Now if that doesn't inspire you, I'm not sure what will.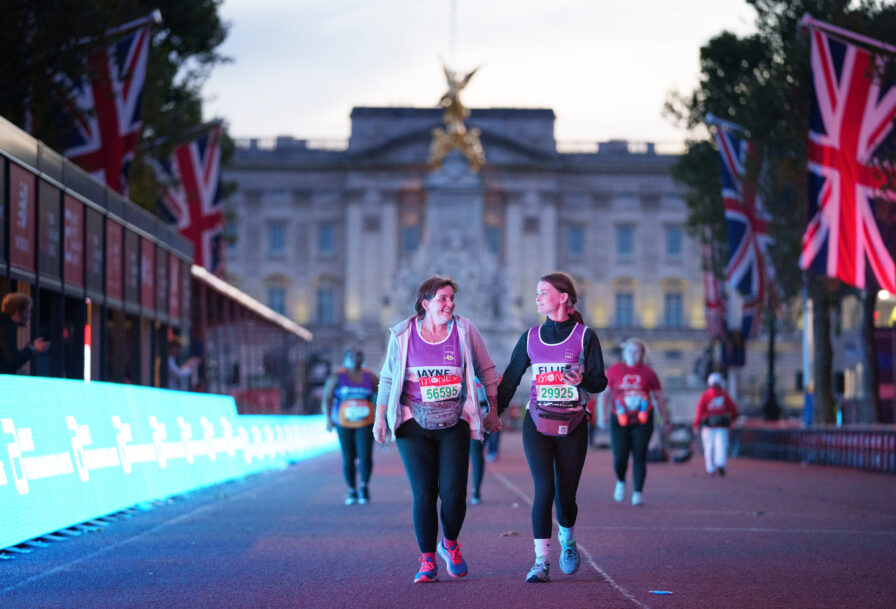 Water bottle initiative
One of the many changes that London Marathon Events had put into place was to reduce the number of water stations but encouraging people to carry the bottle on a bottle belt.
I'd taken part in the trial of this in the 2019 race and it was a great way to reduce the number of water bottles used. We still had 12 water stations, three Lucozade Sport stations (in cups) and two Lucozade Sport Gel stations so we were well catered for.
As ever, the marshals, volunteers, crew, police and all those involved were amazing. Every time you took a bottle you got encouragement as well. Every time. Without exception.
We ran through a torrential downpour at 20 miles that ruled out the need for for running through the showers to cool us! We plodded on. Some walking, more running, but just trying to keep going.
The rain cleared and the spectators continued their noise. We went passed Tower Bridge and I saw my friend Adam who was part of the London Marathon Support Team along side the race. Another great initiative that was in place and he said it was a help to a number of runners that came behind us.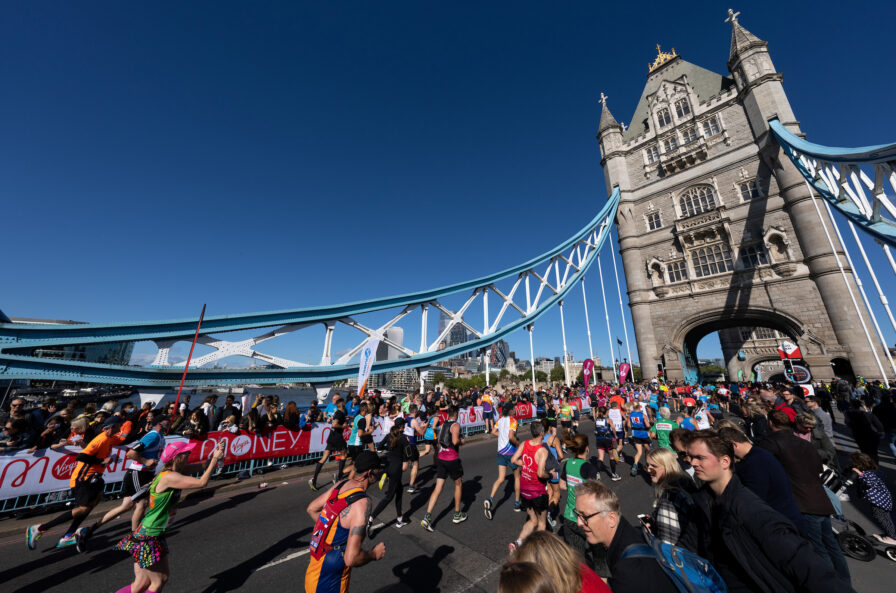 The final stretch
As you go through the Blackfriars tunnel, it is a short patch of relative calm before you emerge to the 24 mile mark and a wall of noise. As you head along The Embankment towards Big Ben, the intensity grows and the shouts from the crowd change from 'you can do it' to 'you've done it – almost there'. Cue even more smiles from me.
My running companion was shaking her head in amazement – "All of these people out watching. I feel like a star." I asked her what she'd expected and she admitted she wasn't sure. Earlier in the race she'd said this would be her only marathon. Ever. I didn't say anything but smiled to myself.
Turning right at Big Ben, through Parliament Square we were into the final mile. We agreed to run as much as we could but the time wasn't important.
Every painful step forward was accompanied by cheers and encouragement from the sideline and as we approached the finish line, I saw firsthand the excitement of a first time marathon finisher. It was a joy to behold.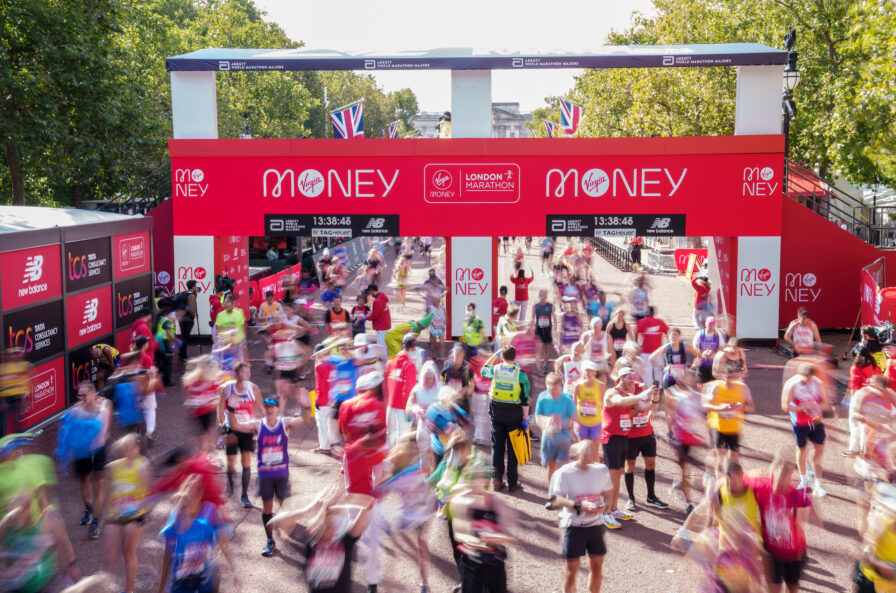 As special as ever
Crossing the line was as special as every finish line has ever been – but it felt even better than before? Had I just forgotten how great the others were? I think it was just the excitement of the day and that it had been so long since the last one. We said our goodbyes and I walked on to get my medal. Actually I hobbled as my legs reminded me they'd been punished.
As I walked towards the bag pickup, there was a chap with a foil blanket around him in floods of tears. I went to check on him and he told me that it was his first marathon, he was running for Alzheimer's Society in memory of his grandfather.
He was so overcome with the emotion and exhaustion so I helped him towards getting his bag and making sure he was okay. What makes this an even better story is that he tracked me down via social media the next day and we spoke on the phone!
The bag pickup was super easy. No baggage buses any more but the crates that we'd left the bags in at the Expo were ready for us with medal and drinks inside.
London Marathon 2021 was a day to remember. Just like my first 'London' in 1985. And just like all of the others I ran.
If you want to be reminded of how wonderful the world is, go and run or spectate at a big city marathon. You won't be disappointed.
Enjoy your running.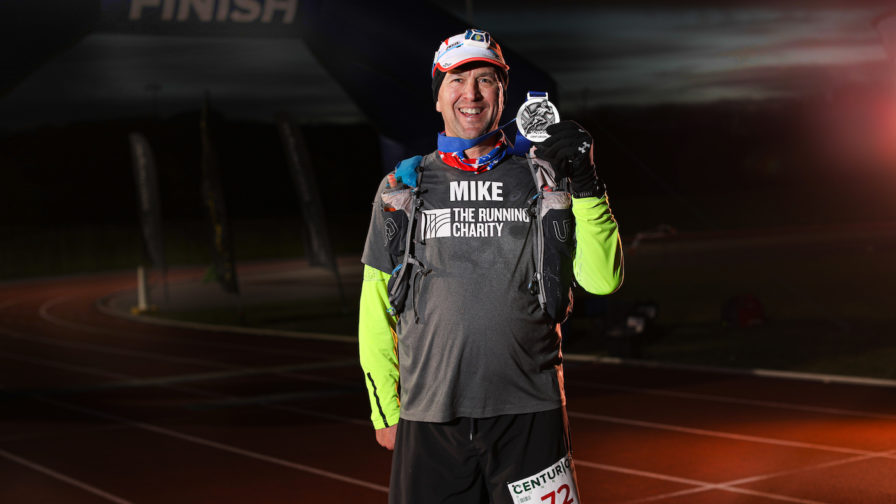 Mike Clyne has been running since 1982 aged 16. At nearly 55 years old he is still running although he says it seems to be getting a little harder. His first half marathon was in March 1983 and was the first of many.
Along the way he has encouraged others to run as well. Not only a keen parkrunner and former triathlete, Mike has also completed a couple of Ultras such at the South Downs Way 50 mile in April 2021 and attempted the Thames Path 100 mile race in May 2021 but 'only' got to 71 miles.
He's also done the Comrades Marathon and 10 Ironmans so isn't is reasonably experienced at what he says is the 'slower end' of endurance events. In six weeks he will be back at Greenwich on the start line for the London Marathon and is clearly as excited by this as the many other times he has toed the line since his first in 1985.
When he isn't running, he can sometimes be found with a microphone in hand as a race announcer / commentator (#mikeonthemic !) and virtually always with a smile on his face. You can read more from Mike here.