Focusing on small details can help transform your race's environmental impact, says the London Marathon's sustainability chief.
Megan Hunt, Head of Procurement and Sustainability at London Marathon Events (LME), offered the advice as she outlined their vision to become a net-zero business.
While the TCS London Marathon is LME's flagship race, they also organise other running, cycling and swimming events across the capital. This makes LME a big player in the industry and therefore able to throw large resources into becoming more sustainable.
However, Hunt was keen to encourage smaller events to see how they too can make changes.
"I'd say to them 'It won't happen overnight'," she said. "Think what the key impacts are and what areas can we influence whether it be transport, waste etc.
"Therefore, I'd say pick a few areas and try to make a difference there and this will then influence the behaviour of participants at other events as well.
"If you look at the information we get from our feedback survey, our sustainability work is important to the athletes."
Hunt has been in her role for just over two years, but said she is building on the sustainability work that had already been in place.
She said: "We have sustainability as a company objective and this together with a lead from the management ensures that sustainability is considered as an ongoing part of everything we do.
Willingness to learn
"I've seen that all areas of our organisation are willing to try new initiatives.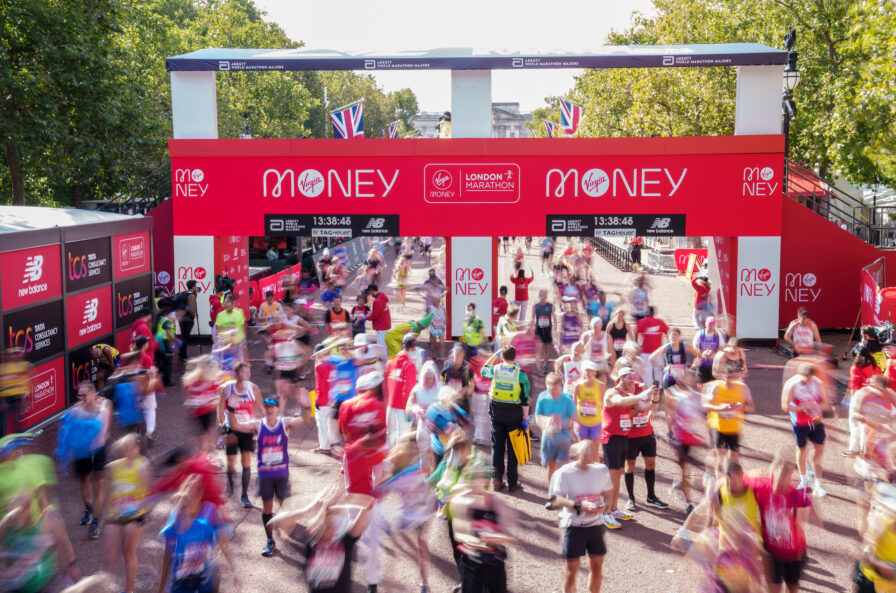 "Two examples of this are the trial of the Ooho seaweed pods filled with Lucozade Sport that we have given out previously on the route; and the other is the use of Hydrotreated Vegetable Oil (HVO) to power the generators that are used at events."
Such innovations come from a number of sources.
Hunt said: "The partnerships we have are important and the constant dialogue with partners and suppliers is key as well as keeping our eye on the events market.
"For example, the HVO generators arose from the supplier alerting us to their existence and thus we could give it a try.
"We share ideas with other events organisers in the UK and elsewhere, which helps."
Virtual reality
The Covid-19 pandemic meant the 2020 London Marathon became a virtual event for everyone apart from the elite athletes, but this in turn led to a new sustainability idea.
Hunt said: "We sent out the virtual finish line tape printed on seeded paper. This is paper from recycled materials embedded with wildflower seeds which means that afterwards, it could be planted!"
The race returned to 'in-person' in October 2021 where another scheme was in place.
Hunt said: "Anyone who took part in the London Marathon will have also seen the British Heart Foundation collecting the clothing discarded by athletes which could then either be sold in their shops or recycled."
LME's sustainability efforts extend to initiatives such as encouraging charity partners to reduce waste in their 'cheer zones' on the marathon course. They also promoted information on a 'sustainability wall' at the London Marathon Running Show.
Looking forward, Hunt says LME must maintain a step-by-step approach to sustainability.
"The biggest challenge is to make sure that we continue to focus on our efforts on some initiatives rather than trying to do a lot of things half well.
"We also need to continue to be transparent in reporting of the data like the annual report."
Net-zero vision
If Hunt and her team's work succeeds, how might the London Marathon look different for future runners?
She said: "Some of the changes will be immediately visible, such as an electric vehicle fleet, more recycling and reusing of waste and products such as t-shirts and medals.
"Some will be invisible but still important such as becoming a net-zero organisation, influencing the supply chain, circularity of use of products."
It will also be the case of developing what is already in place.
Hunt said: "Our initiatives do make a difference. For example, we believe our bottle belt initiative reduces bottle use by about 40% for the athletes using the belts. In an event with 36,000 athletes, that's a big number.
"The Drink, Drain, Drop messaging meant bottles could be recycled in a closed loop – which means we collect the waste bottles and send them back to Buxton (our water supplier) who will recycle them into new bottles."