When lockdown reveals a different opportunity. Lewis Copper speak with ultra-runner Ryan Sandes who still managed 100 miles, just not in the race he had planned!
So your training plan's completely scuppered, the race you were aiming for has been cancelled, life in general has become unrecognisable and entire countries the world over are in lockdown. Some might feel like it's a disaster, some might call it a blessing in disguise, some might be just trying to get through it, some might be revelling in the chance to reassess priorities but I'm pretty sure only one person thought this is a great time to run 100-miles! That person is ultra-runner Ryan Sandes who this week did just that whilst in lockdown in his native South Africa.
Ryan, who's achievements include winning Western States, Leadville and TransGranCanaria as well as a whole host of other races, and holds the FKT on The Great Himalayan Trail, created a loop that ran through his house, down the driveway, skirted the front lawn, through the back gate, into the garden and through the house again. He set off on the challenge at 01:15am local time and completed the 100-mile target in 26hrs:27mins, along the way taking in nearly 4500m of ascent. With a play on his sponsors, Salomon, tagline it was "Time To Play Inside" and we caught up with Ryan shortly after he'd finished to find out the thinking behind this bonkers challenge.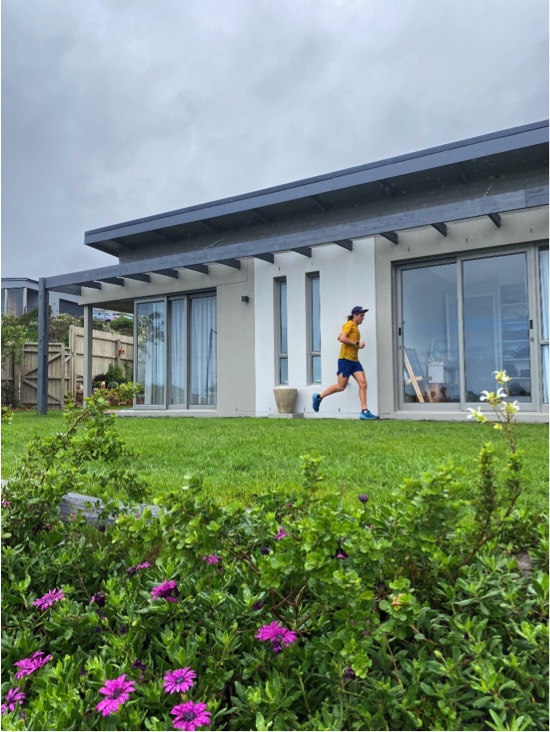 When did you first come up with this idea? Did you have anything in the schedule at this point beforehand that you were working towards?
On April 1st actually I did an April Fool's joke saying "Today would be a good day to run 100 miles in my garden" and then shortly after that we had the three weeks of lockdown, now extended for a few more weeks, and when that happened I was like flip I did actually have a 100-mile race at the Ultra-Trail Drakensberg coming up at the end of the month which obviously I couldn't really train for and then the race was cancelled anyway, so I just kind of thought you know let me give this a bash. The idea kind of intrigued me. I've never been one for running garden laps or around in circles but I thought this would really be an ultimate challenge, a real mental challenge and to be honest I had no idea if it could even be done.
How far was the loop? How often were you changing up rotations?
The loop was 110 meters and I changed direction every 15 / 20 minutes or so. I wasn't too strict on when to change directions I really just went with it according to how I was feeling or when I felt like it.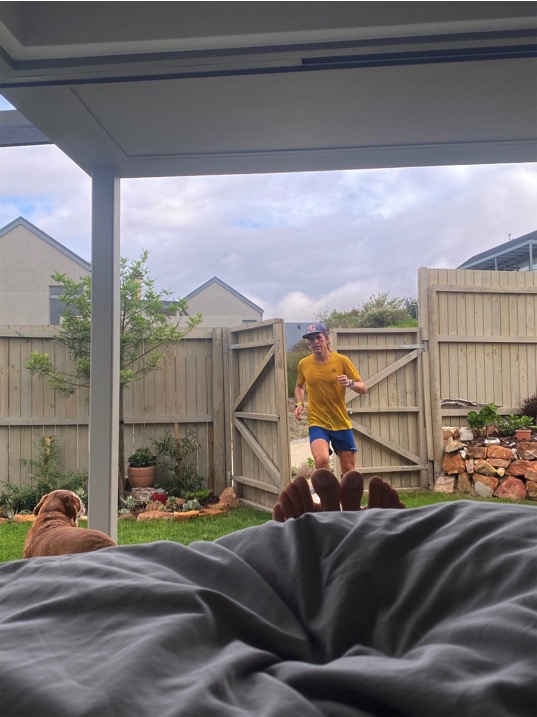 When did it dawn on you that those stairs were going to be a bit more of a challenge than maybe you first thought?
Well during this lockdown I've been doing a lot of work on the stairs incorporating strength training so I knew beforehand they were quite a lot and quite intensive but it was about 35/40k into the run that I realised they were taking it out of me a bit more than I thought they would. But also some of the other running, it was just impossible to get into any sort of rhythm and flow, it was very stop start all the time and I guess having not really done much running for the last three weeks' kind of amplified that. But without doubt it was much tougher and way more vert in the loop than what I had originally anticipated
Any particular tricky points during the day?
Yeah I had a bad patch right before the half way mark, my energy levels just dropped and I was quite tired. Then the last 30k was really tough. I think from really just running in loops for the whole day, at that point it was maybe 20 hours, I was almost becoming delirious or delusional every time I was going up or down the stairs. Also the lights were on through the house and then it was dark during the night outside and running from one straight into the other made me feel really out of it and kind of disorientated. I've done quite a few really long projects and have suffered sleep deprivation but this wasn't like that, my brain was just completely and utterly fatigued.
How cool was it to literally have all your "Home comforts" at every "Aid Station"?
It was really awesome to be able to do something like this at home. Obviously with the coronavirus outbreak there are a lot of negatives but this has been great fun. I would've never done it under normal circumstances and will probably never do it again! It was great to have family and the neighbours supporting. But also a disadvantage is that you spend a lot more time stopping at the aid station if you're passing it every 110 meters!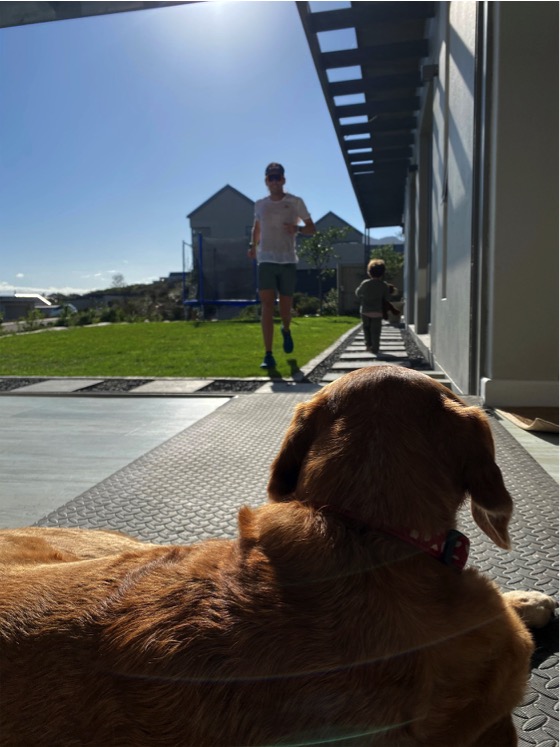 What was the reaction from your son Max when he woke up to find you running through the house every few minutes?
Max was a bit perplexed at first but really due to the lockdown I've been doing much more running and other workouts around the house so he's been getting used to it. Having said that when he was going to bed last night and I was still running and sweaty he realised something wasn't quite right.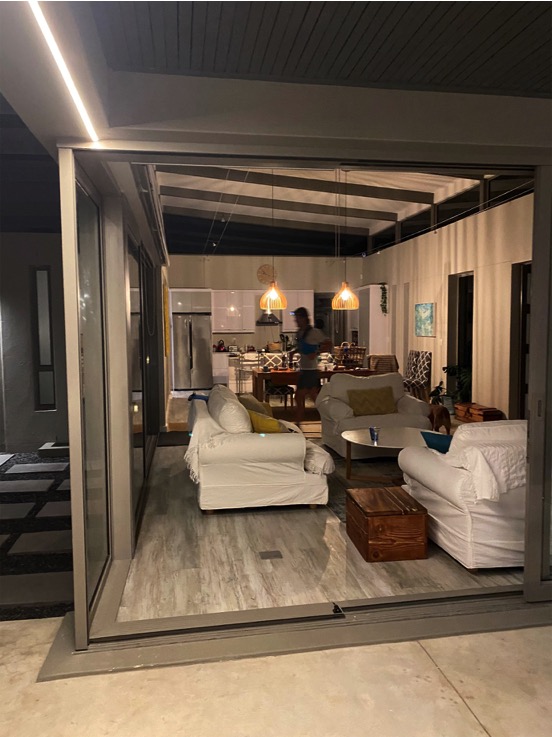 What was your main thing you wanted to achieve when you set out on this challenge?
It was really just to show how you can make the most of your situations. I think being positive and when things are bad those positive references are sometimes all that we have. It was just thinking outside the box. Running laps around the garden is definitely not my style, it's not something I would naturally do but that's all I've got and you can create a fun adventure out of it. Anything is what you make of it if you have a positive attitude. If I can inspire people through doing this for them to attempt their own challenges, then that's amazing. It was also a chance for me to do something really different that would really take me out of my comfort zone and challenge myself.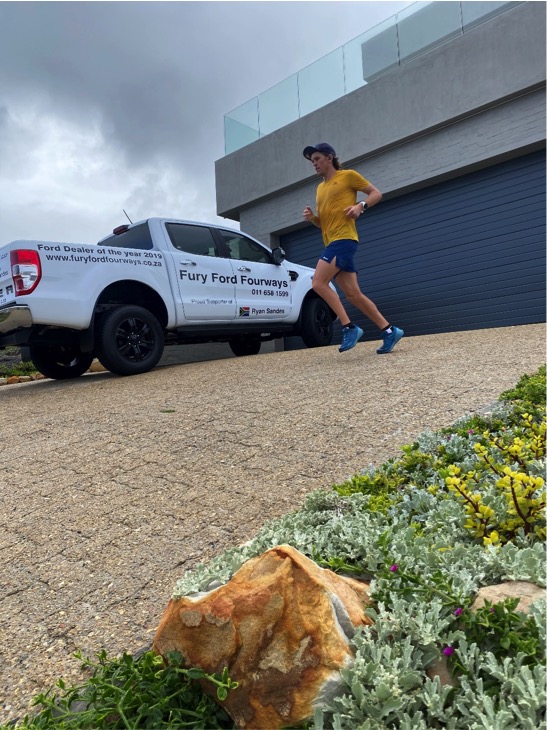 As much as running 100 miles is an unbelievable achievement a lot also has to be said for your wife!? I'm guessing she probably had a heck of a day crewing you, covering media obligations, watching the kids as well as cheering you on for the entire 26-odd hours! That's a long day for both of you!
Yeah of course, she was a complete rock star. Crewing for me, trying to capture photos and videos and put them up on social media that kind of thing, whilst looking after Max so it was no easy feat. Then as well into that second night, about the last 30/40km, when I was really tired and fatigued she was still right there supporting me so that was just so amazing and I'm really grateful.
Now as much as I can't imagine there will be too many of us jumping at the chance to follow in precisely Ryan's 100-mile footsteps what he proved with this challenge was the ability to make the best of even the most demoralizing situations is sometimes all you need to see you through. So keep challenging yourself, keep pushing the possibilities, keep surprising yourself and keep running, even if it's for a hundredth of the distance Ryan covered.