Often when you are training, you put your priorities into running for longer and longer distances. However, there are several reasons why runners should be doing strength training, and in particular, resistance band training.
What are resistance bands
Resistance bands are strong elastic bands that are used for strength training. Not only do athletes use them to improve their performance, but physical therapists use them as well to help people recover from muscular injuries. By working against the band's resistance, you can build strength in a gentle yet effective way.
Resistance bands typically come in different colors according to the level of resistance that they provide. The stronger the band, the more challenging the exercises, because your muscles will have to work harder against the pull of the band.
Kinds of resistance bands
There are several types of resistance bands:
Tube bands with handles
Flat therapy bands (these can be cut to different sizes)
Loop bands (these are best for training your legs as a runner, see below)
Leg and arm tube bands
Power and mobility bands (good for pull-ups and exercises requiring longer bands)
As a runner, we recommend getting yourself some loop bands, such as the ones at Victorem (USA) or Meglio (UK). You can use them for the exercises we'll mention below.
Now on to why you will want to use resistance bands for your training as a runner.
Resistance bands can help reduce injury
When you use resistance bands for strength training, you are working not only on the large muscle groups but also on the joints' smaller muscles. Training the whole area around your joints can help reduce injury. Many runners' injuries come from overuse, such as ITBs and Runners Knee. These injuries have been linked to weak hip muscles, easily corrected with resistance band exercises.
Resistance bands are also known for being easier on the joints than traditional weights. Even if you have joint pain or are recovering from an injury, you can still use resistance bands (check with your healthcare professional first to see what exercises you can do safely).
Resistance bands can improve your running performance
Bands will also help you correct any muscle imbalances and improve your muscles' activation, which means that the movements you make while running are more efficient. By moving more efficiently, you are improving your running performance.
For example, in this study, mid-distance runners showed improved performance by doing squat jumps with resistance bands.
Resistance band training for runners typically targets the quads, glutes, and calves.
Some common exercises that are favorites with runners are:
Lateral banded walk
Banded squat jumps
Banded squats with leg lifts
Banded star jacks
Banded plank
Pallof press
Dead bug with band
Isometric lunge with row
Plank row with band
You're also working your core
When you are using resistance bands, the effort of balancing or maintaining the correct position as you do your exercises gives your core muscles a workout at the same time as the leg muscles you are targeting. Runners can neglect core training, but having a strong core will help your running form. The stronger your core muscles become, the better your overall stability as you run.
You're looking after your muscle mass as you age
Older runners may be fit, but they are as susceptible to sarcopenia as the rest of us (the decline in muscle mass as we age). Strength training is excellent for maintaining your muscle mass so that you can stay strong (and avoid injury) for as long as possible.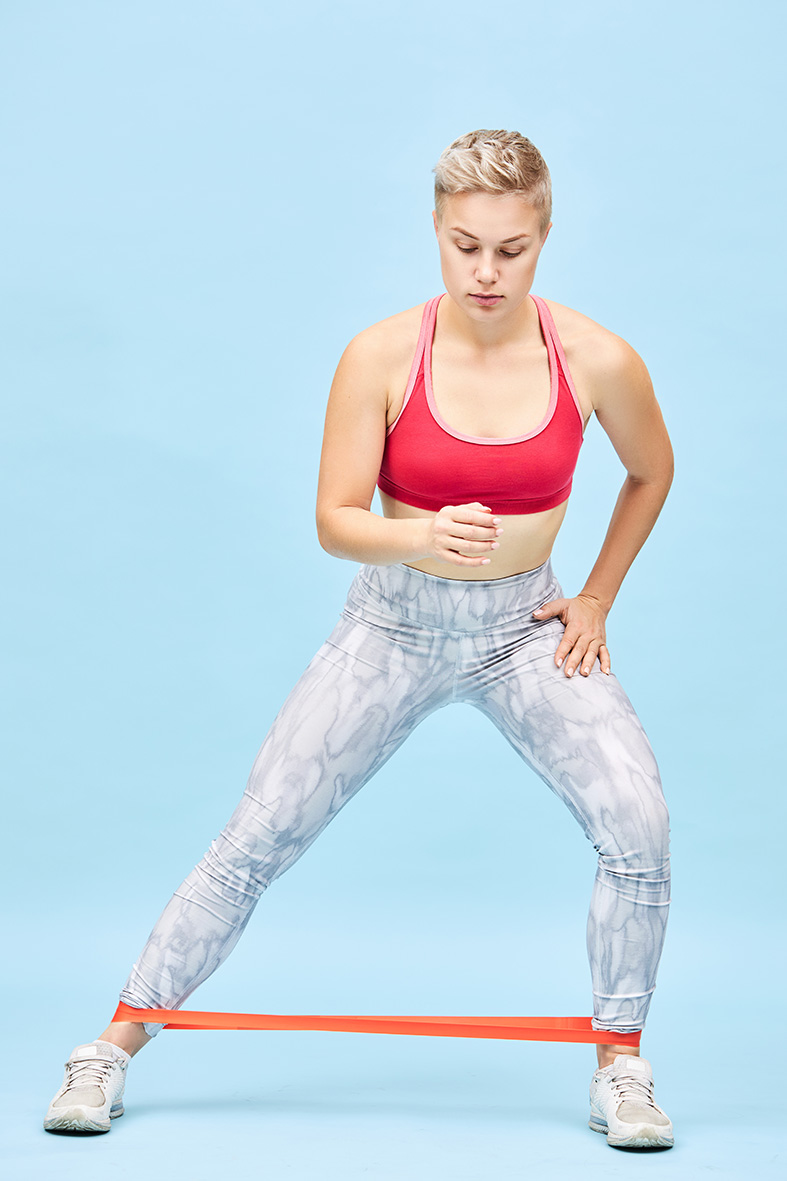 Resistance bands are ideal for rehab
If you do get injured, resistance bands allow you not only to continue to train, but they can help your injured muscles recover faster. In older people and those doing rehabilitation exercises, resistance bands have been proven to help with the strength, function, and size of muscles.
Because you can choose the band's tightness to suit your level, you can easily customize your workouts to suit your level of strength and ability.
And finally, how often to do strength training with resistance bands
If you are a short or middle-distance runner, aim for 2 to 3 times a week for strength training, on days when you don't have heavy training elsewhere. If you are a long-distance runner, build up a solid foundation at first and then gradually ease off the frequency of strength training the longer you run.