On Monday 13th August Dan Lawson set off from John o'Groats at 6am, aiming to break the record to run to Land's End: JOGLE. Who is Dan Lawson and why is this record so special?
Dan Lawson has an incredible endurance running pedigree. He's consistently been one of our top 24 hour runners for many years, achieving 253km for 5th place at this year's European Championships and 261km to win the 2016 European Championships. He's also achieved a third place in Badwater, won Run the Rann in India and come second in Spartathlon. If anybody has the experience and the talent to pull this off, it's Dan Lawson.
JOGLE consists of around 870 miles of running and to take the most direct route it mostly involves running on horrible hard shoulders of very busy roads. The current record is 9 days, 2 hours and 26 minutes, which was set by Andi Rivett in 2002. Many have tried to break it, many have failed, one has lied and pretended he did it (read this excellent analysis by @garyfallsover of that attempt). When a record stands for this long – and there's been no lack of people trying to break it – you know that it's a really exceptional record.
To break the record Dan is aiming to run around 90 miles per day. To do that day after day is truly mind-blowing, but Dan is an incredible athlete. You can read more about Dan and the history of the record over at Fastrunning here.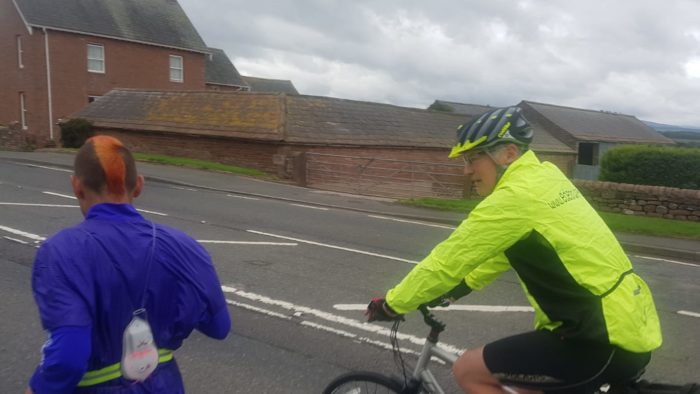 Incidentally, the female record for JOGLE is held by Mimi Anderson and it stands at 12 days, 15 hours and 46 minutes. She set it back in 2008.
To break the record Dan needs to reach Land's End by 8.25am on Wednesday 22nd August. You can follow his progress on his tracker here: http://live.opentracking.co.uk/fktdanlawson/
If you'd like to offer support go and run with him for a bit, or if you're a physio/massage therapist or know one who might be willing to give Dan's legs a massage at the end of these very long days please get in touch with his team via social media.
Good luck Dan! We will report back on Dan's progress over the next few days. Please support him if you can!
Header image (c) Debbie Martin-Consani