Most of us would be pretty happy to still be running at all at the age of 85. But some octogenarians set the bar a lot higher than that. Geoff Oliver ran the annual Self Transcendence 24 track race at Tooting Bec in London at the weekend and set an estimated eight world age group records (this is being verified).
Before the race, Geoff Oliver and the event statisticians could only find mention of one 85 year old having completed an ultra distance event. Johan Schauer, from Switzerland, who completed the Biel 100km event on the road in 1996 at the age of 85 in a time of 21:06:25.
Geoff recorded new marks at all distances from 30 miles to 100km for the over 85 category. These were:
30 miles: 6 hours, 47 minutes, 59 seconds
50k: 7 hours, 2 minutes, 10 seconds
40 miles: 9 hours, 48 minutes, 22 seconds
50 miles: 13 hours, 10 minutes, 54 seconds
100k: 18 hours, 2 minutes, 26 seconds
In addition he set intermediate distance marks at 6 Hours: 44.524km (27.66Miles); 12 Hours: 74.395KM (48.09 Miles); and at 24 hours: 124.410km (77.31 Miles).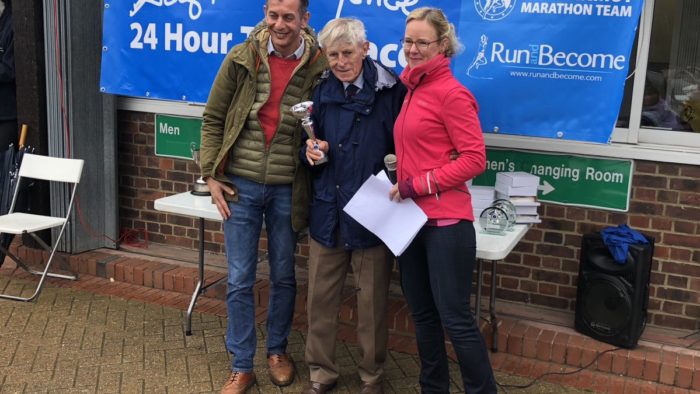 Congratulations Geoff Oliver! An inspiration to all ages of runner. As is Ann Bath, who also took part in the event and set a mark of 142.620k/88.620m at the age of 70. At the time of writing it wasn't possible to confirm whether she set GB age group records, but it is likely that she did and we will update this article once it's confirmed.
In 'other news' from the event, there were other some great, stand-out performances. Mike Stocks, of London Heathside ran 249.110 km/154.790 miles for first place in the men's race, with Paul Maskell, of St Austell Running club second with 247.050km/153.510 miles. David Bone, of Victoria Park and Tower Hamlets was third with 222.360km/138.170 miles
Sarah Moorwood of Mud Crew won the women's race (and was fifth overall) with 213.080 km/132.410 miles from Norwegian Hilde Johansen with 175.450km/109.020 miles in second. Susie Chan of Farnham Running Club was third with 164.680km/102.330 miles.
See the full results here and more information about the race here.
Header image copyright Run and Become/SCMT