The Royal Parks Half presented by Royal Bank of Canada is full but runners can still get a place by signing up to run for one of the 500 charities who will benefit from the fundraising efforts of those taking part in this year's event. You'll need to be quick though because charity entries close at 5pm this Friday (23rd August).
Now in its twelfth year, the Royal Parks Half has remained focused on its charitable aims and in 2018, charity fundraising broke the £6 million record. Since the race's inception in 2008, an impressive sum of close to £43 million has been raised for over 1,000 charities.
The Royal Parks Half credits much of its success to its many charity partnerships, which fall into six categories from those charities with the largest teams, to those with the smallest. Categories include the 'official charity partner' which is The Royal Parks; 'Golden Oak' which includes Macmillan Cancer Support, Mind, Cancer Research UK and Great Ormond Street Hospital Children's Charity (GOSH Charity); 'Silver Birch'; 'Copper Beech'; 'Elm' and 'Sapling' charity partners.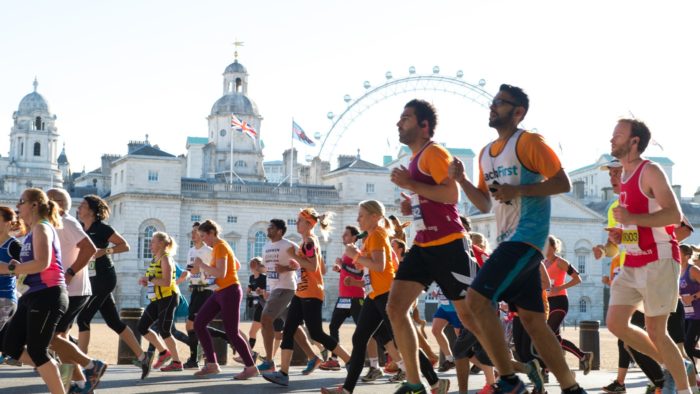 The annual fundraising of charity runners taking part in the Royal Parks Half has contributed enormously to the continued efforts of charities big and small, particularly the race's "Golden Oak" charity partners.
For Cancer Research UK, the Royal Parks Half is a flagship event in the calendar each year, with supporters raising nearly £3 million since the event began. Cancer Research UK receives no government funding which means in order to achieve their goal of three in four surviving cancer in 2034, their involvement in this iconic event could not be more crucial.
Every day, 619 seriously ill children arrive at Great Ormond Street Hospital from all over the UK. Every penny raised by GOSH Charity runners at the Royal Parks Half helps support these children and could fund pioneering research, state of the art medical equipment, support services for children and families and the vital rebuilding and refurbishment of the hospital.
"We want to encourage people to sign up for a place with one of our many charity partners and to make your miles count this year," says Persephone Deacon-Cole, Project Lead at The Royal Parks. "Breaking £6 million in 2018 was an incredible achievement for everyone involved and we want 2019 to be the biggest year yet for fundraising!
"This year we are encouraging runners to enjoy the beautiful green spaces in London and to #RunTheParks in the lead up to 13 October. As always, we look forward to seeing everyone out in force in their charity tops on race day, running for a good cause and enjoying the race's spectacular and unique route."
To secure a charity place you should sign up as soon as possible via https://royalparkshalf.com/charities-list/
How much would you need to raise?
For the Royal Parks Half Marathon 'Golden Oak' charities – Mind, GOSH, Cancer Research UK, Macmillan Cancer Support – runners need to raise a minimum of £350 and there is a registration fee of £35.
For the RPHM 'Silver Birch' charities:
British Heart Foundation: £30 entry fee and pledge to raise a minimum of £350
NSPCC: Registration fee: £10 / Fundraising target: £350
Tommy's: You can register for a guaranteed Tommy's place when you pledge to raise a minimum of £350
Alzheimer's Society: Registration Fee: £35. Fundraising Target: £400
The Royal Marsden: Fundraising target £350.00. Registration fee £30.00