In 2017 Columbia Montrail Athlete Joe McConaughy broke the record for the Appalachian Trail. He did it unsupported. He recently attempted to break Eoin Keith's record for the slightly shorter Wicklow Round FKT and a really nice short film was made about his attempt.
The Wicklow Round traces the eponymous Wicklow Mountains, providing a long-distance hill-running challenge that includes 26 summits. The circuit covers more than 62 miles, which may sound easy until you realize the trail climbs more than 20,000 feet. But if that wasn't enough, you also have to finish the feat in 24 hours to make your adventure officially successful. In case you missed the math, that's more than a single summit per hour.
The trail winds through Wicklow Mountain National Park, a 54,000-acre paradise just south of Dublin. There are bogs, remnants of historic villages, heath, bracken, and holly along the way. If runners aren't too focused on the trail, they might catch a glimpse of a swooping peregrine falcon or whooper swan. The highest-point of the run is 2,612-foot Mount Leinster (Lugnaquilla), a popular launch spot for hang gliders and mountain bikers.
Watch the film:
What was the hardest part of the run?
The hardest part of the Wicklow Round were a few large climbs just past the halfway point. I cruised through the first half of the run, having started super early in the morning, a little after 3 a.m. I missed a lot of the heat and was feeling good. As I was heading up mountains like Derrybawn and Scarr, my endurance had faded and the heat was getting to me. I slowed down a lot, I was looking pale. Despite being well on pace to set the record, my crew started to worry for me. It took a little slowing of the pace and extra stops at aid stations to regain my wits.
Were there doubts on getting the record?
I went over the third to last peak, Tonduff North, well on my way to break the record. I was ecstatic. Tonduff was about ten miles from the finish, and once I bushwhacked my way down a bog hole-filled mountainside, I was off to easier trekking. Mostly roads and established trails remained. As I navigated truly technical terrain with invisible two-foot holes below shrubby underbrush, I realized I had summited Tonduff SOUTH, not Tonduff NORTH.
I had been warned of this error when scouting, and was overcome by the finish to keep this little detail in mind. I had to run back up the technical, steep footing to the top, touch the right mountain peak, and then go straight back down. That gave me quite a scare.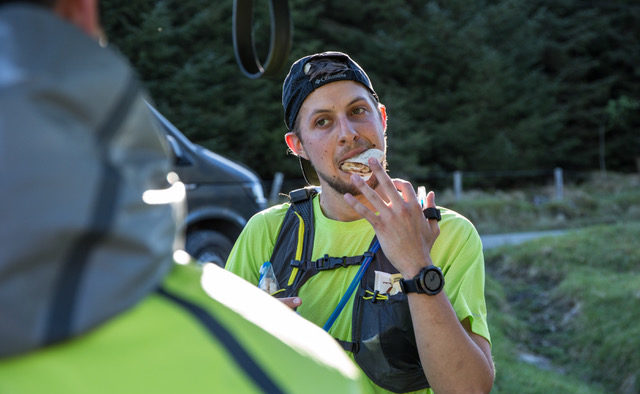 What was the terrain like in Ireland?
The terrain is gnarly. Unprecedentedly gnarly. The thing about the Wicklow Round is that it isn't a "route" or a "trail." It is a round, meaning you must find your own most efficient route between 26 peaks, and navigate them soundly. There were a few rounds, trails too, but much of it was off-trail.
Off-trail could mean, sloshy soaked moss that you couldn't hope to keep your feet dry it. It could also mean six-foot-high peak hags that you had to run up and over. It could also mean three-foot-deep bogs that you unwittingly stepped on, assuming it was simply mud or not that deep. It could also mean heather up to your knees that you had to muscle through. In the worst situation, it also meant a quarter-mile-long briar that rose up your shoulders and had no discernible path. I was picking thorns out of my legs and arms for a month later. Also, the terrain was incredibly beautiful and awe inspiring—classic rolling hills and mountains intermingled with lakes.
Did you celebrate the record?
When I finished, I was dead tired. My crew and the Columbia team had made a challenge the night before. Everyone had taken bets on what my final mile time would be. At the end of the round, the last mile is slightly uphill and all on pavement. Everyone placed bets, Derek had me going sub-six on my last mile, I appreciate the faith. Others had me as slow as 10+ minutes. I picked 7:08 for what I would run, and altered my pace accordingly. I hit the mile mark and gave it everything I had. My headlamp bobbing solemnly in the dusk of the night, 17 hours into a 75-mile journey. When I crossed the finish line, everyone was just invested in the mile split as my record. Looking at my watch, I had to have been really close, but one of my crewmembers, Clarky, just outguessed me. It was good fun.