Every year hundreds of runners look for that special race. Their big adventure for the year. Maybe it's location first – somewhere suitable for a holiday afterwards. Maybe it's just the biggest, baddest race that represents a huge challenge for you as a runner. There are the obvious ones – UTMB, Transgrancanaria, Transvulcania. And then there are the lesser known ones.
One such hidden gem is Ehunmilak. We've been coming to this race in this beautiful spot in the Basque Country for four years now and reporting on it. But we don't want to shout too loud about it because it's so unspoilt!
If you like your races big, brash, full of the biggest named runners and sponsored by the biggest brands, my advice would be – don't enter Ehunmilak! But if you like your events to celebrate the local area and customs, and you don't like queueing to get up hills, you will love Ehunmilak.
Nestled in the heart of the Basque Country, just over an hour's drive from Bilbao or San Sebastian, the location for Ehunmilak has it all. There are beaches to the north, mountains to the south and it's a rich, green, rocky area not unlike areas of the UK. They even have mud. Beasain, the town where the race starts and finishes is small and incredibly friendly with nice hotels and restaurants.
The race itself is a classic hundred miler (Ehunmilak is Basque for 'one hundred miles'). It's got 11,000m of ascent and in an area where the mountains top out at around 1,400m the race will work you hard to get that amount of climbing in. The ground is hard-going with lots of limestone rock making it pretty technical in places. But you'll be rewarded with incredible sights such as the San Adrian tunnel, a stunning natural cave, and the iconic peak of Txindoki (which you will climb, obviously).
If a hundred miler is a bit much (particularly if you're making it into a holiday afterwards and being able to walk would make that nicer) there's also an 88k (G2haundiak) with 6,000m of ascent and a marathon (the brilliantly named Marimurimendi) with 2,300m of ascent.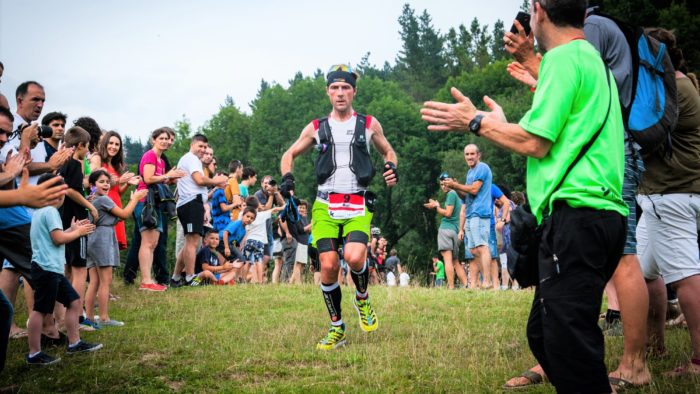 All of these races give you something which has become lost in many of the bigger races – a real sense of the place you're running in. With a lot of the bigger ultra trails it's all so similar: all the big brands at the expo, the big crowds, the bottlenecks, even the music on the start line. At Ehunmilak (which only has 550 runners) so much is unique to the race, from the traditional Basque songs and dances at the start, to the aid stations with fireworks and traditional Txalaparta xylophone players.
Ehunmilak starts tonight, as does the 88k, and the marathon goes off on Sunday. If you're looking for a race for next year that will deliver a true experience, why not follow the race via their social media (Twitter, Instagram) or ours (Twitter, Instagram, Facebook) and see for yourself. There's live video and webcams at some of the aid stations HERE. You can also follow the live timings HERE. There's a very good British runner here this year – Ally Beaven – who is well worth following (on Twitter and in the race).