Running can be a fickle pursuit and often hard to get exactly right. It's one thing to prepare effectively and then smash out a 5 or 10km PB on a Wednesday evening at your local running club. It's another thing altogether to set up an entire event that takes over a foreign city for 24-hours, call it World Record Day and then actually go and smash those records that have stood for 12 and 15 years respectively. But that's precisely what NN Running, Joshua Cheptegei and Letesenbet Gidey did last night. To be honest I'm not sure anyone at any point doubted it would the case.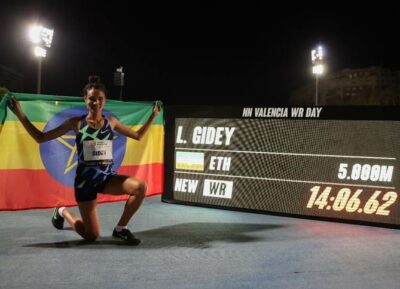 It was Gidey, last years World 10,000m Silver medallist, who took to the track first hoping to beat the 14:11.15 record set by her fellow Ethiopian Tirunesh Dibaba in 2008. Led by a team of pacemakers, who took her through 3,000m before dropping out, and Wavelight technology showing the current record pace and a "pacemakers" position some 7m ahead of that, Gidey was able to lower the World Record by more than 4 and a half seconds as she completed the 5,000m in a time of 14:06.62.
Speaking after her achievement Gidey said, "I'm very Happy! This is a long-time dream. It is very big for me."
Following that it was the turn of Joshua Cheptegei with his attempt at the 10,000m record. A record that has stood for 15-years and was held by Kenenisa Bekele. If Cheptegei's year to date was anything to go by then the record was surely never in doubt; In February he broke the 5km road record with a time of 12:51 and followed that with a 12:35.36 in the 5,000m in August. This was his third competitive race of the year and he duly obliged by keeping up with the trend of only breaking world record when he runs.
Again led by a team of pacers, and the colourful Wavelight technology, Cheptegei was able to reel off lap after lap of close to perfect pacing, steadily staying just ahead of record time before dropping a 60-sec final 400m to lower Bekele's 26:17.53 record by six-and-a-half seconds, finishing with a time of 26:11.00 and adding a third World Record to his name. Cheptegei, who had also broken the 10km road record in December only for it to be broken again in the January by Rhonex Kipruto, said after the event, "It is a great moment for me to have broken the world record. I wanted to show the sports lovers of the world that the track is exciting. I wanted to lift the expectations of the Valencia World Record Day and I am pleased to have fulfilled my dream."
Cheptegei, also the 15km road record holder, will now turn his focus to the World Athletics Half Marathon Championships on October 17 in Poland. There is no talk of another record this time around but it should still make for fantastic viewing nonetheless.
The event last night was watched by 400 spectators in the Turia Stadium in Valencia. Many more crowds gathered on the city walls outside the stadium hoping to catch a glimpse. You can relive all the action from the record breaking night below.