If you're a fan of putting the fun in your running, there's a new event you might enjoy. The good folk at Run or Dye have taken their concept and made it EVEN MORE FUN by extending it to Run or Dye GLOW!
Run or Dye GLOW, a brand new laser-lit night run and after-party will be lighting the night sky on a stunning run route through the grounds of Penshurst Place on Saturday 19th October. The 5k and 3.5k run will kick-off with a Start Line Disco, and take in nine GLOW, Foam and Colour zones as participants run, jog and dance their way to the finish line under moonlight.
Building on from the success of five summers of Run or Dye at Penshurst Place, which has seen nearly £100,000 raised for Great Ormond Street Hospital and over 20,000 people start their fitness journey, the brand new night event, Run or Dye GLOW, will welcome runners and joggers of all ages and abilities with a 5k and 3.5k run route.
After arriving at the neon-disco Start Line party, you will set off on your run where you'll be taken back through time as you run through the spiral strobes of 'Time Tunnel.' Then you'll hear and feel the music in the 'Equalizer Zone,' dancing your way towards the Foam and Colour Zones to get messy and covered in the midst of a foam party.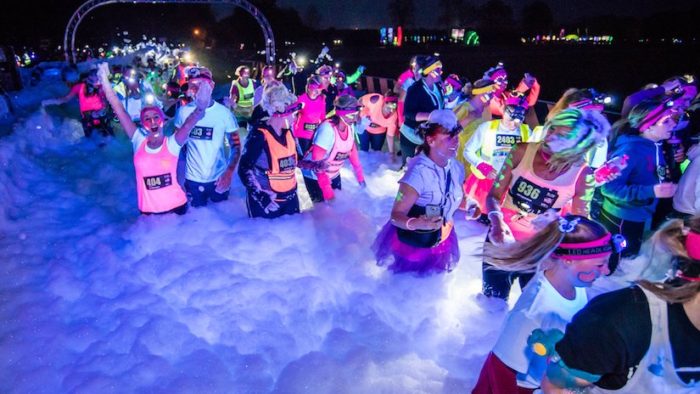 In true Run or Dye style, you'll be glowing with colour as you cross the finish line and join the moon-lit after-party with DJ sets, even more UV paint and a festival village to help you celebrate your achievement!
Event Organiser Brian Adcock comments, "Run or Dye GLOW will be our first ever night run, and we're thrilled to be bringing this neon-lit, foam-filled party and running event to Penshurst Place. We're proud that for five years Run or Dye has helped people kick-start their fitness journey and has raised thousands of pounds for and with our brand new event, Run or Dye GLOW, we will continue to champion getting fit with your friends in the most fun and colourful way possible."
To secure access to Early Bird Run or Dye GLOW tickets, please register your interest HERE.