It was announced yesterday that plans are afoot to enable parkrun events to return in England by the end of October. A statement released on the parkrun website from Chief Executive Nick Pearson said, "Ever since parkrun events closed in the UK and across the world, we've been focused on understanding how and when we would be able to resume in a safe and appropriate way. Following detailed conversations with the Department for Digital, Culture, Media and Sport (DCMS), Sport England, and Public Health England, I am delighted to announce that we intend to reopen parkrun and junior parkrun events in England toward the end of October this year."
Popular 5km running event
With the return of more and more actual race events seemingly popping up in the calendar over the summer months it was only a matter of time before one of the most popular 5km running events around the world should follow suit. However, it is a testament to the Parkrun team just how meticulous they have been in planning for a return to public events. They have not rushed the decision but likewise they have not sat back and waited solely on advice and guidelines from government or governing bodies, as Nick Pearson refers to in the statement "Throughout, we have sought to understand the evidence, to be a part of discussions with government and public health bodies, to listen to the parkrun community, and to communicate regularly, transparently and honestly."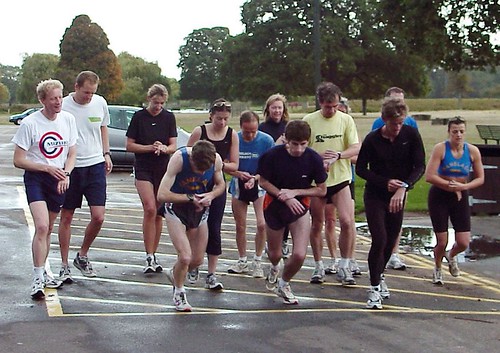 Ever since parkrun was started in 2004 the events have catered for both avid runners of all levels from literally professional athletes through to those just out for a regular spot of Saturday morning exercise. The events swiftly grew to become Saturday staples up and down the UK and around the world, even members of the public who are not runners have an awareness of the cultural phenomenon that is Parkrun. It is because of the variety of regular participants and its place in the general public's consciousness that Parkrun seems to straddle a line between true running event and almost a public service. It's a role that the team are clearly very proud of and take very seriously, the approach to return to events is proof of this.
Intent to Return survey
Back in early August they first published their COVID-19 Framework which detailed exactly how they might plan to impose measures at events to enable their successful return. Following on from that Parkrun published a report they themselves had commissioned by Canterbury Christ Church University. The report was a rapid review of the evidence surrounding COVID-19 transmission in outdoor settings and was led by Professor Mike Weed of the university. "During this time we have also been closely following developments around the level of COVID-19 infection across the UK, and its impact on health." Nick Pearson said in the statement, "According to data published by the Government and the Office for National Statistics, it is clear that, at this moment in time, the number of infectious people in the UK is relatively low, and the numbers of people in hospital continue to fall. Whilst therefore it is absolutely critical we all remain cautious, and closely follow Government guidance, we can say that the chances of an infectious person being in attendance at a specific parkrun event is relatively low. Based on the above evidence, and the mitigations presented in our COVID-19 Framework, we therefore feel that the risk of parkrun events significantly contributing to the spread of COVID-19 in the United Kingdom is small."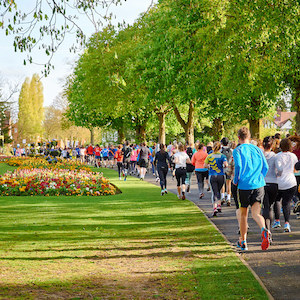 Parkrun also then gathered its own data from many of the UK Parkrunners themselves as to their feelings towards returning to events by carrying out an 'Intent to return survey'. Nick Pearson said "Our 'intent to return' survey has proved incredibly useful and has shown that not only are the majority of UK parkrunners keen to return, but their confidence is growing over time. Our latest figures suggest that almost 80% of UK parkrunners would return in four weeks' time given the opportunity. Everything in life comes with a risk, and we know and accept that we cannot remove all risks from the parkrun environment. However, it is also important to balance the public health benefits of reopening our events, against the associated public health risks. We now believe, having spent considerable time gathering and understanding the evidence, that the benefits to reopening parkrun far outweigh the risks." He continued "We also know that, whilst the majority of people are likely to welcome this announcement as a huge step toward parkrun returning, many people will feel anxious and nervous around the thought of public gatherings. We are here for everyone, and over the coming weeks and months will be providing all the support we can, such that people can feel confident returning to their parks and open spaces."
Watershed moment
There is still obviously room for movement on all of this and with still nearly two months before the proposed restart date it does ultimately depend overall on how the pandemic continues to develop in the coming weeks. However, plans are gathering at pace it would seem for Parkrun and Nick Pearson finished the statement by saying "We will be working closely with our volunteer event teams as they prepare for their communities to return, and the entire parkrun staff team is committed to providing all appropriate support. From direct phone calls, to live Q&As, podcast discussions, and regular updates through all of our available communications channels, there will be frequent and continued opportunities for you all to provide feedback and ask questions.
We've long understood that human beings have an innate need to be with one another. To talk, to laugh, to support, to share experiences.
This is a watershed moment. parkrun will return. We will be back together again."