On Sunday 5th May it was one of the most innovative events in the running calendar – the Wings for Life World Run. 120,000 participants took part in 76 countries across the globe.
On one day each year the Wings for Life World Run is held simultaneously in numerous locations and via the App across the world, everyone starting at the same time, whether day or night, and all with the same goal – to raise money for the Wings for Life Foundation. Under its unique format, participants run as far as they can until they are passed by a moving finish line, the 'Catcher Car', which chases runners along the course or virtual in the App, gradually getting faster until each participant has been caught. This moving finish line allows participants of any ability to complete the run.
There was no event with an actual catcher car in the UK this year, but there were a number of 'App Runs'. The races started at 12:00 and 30 minutes later, the virtual Catcher Car started at 14 km/h and steadily increased its speed until the last athlete had been caught. 100% of all donations and the entry fees go directly into spinal cord research projects. At the Chiswick App Run Owen Edwards won the men's race, with the virtual catcher car catching him at 33km, and Sophie McKeeman won the women's with 32.1km. 120 runners took part in Chiswick, on a closed road 3km circuit.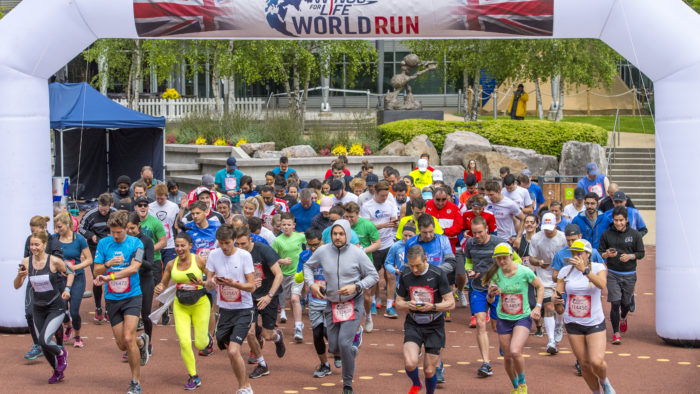 After the race, Owen Edwards commented, "It was amazing, the supporters and volunteers were great. The general atmosphere was just incredible. Thanks to everyone at Red Bull and Wings for Life for putting this event on".
He added, "It was tough at the beginning, not really knowing what pace I was running but I settled into a good pace. I wanted to get a PB, which was just under 33 km and really wasn't expecting to win so, yeah really good!".
Following her win, Sophie McKeeman said, "It was quite tough towards the end, knowing the car was catching up. The good vibes pulled me through. There were people all around the course so it didn't get boring at all. I ran just over 30 km, I went off a bit quick, to begin with, but I slowed it down a bit and tried to hang on as long as possible before the Catcher Car caught me. I didn't have a distance in mind, I just went for it!".
Also participating in the race was Steven Dowd from London. Three years ago, Dowd was paralysed from the chest down after falling from his bike in London. The Wings for Life Foundation funded a clinical trial that has helped him get back on his feet and he took part in the event in Chiswick Park to raise money and awareness of the spinal cord charity.
After finishing Steven Dowd said, "I've just run 7 km when I had a target of 5 km. Just to put that into context, three years ago I broke my neck and I was paralysed from the neck down. I never thought I'd move again let alone run!"
Emotions ran high at the Swiss leg of the race when David Mzee of Switzerland, who has been paralyzed for nearly a decade due to spinal cord injury, walked across the start line at today's Wings for Life World Run in Zug. The milestone moment was one of many highlights in the sixth annual charity event that raises funds to find a cure for spinal cord injury. More than 120,000 registered runners and wheelchair participants raced in more than 323 locations across 72 countries. In a thrilling race finish, Ivan Motorin of Russia achieved 67.1 km to clinch the title of men's Global Champion, while Nina Zarina of Russia took the Global Women's title in Zug, Switzerland 53.7 km.
Mzee has become the embodiment of what the Wings for Life World Run is all about. Fellow participants in Zug and the millions watching live around the world held their breath as he pushed up from his wheelchair and walked forward independently for several minutes. With each historic step, the 31-year-old brought to life the real human impact of a technologically complex research breakthrough announced last fall. One hundred percent of entry fees and donations raised by the run goes to projects supported by the Wings for Life Foundation, which funds the most promising spinal cord injury research to find a cure. The 2019 edition of the Wings for Life World Run has raised 3.5 million Euros so far, with more still coming in.
The seventh edition of the Wings for Life World Run will be held on Sunday, May 3, 2020. For registration alerts, complete 2019 global results and unforgettable race highlights, plus the full race broadcast on demand and more: www.wingsforlifeworldrun.com
Header photo credit: Romina Amato for Wings for Life World Run