It was a huge weekend for marathons in the UK. There was the Loch Ness Marathon, Chester Marathon and Bournemouth Marathon among others.  And none of the organisers let Storm Lorenzo ruin the runners' fun!
Loch Ness Marathon
First up, the Baxters Loch Ness Marathon and Festival of Running proved to be a record breaker in its 18th year. A record number of runners – 9,400 from 45 countries – took on the testing 5k, 10k and marathon distances in rainy conditions. See the stunning header image above for the epic start of this beautiful race.
Katie White from Garscube Harriers was the winning female athlete in the marathon, breaking an 18-year record in the process with an impressive time of 2:42.04. Isaiah Kosgei from Metro Aberdeen RC came through to win the men's 26.2-mile event in a time of 2:29.31.
Loch Ness Marathon veterans, Fiona Rennie of Carnegie Harriers, Kenneth Stewart of Perth Road Runners and Erica Christie who have never missed the race, continued their incredible feat to claim their 18th consecutive Baxters Loch Ness Marathon medal. The oldest competitor in the Loch Ness Marathon was Roger Macmillan from Canada who at the age of 82 travelled from Canada to complete his 9th marathon at Loch Ness. After getting married yesterday, runners Alicia Hickey and Tom Stuart put their honeymoon plans on hold to run the marathon together as newlyweds.
In the Baxters River Ness 10K, the first male over the line was Cameron Strachan from Metro Aberdeen RC in a time of 30:31. Shortly followed by leading female, Megan Keith from Inverness Harriers AAC in 34:42.
Early bird entry for the 2020 Baxters Loch Ness Marathon and Festival of Running, which takes place on 4th October is now open. Sign up for the 2020 races at www.lochnessmarathon.com
Interested in entering Loch Ness next year? Read top coach Tom Cragg's top tips for training for the race HERE.
Chester Marathon
The MBNA Chester Marathon was celebrating its 10th anniversary on Sunday (6th October) with 6,000 runners taking part. As well as a marathon they offered a Metric Marathon and a Mini Marathon family run.
Some 20,000 locals and visitors witnessed the spectacle of the runners streaming through Chester City centre and off into North Wales before returning to Chester for a stunning finish by the River Dee.
The event produced some impressive racing performances – proving that the 2019 MBNA Chester Marathon, continues to live up to its award-winning reputation.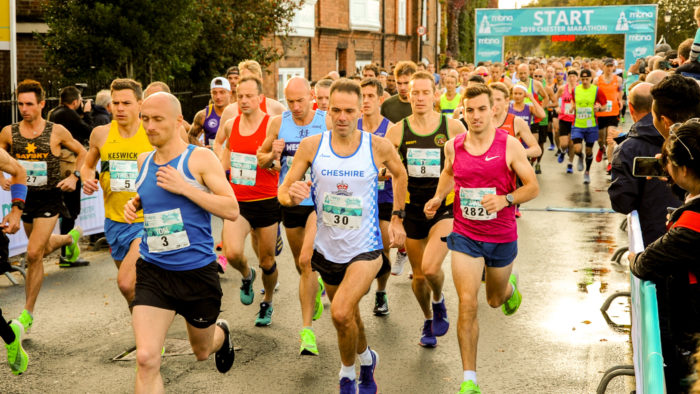 The men's marathon was won by Tom Charles of Trafford AC who finished the race in 2:29:29, followed by Tristan Windley of Keswick AC (2:29:36) and Neil Renault (2:32:59). The first lady Abbey van Dijk crossed the line in 3:01:51 followed by Johanna Sutcliffe of Halifax Harriers & AC (3:04:59) and Camilla Hermsen of Harpenden Harriers (3:05:11).
Tristan Windley said: "The organisers must have worked wonders to produce a modified course at short notice due to the adverse weather conditions. The new start and finish worked well and the support on the way round was uplifting!"
In the accompanying MBNA Chester Metric Marathon Chris Pownell of Knowsley Harriers completed the 26.2 kilometre route to take the win in 1:30:47 followed by Nicholas Barry of Sale Harriers (1:31:05) and Martin Green of NWRRC (1:33:35). First lady was Es Burford who crossed the line in 1:49:17 followed by Sohie Hunt of UTS RC (1:49:40) and Liz Renandeau of Vale Royal AC (1:51:32).
The runners are expected to raise a combined total of more than £600,000 for local and national charities including the main race charity Northern Lights.
Those who have been inspired to take part next year will not have to wait long as applications for the 2020 marathon are already open. To enter and for more information about the race, visit www.chestermarathon.co.uk.
The ALDI Chester 10K on 8 March 2020 is also open for entries. This race sold out very quickly this year. See www.chester10k.co.uk for more information and to enter the race.
The Essar Chester Half Marathon on 17 May 2020 is also already open for entries and places are filling up fast. See www.chesterhalfmarathon.co.uk for more information and to enter the race.
Bournemouth Marathon
The Bournemouth Marathon Festival took place over Saturday 5th and Sunday 6th October, starting with four junior races, the Supersonic 10k and Supernova 5k on the Saturday. On Sunday, half marathon and full marathon runners took centre stage, taking in the stunning coastal views and crossing the line on Bournemouth's Pier Approach. Around 15,000 runners took part in total.
The Kids' Kilometre for 3-6 year olds was first up; hundreds of little champions racing up and down the promenade with an infectious enthusiasm, setting the tone for the day. The Junior 1.5K for ages 6-8 was next, with Joshua Webster first home in a time of six minutes and three seconds, while the first female across the line was Sadie Underwood in a new course record time of six minutes and 15 seconds. The Junior 2K for ages 9-12 took place at 1.30pm, with Jon Pepin claiming victory in a course record time of six minutes and 30 seconds. The first female home this time was Darcy Hawkins in a course record time of seven minutes and 19 seconds.
A breathless few hours of racing concluded with the final junior race of the day; the 5K for ages 11-18. Ben Brown took the win in yet another course record time of 16 minutes and 42 seconds, and the first female home was Amelia Fox in a time of 19 minutes and 48 seconds.
Some ninety minutes later, thousands set off along the prom for the Supersonic 10K. Andrew Chambers of Bristol & West AC flew round the course, finishing first in a time of 31 minutes and 29 seconds. He was followed by Callum Gilett and Olly Sheppard. The first female to cross the line was Bethan Francis, she finished in a time of 38 minutes and 38 seconds. Fiona Blagg and Agnieszka Loeff took second and third place respectively.
As the light began to fade in Bournemouth, runners congregated for the final event of the day; the Supernova 5K. They set off at 7pm creating a dazzling trail of light with their LED head torches and fluorescent headbands, socks, tutus, glow sticks, glasses and more. Emerging from the darkness to take first place in a thrilling race was Bayley Massey of Cambridge Harriers who finished in a new course record time of 15 minutes and 51 seconds, just one second ahead of second placer William Stockley. Sean Edwards took third. Wendy Daniels claimed the first female spot in a time of 19 minutes and 31 seconds. Holly Wilkinson was second in 20 minutes and nine seconds with Victoria Walla third in a time of 20 minutes and 30 seconds.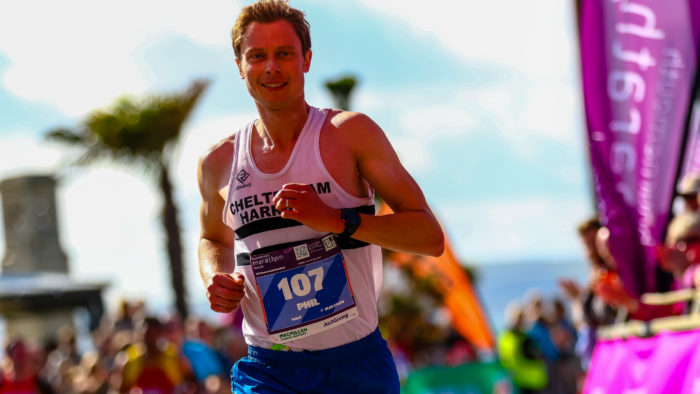 As dawn broke on Sunday morning, half marathon runners began to gather in King's Park, limbering up for their 13.1 mile challenge. They set off at 8am and just over an hour later, James Hoad of Thames Hare & Hounds was breaking the tape to take victory in a time of 1 hour 9 minutes and 45 seconds. He was followed by Sean Hogan of Poole Runners (01:10:43) and Robert Spencer, Bournemouth AC (01:11:06) who took second and third.
Sophie Delderfield of Vale of Aylesbury AC was the first female home in a time of 1 hour 21 minutes and 17 seconds. Alexa King of Hart Road Runners (1:21:40) and Sarah Hill (1:23:43) claimed the remaining female podium spots.
The final event of the 2019 festival was the Marathon, which got underway at 10am on a breezy but sunny morning.
Lloyd Biddell of Mercia Fell Runners sped to an impressive victory in a time of 2 hours 25 minutes and 48 seconds. Lloyd was joined on the podium by Phil Wylie of Cheltenham Harriers and Steven Yates of Poole Runners who finished with respective times of 2:33:27, and 2:41:08.
The female race was won by Gill Bland of Harrow AC in a time of 2 hours 59 minutes and 41 seconds. Jen Granger was second in 3 hours and 30 seconds and Juliet Champion was third in 3 hours 2 minutes and 57 seconds.
Find out more at https://www.runbournemouth.com/
Header image of Loch Ness Marathon 2019 start. Copyright Loch Ness Marathon.