Leeds 10K is heading in a new direction!
A brand new decade brings a brand new route for the Asda Foundation Leeds 10K. On Sunday 5th July thousands of runners will gather once again for the annual Leeds 10K, but this year they will have a whole new experience.
Event organisers, Run For All, has announced a route change for the first time since 2015 as it aims to bring runners a new and exciting 10K challenge. Previously the route was a favourite for those looking for a fast and largely flat route, but now runners will be able to go for new PBs as this route will mainly focus downhill.
The route will now begin at the University of Leeds, taking runners out and past the iconic Parkinson Steps, and will feature sights such as Hyde Park, First Direct Arena and Leeds Art Gallery all before finishing in Millennium Square.
The Asda Foundation Leeds 10K is the original legacy run set up by Jane Tomlinson CBE in 2007. Jane died soon after launching the 10K however its legacy still lives on and is now a hugely popular event on the city's running calendar.
Growing each year, the Leeds 10K prides itself on its inclusivity as runners of all ages and abilities bring with them inspirational spirit and a can-do attitude as many raise money for causes close to their heart.
Mike Tomlinson, Chief Executive at Run For All, said: "We're very excited to announce the brand new route for the Leeds 10K. Being the event that Jane created as a legacy run in 2007 it's fantastic to see just how much the community has help grow it into one of the regions most loved 10Ks. We're ready to give the runners a new adventure this year and help them smash their new year goals. Whether it's their first Leeds 10K or their on their 12th the Leeds 10K welcomes everyone and you don't need to be an experienced runner to be a part of this event."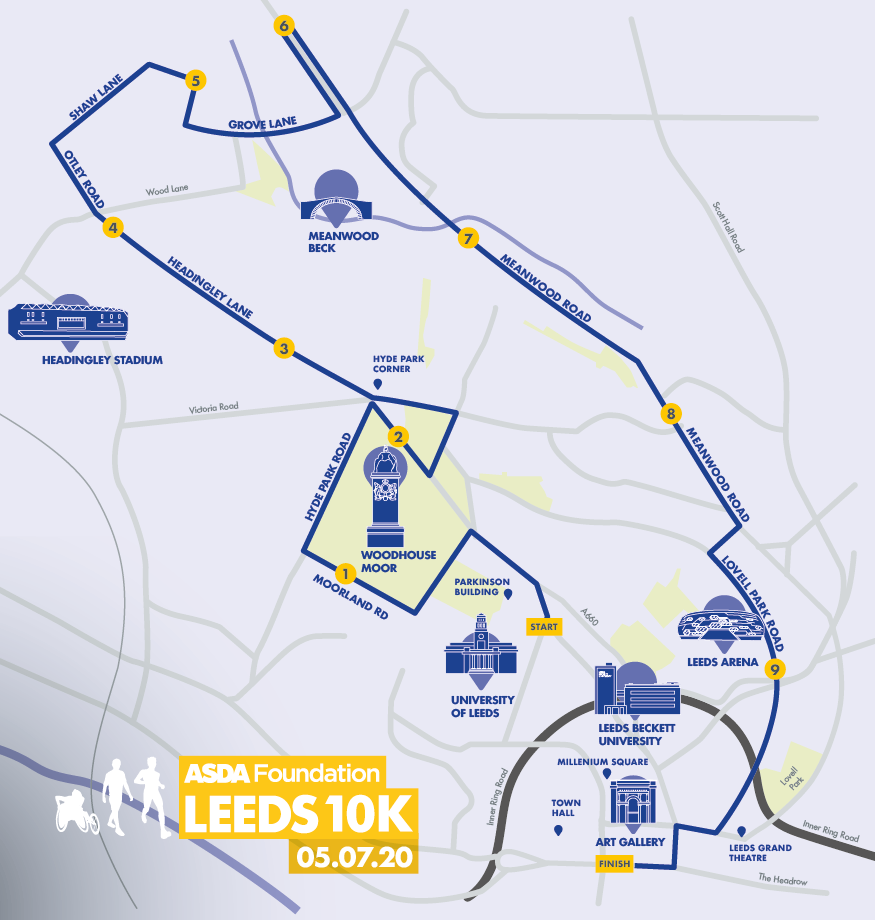 Suzanne Glavin, Head of Sport, University of Leeds said: "We are delighted to be working with Jane Tomlinson's Run for All to host the start line for the new route of the Asda Foundation Leeds 10k. Mass participation events such as the Leeds 10k are a brilliant way of bringing together participants of all levels of ability, background and experience and our involvement in this year's race further demonstrates the university's commitment to engage with our local community. We are particularly looking forward to working with organisers on different opportunities related to the event, including student and staff volunteering."
Runners can choose to run for a charity close to their heart or get involved with one of the events official partner charities – Jane Tomlinson Appeal, Macmillan Cancer Support, St. George Crypt, Leeds Cares, Brain Tumour Research Support, Martin House, Sue Ryder, Leeds Mind, Candlelighters and People in Action.
The event will also see the return of the well-loved Clarion Leeds 10K Corporate Challenge, where businesses can take on the event as a team and work to reign champion as the fastest business in Leeds.
The launch of the Leeds 10K new route comes as part of Run For All day on Thursday 30th January. The organisers have launched events for next year, including 2 new running festivals in Bury and Middlesbrough and opening entries to the Yorkshire 10 Mile.
For anyone wanting to take part of the Asda Foundation Leeds 10K on Sunday 5th July, please visit: https://leeds10k2020.eventdesq.com