Mike Clyne has run, paced and marshaled at the London Marathon. This year he had one of the best views in the house and enjoyed an emotional day on the finish line. His was not a seat in the grand stand however. Instead he was right amongst the thousands of finishers, to experience yet another side to 'the greatest marathon in the world, in the greatest city in the world':
I admit that my running and triathlon 'bucket list' may contain some really obvious things (Boston Marathon, Hawaii Ironman etc) but it also has a couple of others that may not be quite so normal. So when I had the chance to work at the finish line of the greatest marathon in the world, in the greatest city in the world, I leapt at the chance. Indeed when I received my accreditation it felt a little like the scene in Wayne's World (HERE) where they get a backstage pass.

In years gone by I have worked on a drinks station (I think it was 1990 or 1991) and have also worked as a course marshal (mid 1990s), but having run the event a number of times I wanted to be able to witness the emotion, elation, exhaustion and exhilaration of the finish. And so it happened. I received an invite to join John Lunt's team, who have worked in the finish area of the event for the last ten years. For those not in the know, John was the founder of Human Race events company and organised both the 2002 Commonwealth Games Triathlon in Manchester and then the 2012 Olympic Games Triathlon in Hyde Park.

The team has two roles: The first is to deliver food packs/medals/kit to the 2,500 or so people working at the finish line. 2,500 – are you sure? Before this experience I would have guessed around 1,000 but being there from 8.30am I felt like I had already missed the warm up acts. (John's first shift are there from 6:30am) There are security staff, military security, stewards, doctors, physios, podiatrists, goody bag teams, medal teams, baggage teams, photographers, press, media, commentators, rubbish collectors, toilet attendants, cardboard box compactor operators, communications teams…

We then had a small hiatus during which time we saw the wheelchair finishers, the IPC athletes, the mini marathoners and quite a few comings and goings. At around 10.30am the 34 baggage trucks started arriving and here is where you see glimpses of just how the London Marathon has nailed down their planning and logistics. A fleet of enormous, articulated lorries arrived in race number order to drive into a crowded finish area, executing a sharp ninety degree turn with less than a metre to spare. Every single truck was placed within millimetre precision, some fifteen minutes later, the baggage teams started swarming all over them like an ant colony.

Our team was fifteen strong (see photo of most of us), of which four, John Lunt, Nicola Lunt, Don Anderson and George Glew, have worked on the team for all of the last ten years. The main task was to keep the athletes moving in the correct direction to get their goody bags, t-shirts, and personal baggage. This started as a trickle (once the first non-elite runners started finishing around 12.30pm), morphed into a rush, then became a torrent and by 2.30pm was a seething mass of bodies. This was the time I had looked forward to as we encouraged athletes, whose bodies said otherwise, to keep moving. I was glad that we had been given VMLM kit to wear as on more than one occasion I received sweaty hugs from excited finishers! We helped a few who were struggling to walk through the finish area to the medical tent, we called out 'RED to your left' or 'BLUE to your right' many hundreds of times but realised that for many this was data that could not easily be processed. Moreover, we were in prime position to welcome people to the finish, to congratulate them and, in a tiny way, share in their achievement.

There were several moments that stood out for me during the day. Seeing my friend Mark with whom I have run as a Runner's World pacer in the past was very rewarding and I saw him being thanked by many other runners who he had helped. We often asked people who looked distressed if they were okay and in most cases they were – one woman was in tears and when I asked her if she was okay she cried even more. I went to help her and her legs were very wobbly but she just let the tears course down her face and hugged me saying "I'm so proud of myself. I've always wanted to do this and now I've made it. All the training…" and her voice tailed off. Luckily she couldn't see my eyes moistening at that point but I doubt she would have cared. Then there was the tall Dutch chap who could hardly walk so his friend and I supported him to the baggage buses as he told me he loved the organisation and friendliness of the London Marathon.

Mostly, I relished the eye contact with people whose faces betrayed a quiet pride in their achievements. They may have run more quickly or more slowly than planned, they may have had more pain that they ever imagined or maybe less that they thought, but almost to a person they looked as if the whole thing had been worth the training. My face ached from smiling so much at seeing this happiness up close and as we were stood down at the end of our long shift, my voice needed some recovery.

I was a small cog in a team that made up a tiny fraction of the overall numbers who make the event happen. Some volunteers help at the event year in year out and without them, the race would not happen. People sometimes think that volunteers don't get thanked at all. That isn't true. There were so many occasions on Sunday that people said thanks, shook my hand or even hugged me saying 'thanks for helping'. If you are a regular runner but haven't yet had the chance to volunteer at an event, then I urge you to seek out one volunteering opportunity between now and the end of the year. It could be your local parkrun, it might be a local charity 10k or maybe there is a local running club that needs help at their training sessions.

No matter the event, get yourself the best seat in the house whether at the start, the finish, somewhere along the course or even a role that is hidden but vital. You will come away tired but elated. And more than likely, very inspired.

John is always looking to bring new people into his team, he can be contacted via Facebook or LinkedIn.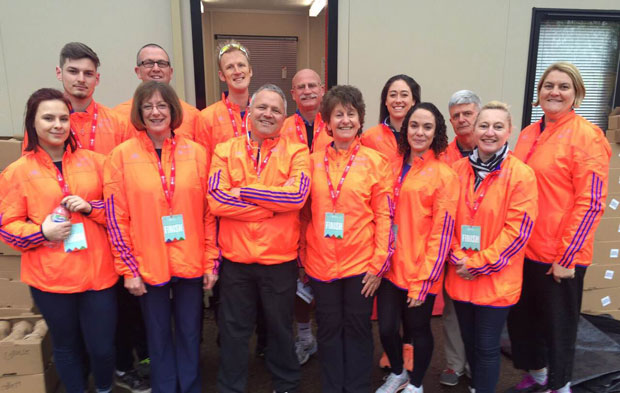 Read about Mike's first London Marathon run in 1985 (What happened to one naive skinny 18 year old who took on the 1985 London Marathon? #vintagegold) HERE.