Thousands of runners took to the streets of Westminster yesterday at the ASICS London 10k 2019, presented by Virgin Sport. And for the first time the event went plastic bottle free.
The race encouraged people to Run United to highlight the inclusivity and openness of the city event with nearly half the runners supporting over 300 charitable causes, raising an estimated £2.2m.
The route was brought to life by the sounds of live bands and DJs at every 450 metres, which kept runners moving as they raced past the Capital's most iconic and historical landmarks such as Westminster Abbey, Big Ben, the London Eye and River Thames.
The 2019 ASICS London 10K was won by Josh Griffiths and Rebecca Murray with times of 29:47 and 33:46 respectively. In the men's race Joshua Grace was second and Dewi Griffiths third. In the women's race Mhairi Maclennan was second and Grace Lynch third.
Male winner, Josh Griffiths said of his time "Virgin Sport and ASICS put on such a great race today, the crowds were so supportive, and the event was really exciting. Well done to everyone who finished and everyone who achieved their goals!"
Female ASICS London 10K winner, Rebecca Murray said "It was a great race. The course was great, and there was so much support. This is a fast course and has always been one of my favourites!"
But it wasn't just about the speedy runners. Cathy McGinnis, Marketing Manager of ASICS UK said: "ASICS philosophy is 'A Sound Mind in a Sound Body' and we believe everyone should have the opportunity to achieve this. The ASICS London 10k perfectly embodies this philosophy, giving runners of all abilities and backgrounds the opportunity to run united around an iconic central London route. There were runners of different ability, age and ethnicity competing in the ASICS London 10k and we were thrilled to see everyone cross the line with a smile on their face – be it because they'd achieved a PB or simply because they'd completed the race."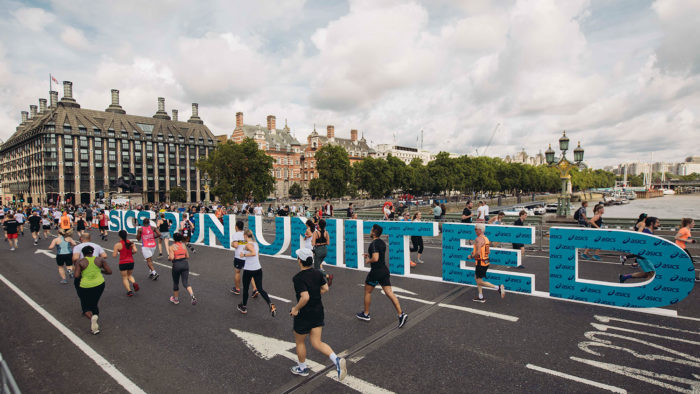 Jessica Frey, CEO of Virgin Sport said: "We're thrilled to bring ASICS London 10K to central London, in partnership with ASICS. It's a privilege for Virgin Sport to present a true summer celebration of running with music and entertainment on course at every 450 metres. Thank you to the thousands of runners who took part, and a huge congratulations to our winners!"
Sustainability
An impressive aspect of the race was its commitment to sustainability. This included:
the elimination of single use plastic bottles – Virgin Sport partnered with JUST Goods in order to get rid of half a million single use plastic bottles across their running events. JUST provided recyclable water cartons made primarily from paper. In addition water along the course was provided in recyclable cups.
the elimination of plastic kit bags – these were replaced by natural cotton tote bags.
upcycled finisher t-shirts – the finisher t-shirts were made from recycled PET bottles. Other ASICS recycling initiatives include collecting used gear and partnering with organisations such as Worn Again to support technical development and scale up the recycling of used textiles into new textiles.
ASICS encourages Run United
A celebration of all abilities, the event for ASICS saw the opportunity to celebrate the things that bring us together. The true performance brand encourages people to Run United with the aim of showing that when people run together, amazing things happen – be that faster, further or just with a smile on their faces.
In the lead up to the event, ASICS explored the real life stories behind why people run. You can view the inspiring video here:
Pre-registration for the 2020 edition of ASICS London 10K is open now. For runners who've taken part in previous races, Virgin Sport has introduced a new loyalty rewards scheme. Applications are open now to all British 10K and ASICS London 10K participants. Find out more and apply at VirginSport.com/ASICSLDN10K