It was a big weekend in the UK for half marathons, with Reading, Weymouth and Stafford, to name but a few. The 38th edition of the Bath Half Marathon also took place yesterday, with over 12,000 runners crossing the finish line and an estimated 40,000 spectators taking to the streets to support.
After last year's 'beast from the East' it must have been a relief that the day was bright, dry, but cool, so conditions were pretty perfect for the runners. The Half Marathon was started at 11am by Ian Smith, Chairman of the sponsor, Bishop Fleming and a fun run set off at 11.20am.
Chris Thompson dominated the men's field and took the lead from the start, claiming the men's title in a time of 1:03:09, some 40 seconds faster than his time at the London Big Half the week before. Runner up Nick Goolab crossed the finish line in 1:04:34, and Peter Le Grice claimed third place in 1:04:55.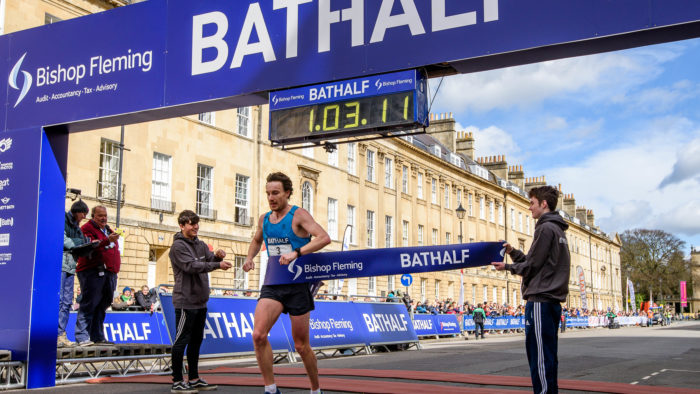 Kate Reed had a strong run and secured a pretty emphatic victory in the women's race in a time of 01:12:44, ahead of Rachel Felton who took second place in 01:15:53 and Phillipa Williams who finished third in 01:18:11.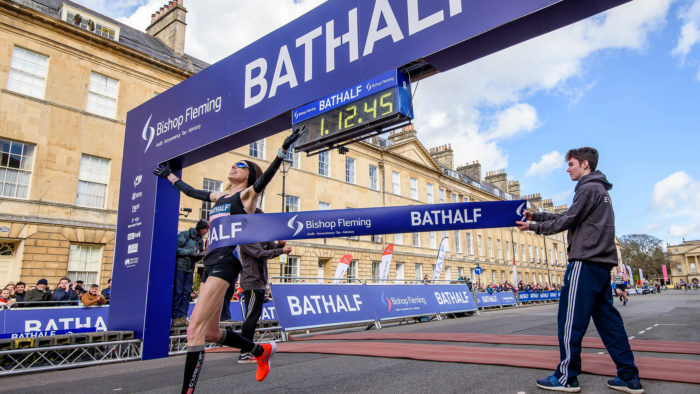 The race started and finished in Great Pulteney Street, with runners enjoying a return to the old race route which had changed in previous years to a minor diversion around the North Quays development.
Results (provisional) – 2019 Bath Half Marathon
Male:
1. Christopher Thompson (Aldershot), 01:03:09
2. Nick Goolab (Belgrave), 01:04:34
3. Peter Le Grice (Bristol), 01:04:55
Female:
1. Kate Reed (Bristol & West), 01:12:44
2. Rachel Felton (Shaftesbury), 01:15:53
3. Phillipa Williams (Bristol University), 01:18:11
The full results are available on the website.
Race Director Andrew Taylor from Running High Events said: "The 2019 Bath Half Marathon has, once again, been an absolutely brilliant year for us with an huge turnout of runners, with some of fastest finisher times we have seen. It also looks likely to be yet another record-breaking year for charity fundraising. We would like to congratulate the winners and everyone who crossed the finish line. The Bath Half is a much-loved event within the community and attracts a large number of runners from further afield for its flat, fast course and incredible atmosphere.
"Our thanks go to all the runners for choosing to run the Bath Half, the spectators for their unfailing support, and all the local volunteers, contractors and partners who work so hard behind the scenes to make the event the success that it is. I would also like to thank all the bands who gave their time for free to support the event, and to all the venues who generously donated the use of their premises. We are looking forward to seeing everyone again in 2020!"
Header image copyright Bath Half/Artur Lesniak