Thousands of runners from all over the world took part in the marathon at the 17th edition of the Edinburgh Marathon Festival yesterday. Over the course of the weekend there was a full marathon, half marathon, team relay, 10k and 5k, plus four junior events, so it really is one of those events where there's something for everybody.
The drizzly weather kept it cool but made for some challenging running conditions for Sunday's marathon. You would imagine that a hilly city like Edinburgh would make for a tough course, but it's actually a very fast and flat course. For the second year running, the Edinburgh Marathon Festival collaborated with not-for-profit organisation 'Project Africa Athletics' to welcome talented, developing athletes that may not otherwise get the opportunity to take part in a race with the status of the Edinburgh Marathon.
Kenya's Dan Tanui raced to glory with a winning time of 2 hours 30 minutes and 13 seconds.
"The course is good and there was lots of support and cheering along the way. I found the wind challenging today, I'm hoping to come back next year to retain my title."
London's Ollie Garrod claimed second place in 2 hours 32 minutes and 10 seconds, followed by Inverurie's Tom Roche in 2 hours 32 minutes and 19 seconds.
The women's race was dominated by Winchester's Melanie Wilkins who lead from the front with a time of 2 hours 42 minutes and 56 seconds.
"This is my first time in Edinburgh and I'm very happy to win!"
Fife's Megan Crawford in 2 hours 54 minutes and 2 seconds and Cardiff's Carys Hughes in 2 hours 54 minutes and 7 seconds, completed the podium.
Salford's Karl Darcy stormed to victory in Sunday morning's half marathon with a winning time of 1 hour 7 minutes and 40 seconds. Local favourite Neil Renault took second place with a time of 1 hour 9 minutes and 46 seconds, and Billy Hobbs completed the podium in third with a time of 1 hour 10 minutes and 20 seconds.
Karl said "It was a really great course, good conditions for running, although the last 2 miles were tough. I decided to run hard and just go for it!"
Birmingham's Molly Browne was the winner in the women's race with a time of 1 hour 18 minutes and 27 seconds.
Molly said: "It felt really good, the support was really good on the course. I ran in Edinburgh two years ago but today was a bit different, I'm really pleased."
She was followed by Glasgow's Sarah Potter in 1 hour 18 minutes and 51 seconds with Bathgate's Jo Williams finishing in third place with a time of 1 hour 19 minutes and 26 seconds.
Edinburgh's Holyrood Park played host to Saturday's action with the 10k, 5k and junior races kicking off the festival's line up.
Londoner Ewan Cameron was first home in the EMF 10K race with a winning time of 33 minutes and 17 seconds.
Commenting on his win he said "It was fantastic! I went to Edinburgh University, then after I finished university I took a 17 year hiatus from running, so it was good to be back!"
First female in the EMF 10K was West Yorkshire's Sarah Cumber in a time of 38 minutes and 26 seconds.
Sarah said: "We're here to visit one of our friends, I've never raced in Scotland before. It was great! Lovely weather and the views were absolutely beautiful, everyone was so supportive."
Catherine Meyer stole the show in the women's 5K field as she set a new course record with a winning time of 18 minutes and 37 seconds.
The American said: "It was good! I'm studying in London for a year and my brother's running the marathon tomorrow so my whole family are in Edinburgh and I figured I'd run the 5K the day before!"
Sixteen year old Cameron Bullen from Dunbar was the first finisher with a winning time of 17 minutes and 40 seconds.
Commenting on his win he said: "I thought it was a really well organised event, going up the hill was tough but once I got there, I stormed the downhill. I'm thinking of coming back to take on the 10K next year."
Around 1600 youngsters took part in Saturday's junior races, consisting of the 1.5K for 6-8 year olds and the 2K for 9-12 year olds, as well as both the Junior 5K and the Kids' Kilometre.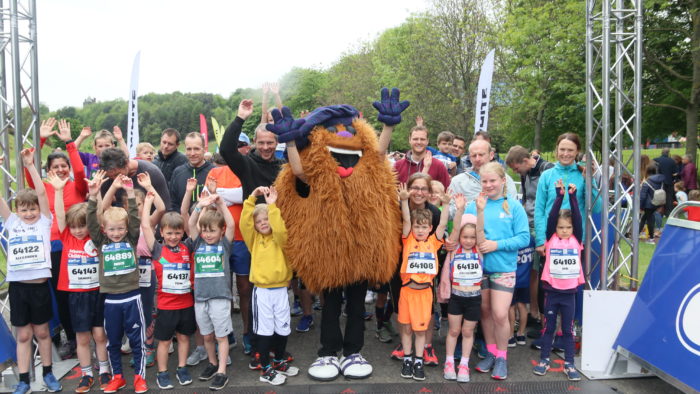 Fourteen runners from El Salvador travelled to Edinburgh to take part in the marathon, half marathon & 10K events. They ran in tribute to one of their group, Maria Olimpia Escobar de Melhado.
Maria was stabbed on an early morning training run whilst preparing for the event, and tragically passed away on Saturday 18th May.
Oscar Edgardo Melhado, Maria's brother-in-law said: "These are the risks that our runners take, in our country plagued with crime, to keep our passion for running. We are not giving up, Maria Olimpia taught us that love and passion transform ugly realities."
"Our beloved Maria Olimpia started running 10 years ago and was very enthusiastic. She created at least two runners' groups mainly of ladies. She encouraged many of her friends to register to the Edinburgh Half and Full Marathon and organized the trip. We will always remember her joyful and cheerful personality".
Neil Kilgour, Edinburgh Marathon Festival Director, said: "2019 has been another incredible year for Edinburgh Marathon Festival with outstanding performances, tens of thousands of participants and millions raised for good causes.
"We are so proud to host a truly world class running event in Scotland's capital for runners of all ages from across the globe. Congratulations to everyone who took part. Thanks for making the 2019 Edinburgh Marathon Festival one of the UK's greatest mass participation events. Come and see us again next year!"
Runners from the Edinburgh Marathon Festival Official Charity, Macmillan Cancer Support, together with hundreds of other charities, are hoping to raise more than £5 million for worthy causes.
Entries for the 2020 Edinburgh Marathon Festival which takes place on Bank Holiday Weekend on Saturday 23rd and Sunday 24th May 2020 are open with an early bird discount for everyone who registers before midnight on Sunday 9th June at www.edinburghmarathon.com