The Great Manchester Run and Manchester City Council announced a new opportunity for Mancunians to celebrate the best of Manchester by joining the Bee Wave at the Great Manchester Run on 24 May. 
In celebration of Manchester's amazing city pride the partnership has come together to create a Bee Wave within this year's Great Manchester Run. Organisers are asking people to join the wave and create a swarm of runners to run for Manchester.
The worker bee is one of the best known symbols of Manchester, representing Mancunians' hard work ethic and the city being a hive of activity. By joining the Bee Wave runners can opt to support the We Love MCR Charity. The Charity supports young people and communities across the city to thrive and grow, and by joining the Bee Wave runners can raise money for this amazing cause.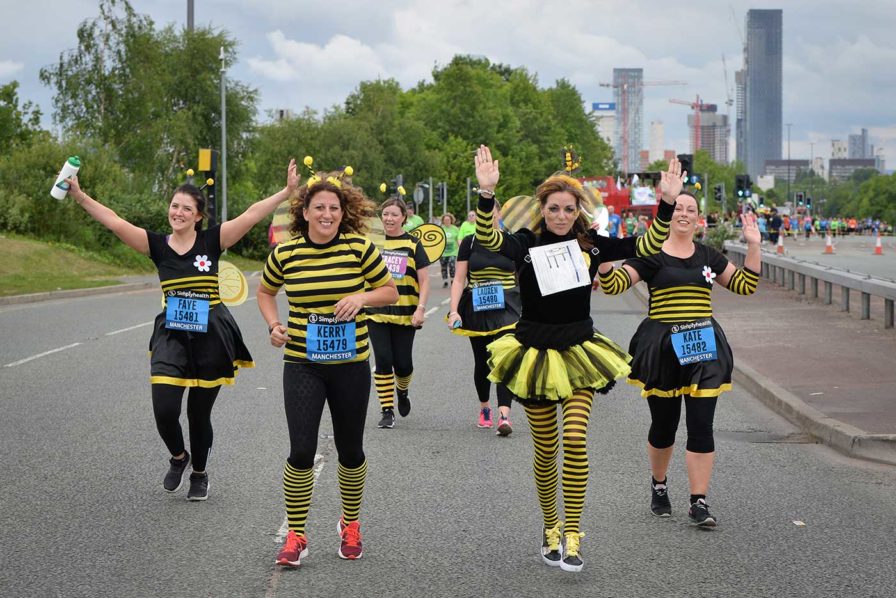 Organisers are asking participants to create a beeautiful spectacle by dressing in a bee costume – think thousands of stripy runners, wings, beespoke race numbers and a waggle dance warm-up. If you don't already have a bee outfit you can buy one as part of your entry into the event.
Catherine Foster, Brand and Marketing Director at The Great Run Company said: "The Great Manchester Run has always been about celebrating the pride of Manchester and all that makes it great.
"One of the city's greatest assets is it's people and the bee wave is the embodiment of that, Mancuians coming together to do something amazing for Manchester. Go on Manchester – enter today and bee your greatest!"
Manchester City Council's Executive Member for Skills, Culture and Leisure, Councillor Luthfur Rahman, said: "The Great Manchester Run is the biggest and best 10k event in Europe, attracting a range of participants, from top class athletes to thousands of local residents.
"We're always excited to host such a major event, made even better with the opportunity to help raise money for fellow Mancunians, it promises to be a special day.
"Every step will help us to raise funds, and every penny will allow us to support even more disadvantaged young Mancunians. 'Bee' sure to 'bee' a part of it!"
The Great Manchester Run always has buzzing on course entertainment and promises a hive of activity from start to finish.  So don your wings and fly the flag for Manchester.  It's going to be the bee's knees!  Join the swarm of people signing up to the Bee Wave at GreatRun.org/Manchester