Oxford Half 2019 is the next race to make a real commitment to limiting their impact on the environment as it goes plastic free. An estimated 65,000 single-use plastic bottles will be eliminated from the 13.1 mile race route and 10,500 plastic finisher kit bags have been replaced with long-life cotton totes.
This is part of Virgin Sport's ongoing mission to make all their running events plastic bottle free in 2019; the event organiser is eliminating 500,000 single-use plastic bottles from the Oxford Half, Hackney Half, and ASICS London 10K race routes.
At water stations along the Oxford Half route, water will be served in 100% recyclable cups, eliminating 65,000 single-use plastic water bottles.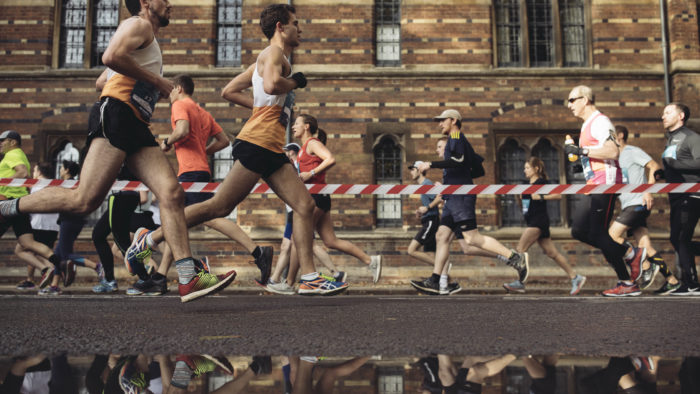 Councillor Tom Hayes, Cabinet Member for Zero Carbon Oxford, Oxford City Council said:
"Everyone at Oxford City Council is thrilled by the news that the Oxford Half-Marathon will be the most sustainable ever. By replacing all single-use plastic bottles with sustainable options and substituting long-life cotton bags for the traditional plastic bags, the Half-Marathon will be furthering the City Council's goal of creating a single-use plastic-free and Zero Carbon Oxford. The steps taken by the Half Marathon this year represent a big leap forward and I hope other events organisers rise to the challenge and follow their lead."
The Oxford Half 2019 will also welcome its largest number of charity runners, raising crucial funds for over 78 national and local charities. Over 200 runners have signed up to run for one of the race's charity partners.
This year's partners include national charities Cancer Research UK, Alzheimer's Society and Children with Cancer UK, and Oxford-based charities including Sobell House Hospice, SSNAP and Oxfordshire Mind. Local charities feel a major impact from funds raised by avid and generous runners at the Oxford Half; for example, last year Sobell House Hospice received a vast £25,000.
While general entries are sold out (there was a ballot back in March) there are still some places remaining with Virgin Sport's charity partners. See virginsport.com/oxfordcharities for details. It's a fantastic city to run a half marathon in, with historic landmarks all around you. Just take a look at this video:
Jessica Frey, CEO of Virgin Sport said:
"Our top priorities in Oxford this year are increasing charitable impact and minimising environmental impact. Part of what makes the Oxford Half so special is our charity partners and the runners fundraising for charitable causes. We are thrilled to see the number of charity runners and partners double, and we're also excited to introduce a plastic-free course."
Good luck to all the runners taking part on Sunday 13th October. You can find the final race information at https://www.virginsport.com/oxford