It was the Great Welsh Marathon and Half Marathon at the weekend (14th April). Incredibly this event has almost doubled in size since last year, but the organisers, Front Runner Events, were more than ready for it.
Both the full and half marathon started at Festival Fields, Llanelli before heading out to Burry Port, where the runners turned and headed back along the Millennium Coastal Path to Machynys and then back to Festival Fields.
Local running clubs provided a team of race pacers helping many runners achieve their personal best's and hitting their target time on the day. The fully marshalled race took place on the Millennium coastal path, included Brecon Carreg water stations, energy gel stops, bespoke medal, a technical finisher t-shirt and goody bag for all race finishers. Runners were also able to benefit from a much-needed pre or post-race massage provided by Gower College Swansea.
The race saw lots of personal best times achieved, with the top 3 male half marathon course records beaten and most notably, the women's half marathon winner shaved an impressive 12 minutes off last year's record. Melanie Wilkins set the new women's course record of 1.18.18 in the half, with Carys Mai Hughes second and Amy Evans third. In the men's half Luke Williams won in 1.14.19, with Dean Summers second and Finn Arentz third. Gethin Davies set the new men's marathon course record, winning in 2.45.44, with Joseph Murray just 30 seconds behind him. Richard Foster finished third. In the women's marathon Katie Warren finished the emphatic winner in 3.04.47 with second placed Lizzie Diamond over 7 minutes behind, and Crystal Goecker seconds behind her in third.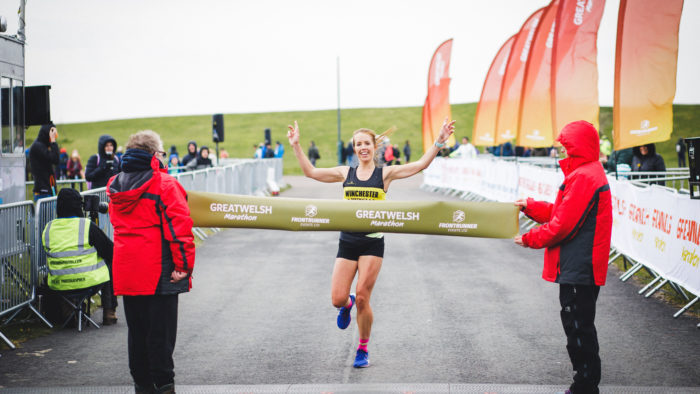 Race Director, David Martin-Jewell said:
"The Great Welsh Marathon and Half Marathon has grown in its size and stature since we took it over in late 2016, we are thankful to the local runners who continue to support us across all of our races, however it has been fantastic to see the number on international runners travelling to Carmarthenshire to take on the Great Welsh races.
We have a strong team of Sector Heads and volunteers who continue to assist us at each of our events, without them, we would not be able to hold such successful events so we would like to thank them for their help and support.
We would also like to thank Brecon Carreg (Hydration Partner) for supplying water for the runners during and after the event. Also, a huge thank you to Carmarthenshire Council for continuing to support our events and letting us showcase what Carmarthenshire has to offer."
The 2020 Great Welsh Full and Half Marathon will take place on Sunday 5th April 2020 and will have a NEW route starting and finishing in the magnificent Pembrey Country Park. If you're thinking of doing a fast, flat and scenic marathon next Spring you can sign up now – just head to www.greatwelshmarathon.co.uk
Further details and full race results can be found on the website, and you can also keep up to date with news and see the latest photos by liking the Facebook page or follow @WelshMarathon #RunCymru #WalesLovesRunning on Twitter.
If you are inspired by the Great Welsh Marathon and Half Marathon, why not sign up to the 2019 JCP Swansea Half Marathon which takes place on Sunday 23rd June.