Continuing the theme of sustainability (see Oxford Half's commitment to eliminating plastic), yesterday's Royal Parks Half Marathon went to great lengths to limit its impact on the environment.
For the first time all plastic water bottles were removed from the route, equating to 165,232 plastic bottles eliminated from the 2019 race. On the course, runners could be seen drinking out of compostable cups and Ooho pouches, edible water capsules made from seaweed. (Learn more at royalparkshalf.com/sustainability)
With sustainability at the top of the agenda, the Royal Parks Half Marathon introduced a new environmental policy ahead of today's race, which outlines new and continued efforts being made to make the event as sustainable as possible.
The policy, the first of its kind to be introduced in the UK mass participation sector, outlines the principles that all race partners, exhibitors and sponsors must adhere to. As a result, no leafleting, no balloons and no single use plastic items were distributed to people who attended the event site today. All plates, cutlery and food servings on site were made from a compostable material and no products containing palm oil were brought onto the site.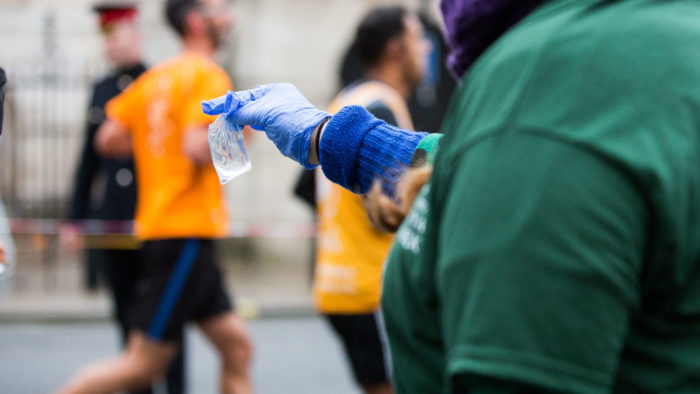 In addition, the medals that were handed out are made from FSC-certified Beech wood and the lanyards are made from recycled plastic bottles. Rather than race t-shirts, runners were given a finisher t-shirt as they crossed the finish line, removing any need for single-use plastic to be used as packaging. The finisher t-shirts themselves are made from sustainably sourced bamboo and recycled polyester and their delivery was via sea, not air.
Commenting on today's race, Project Lead at The Royal Parks, Persephone Deacon-Cole said; "Firstly, a big congratulations to everyone who took part and thank you to everyone who came out to support the runners today.
"Sustainability is something that has always been at the forefront of our minds and we are extremely proud of everything we have achieved this year. A lot of time has been spent researching how we can improve and it's clear after spending time listening to our community, that the environmental impact of an event is a factor in peoples decision making process when it comes to whether to sign up or not, and rightly so.
"We're grateful to our partners, exhibitors and sponsors who have supported our environmental policy and we will continue to strive to make the event as sustainable as possible in 2020 and beyond."
She added: "Our award-winning event was set up as an annual fundraising initiative to care for London's eight Royal Parks and help support charities of all sizes. Since 2008, the race has now raised nearly £50 million for its participating charities over that time."
Dave Thomas, CEO, Royal Bank of Canada Europe said "RBC are delighted to return as presenting partner of the Royal Parks Half for the third year. Congratulations to all the runners who took part and to The Royal Parks and Limelight Sports teams for their efforts in making this the greenest and most sustainable race in London. 2019 is a special one for RBC as it celebrates its 150th anniversary and 110 years in London next year and we could think of no better way to mark these milestones than in London's beautiful Royal Parks."
With events like the Royal Parks Half and Virgin Sport's Hackney Half, London 10k and Oxford Half making sustainability front and centre in their races, let's hope we see more organisers doing the same.