Sir Mo Farah and Charlotte Purdue made it back-to-back victories at The Vitality Big Half in windy conditions.
Sir Mo outkicked Bashir Abdi (Belgium) and Daniel Wanjiru (Kenya) to take the win in a thrilling sprint finish as he prepares for the 2019 Virgin Money London Marathon, clocking a time of 61 minutes and 14 seconds, which proved too much for training partner Abdi and former Virgin Money London Marathon champion Daniel Wanjiru.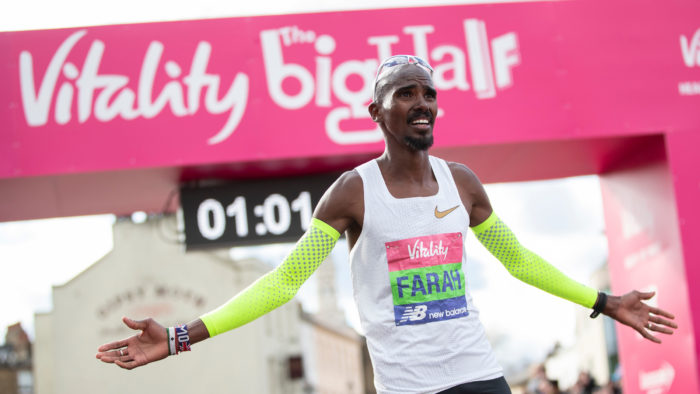 It was an all-British battle in the elite women's race with last year's champion Charlotte Purdue winning ahead of Aldershot & Farnham District AC clubmate Steph Twell in a time of 70:38. Charlotte Arter finished third.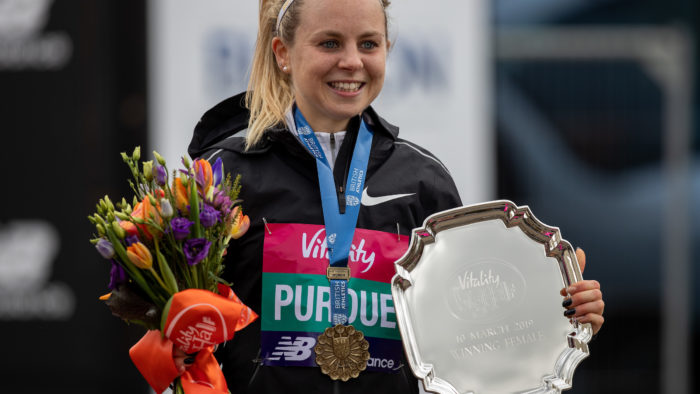 David Weir warmed up for his 20th London Marathon with victory in the elite men's wheelchair race and Margriet van den Broek was the winner in the women's wheelchair contest.
Sir Mo said: "The conditions weren't great today so I'm pleased to win, although it would have been nice to run a bit faster and really test myself. I'm happy with the win and with how my preparations are going ahead of the London Marathon in April.
"I got a bit of stomach cramp at one point but it cleared up. It's always great to race in London. I love racing on the streets of London; the crowds are amazing. I'm going to spend the next few days with my family then I head back to Ethiopia to continue training.
"The London Marathon is still quite a long way away but I'm happy with my progress and it was nice to be able to race today."
Charlotte Purdue closed a significant gap with Steph Twell in the final stages to successfully defend her Vitality Big Half title. Twell was out on her own for much of the race, but Purdue gave chase across Tower Bridge and caught her clubmate.
"It's brilliant to get the win," Purdue said. "The weather was really windy so I knew it wasn't going to be a really quick day.
"Some of the athletes went off really quick, but I knew they'd come back to me because the conditions didn't indicate really fast times – so I followed my own race plan, and it paid off.
"It's great to retain my title. I won here last year, and to win again is really good."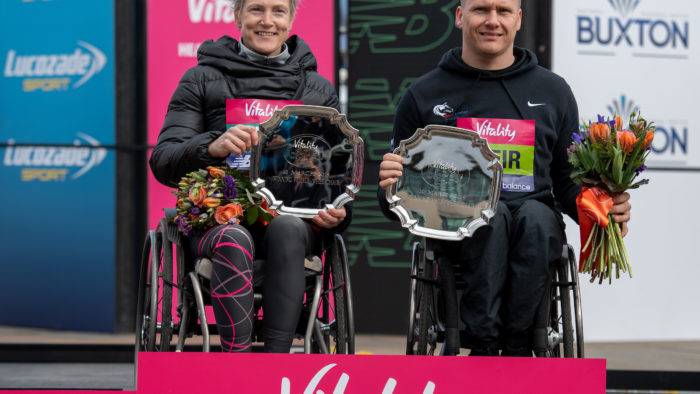 David Weir was dominant throughout the men's wheelchair race.
"I'm really pleased to win here today," Weir said. "The race was a great test of my fitness as I prepare for the London Marathon.
"The windy conditions made the race challenging today – because our chairs are six feet long, they act like a bit of a sail, but I don't really mind windy conditions. I train in all weathers – and it's been windy all week so it wasn't that bad, to be honest.
"The support out on the course was good; I always enjoy racing in London.
"I was a bit anxious in January because I had a car crash and got ill, spending a week in hospital, so I was nervous about my training but it's been going well recently. I'm off to Spain next week for 10 days of warm weather training ahead of the Boston Marathon and then the London Marathon."
Behind the elite races, 13,353 runners crossed the Finish Line by Cutty Sark in Greenwich today, braving the windy conditions to complete the second edition of the event, a community running festival for everyone, no matter their age, background or running ability.
The organisers, London Marathon Events Limited, are working to create an event that truly reflects London's diversity to inspire people from all backgrounds to experience the physical and mental health benefits of running. Among them were:
Six Community Champions from the #MovedbyLondon campaign, which was launched earlier this year to encourage Londoners from a variety of diverse running communities to take part in the event.
Born Barikor, the founder of Our Parks – a new initiative bringing free group exercise classes to parks in London and beyond – also supported the #MovedbyLondon campaign by taking part in the race with more than 50 'Our Parkers', who took on the 13.1-mile distance for the first time.
A team of runners supporting the Dementia Revolution, the Virgin Money London Marathon's Charity of the Year, also completed today's Vitality Big Half. Scott Mitchell, the husband of Dame Barbara Windsor, led the group, which included EastEnders actors Tanya Franks, Jane Slaughter and Natalie Cassidy – who are all taking on the London Marathon in April as part of 'Barbara's Revolutionaries'.
The New Balance Big Relay, offering teams of four the opportunity to run the half-marathon route, and The Little Half – a 2.4-mile family-friendly fun run – also took place as part of the event. Strong winds meant that The Vitality Big Mile and The Vitality Big Festival were cancelled due to safety concerns.
All the results of the Vitality Big Half are available HERE.