As the Virgin Money London Marathon prepares to celebrate its 35th event, we caught up with RUN247 contributor Mike Clyne.
In 1985 Mike was a 'skinny, naive, eighteen year old taking on his first London Marathon'*. To this day, having stood on the start line a further fourteen times, the race has a hold on Mike and he revels in the unchanged cammeraderie, passion and enthusiasm, as marathon day brings out the best in us. [*Ed: his own words!]
We asked Mike about how the event has changed but also his views on the race:
RUN247: Tell us about your first London Marathon 30 years ago.
Mike: I was a product of the running boom.  A deeply unimpressive sporting child I was nonetheless captivated by the boom in the early 80s.  After training for my first race in October 1982 (10 mile) I then did two half marathons in March 1983 and then my first marathon in May 1983 in Abingdon.  I was age 16 and it felt fantastic realising that no-one else I knew of my age had done one!  I was able to apply for London in 1985 having turned 18 and got a place first time despite it being oversubscribed.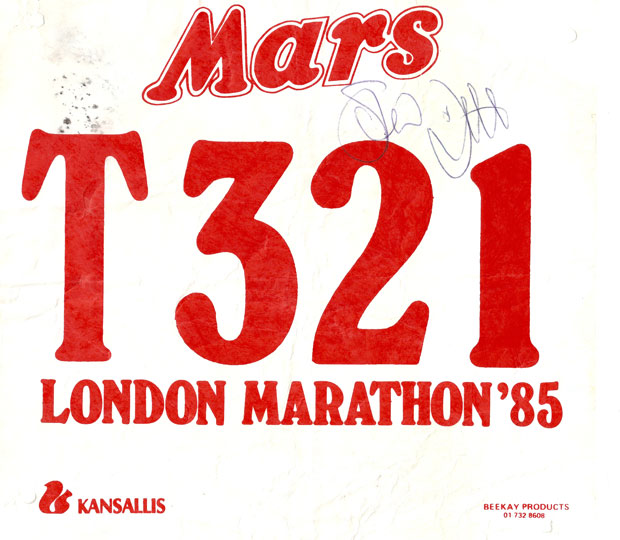 RUN247: So you logged on when entries went live for that event and got in quickly?
Mike: Not quite!  Obviously a loaded question but the days of paper entry forms still had a lot of time left to run.  In those days the entries were handled by one of the pools companies (football pools, not swimming pools) as they were the only people experienced in handling large volumes of mail and data entry.  I was able to see that my cheque was cashed and then got the letter saying I was in!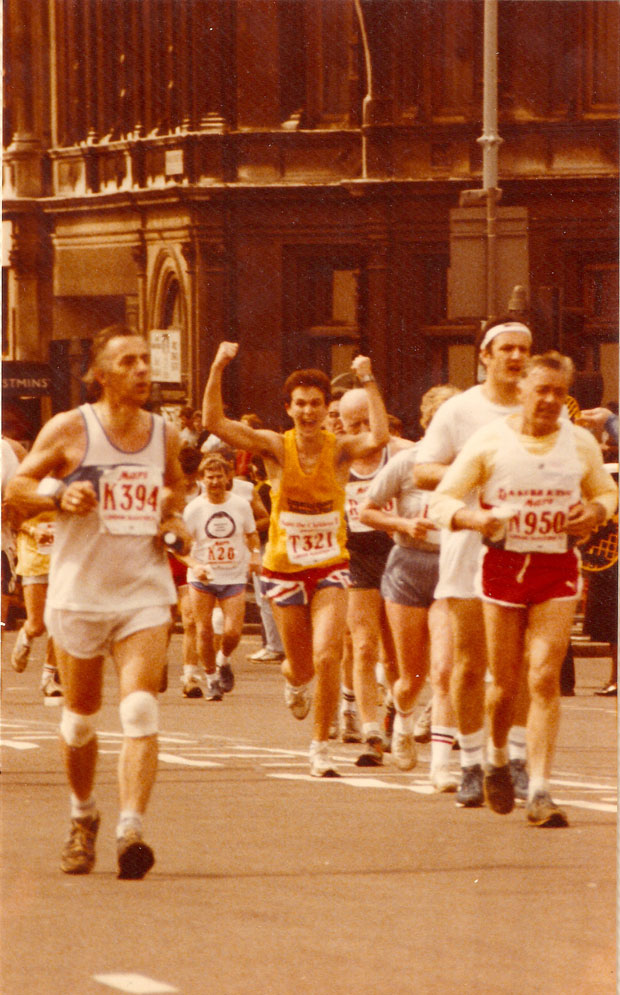 RUN247: I've heard stories about having to queue overnight for entries at Post Offices….
Mike: Yes that was how it happened for 1982 and 1983 I believe – there were designated Post Offices where you could queue and then get your entry in first. I lived in SW London so saw them doing it in 1983 just a few weeks before my first marathon.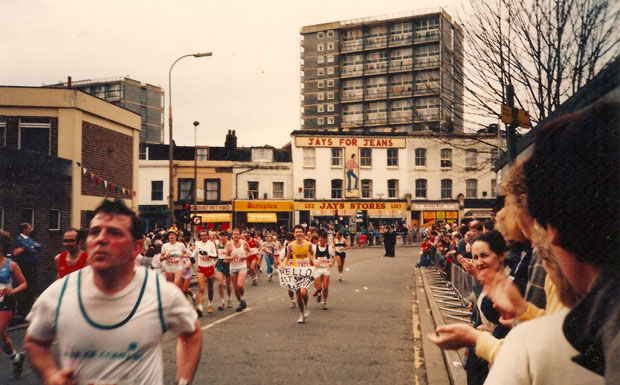 RUN247: Was running a marathon still a rarity in those days?
Mike: Yes it really was. I knew a few people who had done one but they were all friends of my parents. I had been to watch the race in 1983 on Westminster Bridge seeing Mike Gratton & Grete Waitz win. Most people I knew were very curious about the event and I became really into it. I bought Jogging magazine (which became Running magazine and then Runners World) every month and soaked it all in.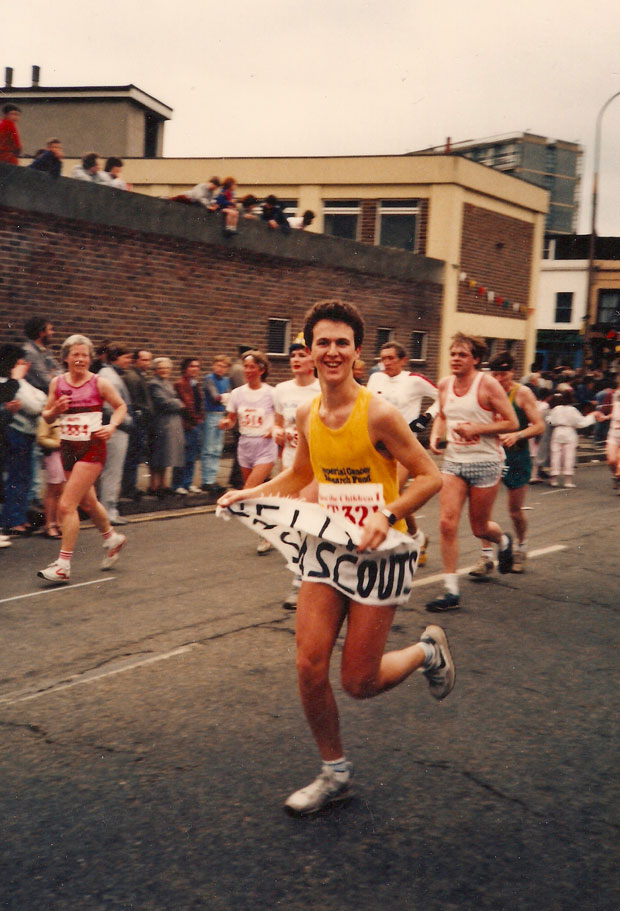 RUN247: How about training?
Mike: I ran about four times a week and built up my weekly long run. Many of these were around Richmond Park which it why it still ranks as my favourite park! I would often run to the park, around it and home (about 15/16 miles). However, I don't think I ever went over 18 miles in training which may or may not have been a good thing.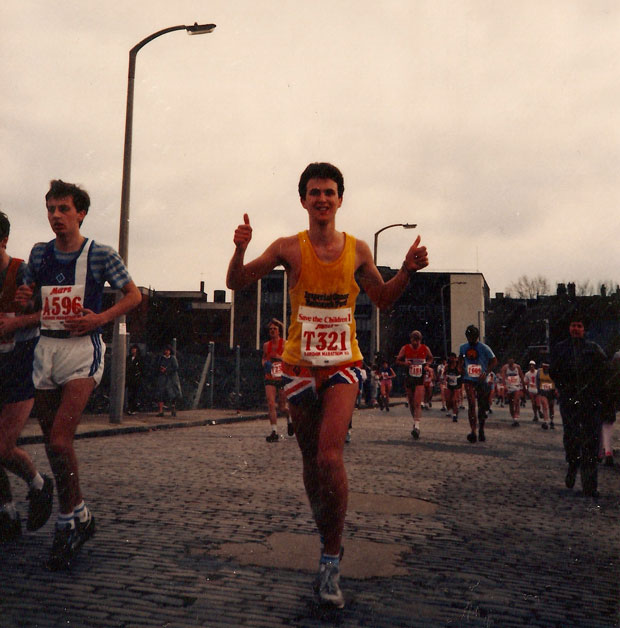 RUN247: What about the build up to the race? Was it as big then?
Mike: It was big news but more of a novelty than anything else. I'm not sure the wider public saw it as an athletic event but more of a carnival of the eccentrics.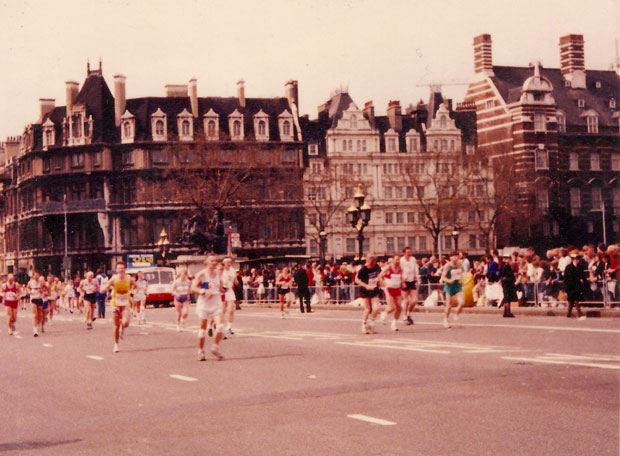 RUN247: What did you do in the days before the race?
Mike: I decided to do the old fashioned carbo loading which meant no carbs from 6days before until 3 days before and then loads of carbs. No idea if it worked at all but I felt like a runner and that was key! Registration was at the Festival Hall on the South Bank and there were just a few trade stands. No massive expo but I did get to meet Steve Ovett and have him sign my race number. No selfies then!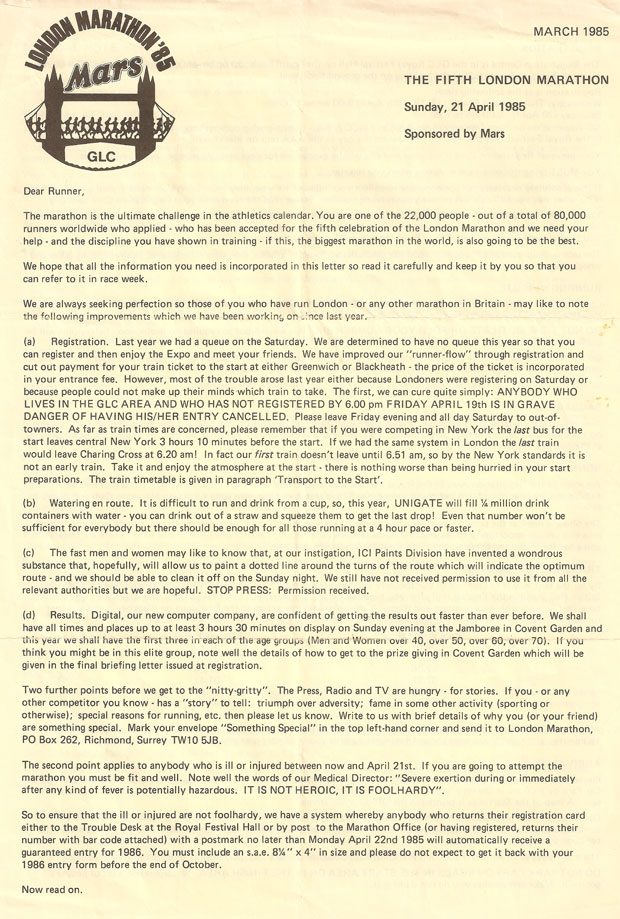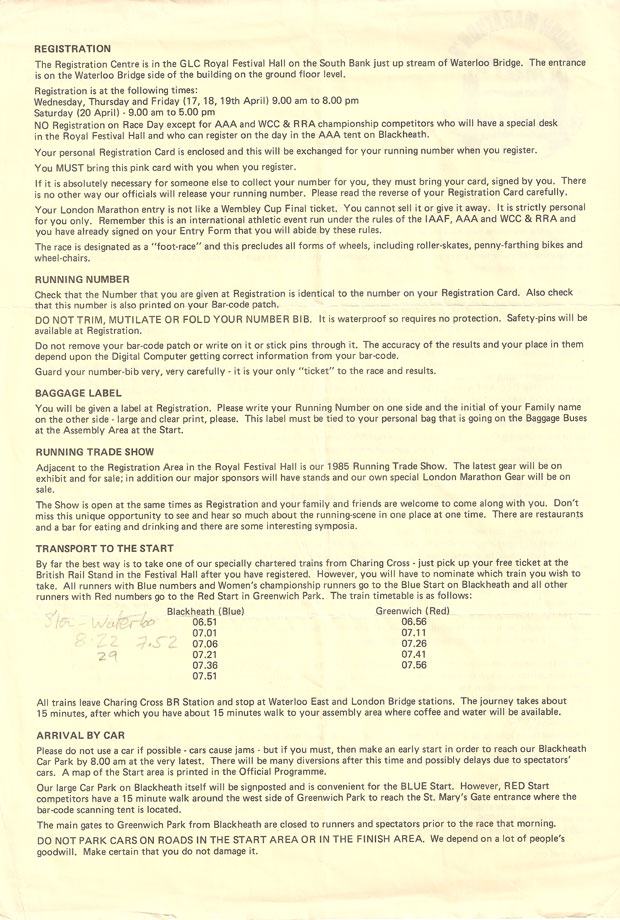 RUN247: You've experienced the race now many times. How have the logistics for a runner changed?
Mike: Well in some ways they have hardly changed. I got a train out from Central London to the start and I remember there being a real stink of Ralgex, Deep Heat and blokeish BO! It was the old slam door trains and as we were pulling into the station all the doors opened and everyone started jumping out! In those days there was only one start and that was in Greenwich Park. It was a chilly morning and I remember a tent offering coffee to the runners, old fashioned portaloos and not much else. However, there were no start pens so it was a bit of a free for all. The baggage buses were, buses! You put your bag on the bus in amongst the seats and then battled on and off the buses at the finish to retrieve them alongside the old County Hall.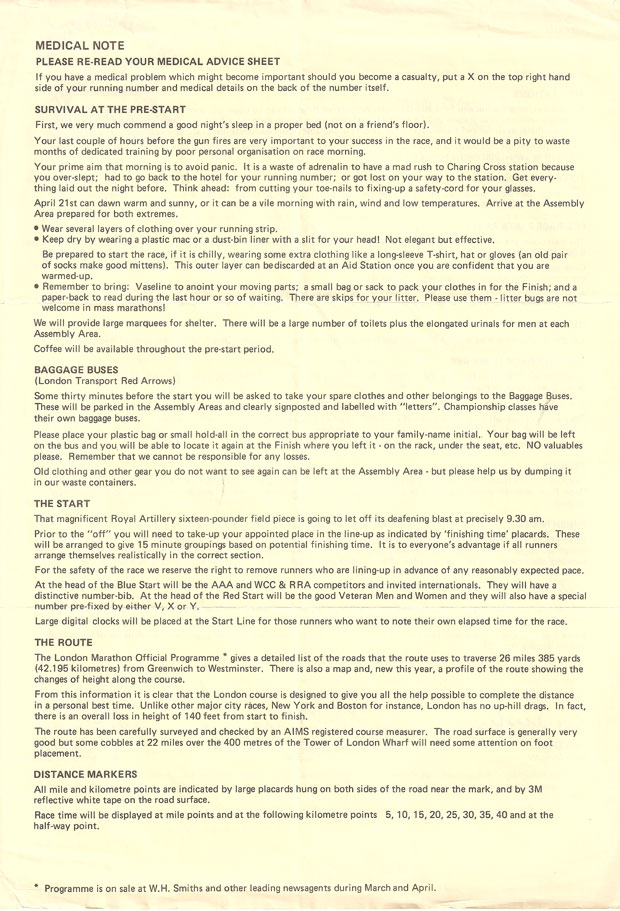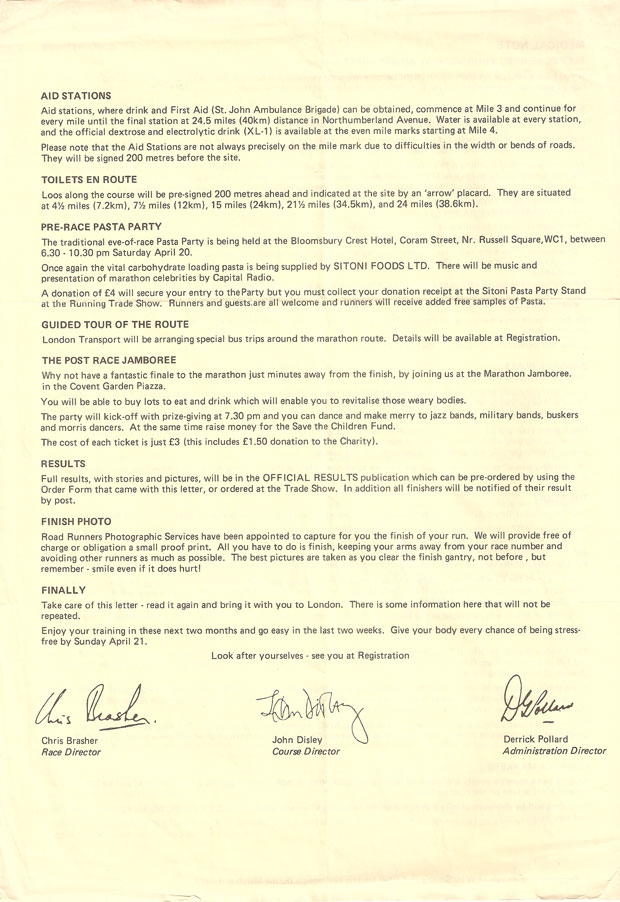 RUN247: What about the atmosphere?
Mike: It was great. There was a real sense of camaraderie but I felt so young. There were a lot of string vests and high cut shorts in those days and seemed to be a lot of beards! As we got underway, there were crowds most of the way along but nowhere like there are now.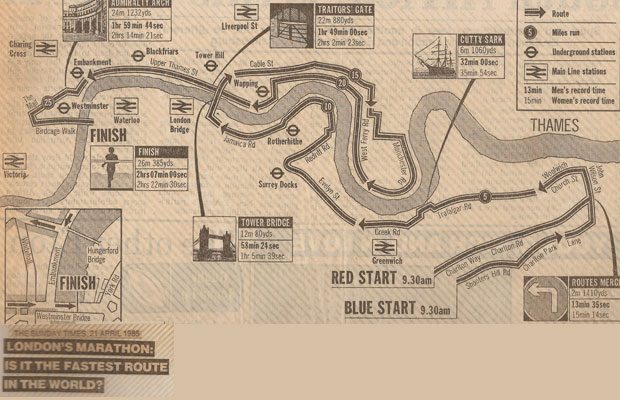 RUN247: These days along the route there are water stations every mile, energy drinks and so on.
Mike: I seem to remember drinks about every 2-3 miles and don't think there were energy drinks. Water was being given out in little cartons with a straw in it which made for lots of explosive noises at drink stations as people trod on them! Around that time I do remember some on the market being very thick syrupy drinks but most people I knew just drank orange squash or water. In later years I remember a range of different drinks being offered from year to year.
RUN247: Do you remember every time you have run (15 times starting the race)?
Mike: Mostly yes – so in 1985 it being my first time I remember a lot of the race. In those days, you ran up Northumberland Avenue, under Admiralty Arch and along the Mall turning left at the palace and towards the finish at Westminster Bridge. As I ran along the Mall I was so hungry I begged a sandwich from a spectator. I remember finishing and being quite overwhelmed with it all. My picture ended up in the middle of one of the national papers! The race was sponsored by Mars and I remember going up to a St John's helper and asking them to open my Mars bar as a had no strength left!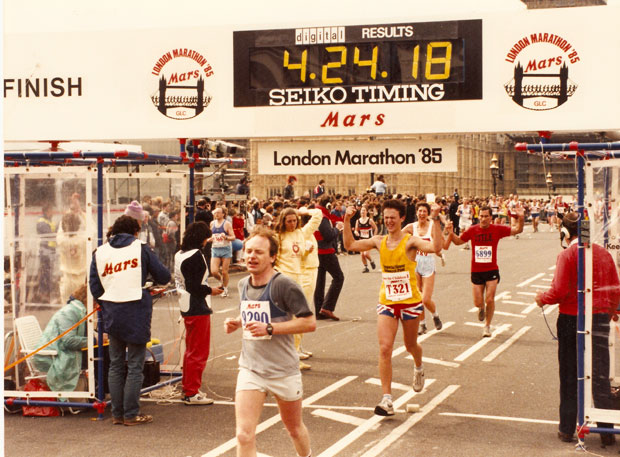 RUN247: What about later years?
Mike: I then ran in 1989 (big memories were making it onto the TV coverage; being photographed on a mobile phone I had borrowed [Ed: Mobile phones weren't quite as small in those days!], which was printed in a running magazine; there being a lot of people in Liverpool kit as it was a week after the Hillsborough disaster; ), 1994 (very rainy and the cobbles through the Tower of London were slippery. I also remember seeing my parents at St Katherines Dock and saying "this is really hard". It was also the first year that the race finished on the Mall), 1997 (I ran with a friend and we had disposable cameras determined to get pictures of ourselves the whole way round including being on a stage with the Pearly Kings & Queens), 1998 (I organised a work team of six including myself as my company was one of the first to hold golden bond entries), 2001 (my then girlfriend, now wife, followed me around and saw me at six different places!), 2003 (a new pb of 4.10 and I was very fit!), 2006 (I had a sponsor place so could have started at the Green Start but ran with a friend from another start. I followed a Runner's World pacer and got a London pb of 3.55), 2007 (first time running as a pacer, a very hot year), 2009 (Ran again as a pacer and did a negative split 2.28 / 2.22), 2010 (ran on my own and realised it wasn't as much fun!), 2011 (ran with a friend of long standing as he did his first ever marathon), 2012 (ran again as a pacer and had a much bigger crowd of followers – best ever 1st/2nd half split 2.24.56/2.24.23), 2013 (paced again and hit the target, was just after the Boston bomb) and 2014 (DNF – enough said).
No matter how many times I have ran the race, it is still as special as the first time. Marathon day brings out the best in people, everyone is your mate and everyone watching wants you to succeed! If you are ever cynical about the world, go to a big city marathon, preferably London.
I now know I am likely to reach the finish and the only unknown is how much it will hurt! These days, unlike in 1985, the spectators have quite likely completed a marathon themselves and know just what you are going through. From mile ten to mile twenty four they cheer you on with "You can do it!", then at mile twenty five that changes to "You have done it!" – that's special every time!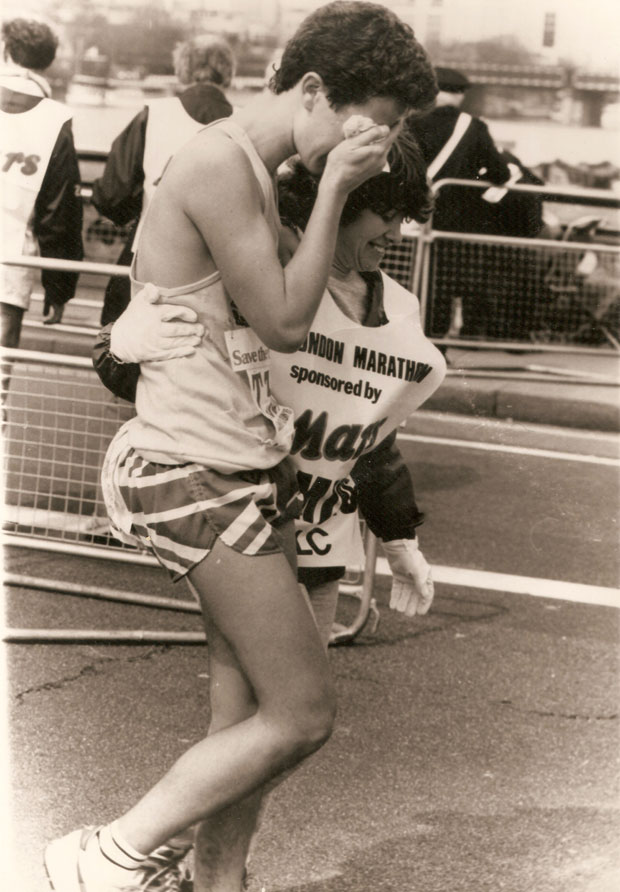 RUN247: What about other changes you have seen?
Mike: The important things such as the camaraderie amongst the runners and their enthusiasm and passion, remain the same.
There have been some changes to the route over the years and some areas, such as the Isle of Dogs, that used to be very quiet, are now very well supported and lively! These day, apart from the tunnels, there aren't really any empty sections!
I think the essential organisation is pretty much bedded down now, it is so slick that you just marvel at it. As you cross the finish line, you get your medal, food and baggage within 100 metres, whereas New York or Chicago is really spread out. Along the route, the drinks stations are well run but London is an old city with narrow streets and thus there will always be some congestion. I remember one time in the 90's the route went down Cable Street which was great from a historical perspective but tricky to run down!
One of the real pleasures of having run a few London Marathons, [Ed: Mike has actually finished 14 times plus a disappointing 2014 DNF] is that it is one of the few subjects where my opinion may actually be based on fact. That said, as tens of thousands of runners line up this year for the 35th outing for the world's greatest marathon there are definitively some who really know what they are talking about: The Ever Presents are a group who have finished EVERY London Marathon since it started in 1981.
RUN247: Mike, thanks for talking to Run247 about your London Marathon experiences over the years. How is your training going for the race on 26th April?
Mike: Not so well! I had a disappointing day at the VMLM in 2014 (HERE) but had plans for a couple of autumn marathons. My training was going well , however a week after setting a cracking new parkrun PB in mid-October I was injured. Whilst on holiday I had gone out for a pre-dinner run and went over on my ankle. I felt a small crack and then excruciating pain. The x-ray showed a small fracture in the bottom of the fibula. Suddenly my running plans were put on hold whilst I mastered crutches (not easy) and then a rigid boot (easier), and I was not able to run until after the New Year. Still, I will be getting to experience the race from a whole new angle as a marshal. [Ed.: Mike will be working at the finish of this year's London Marathon to experience the race from a new angle! Be sure to say hello if you recognise him!] I do look forward to running again in 2016!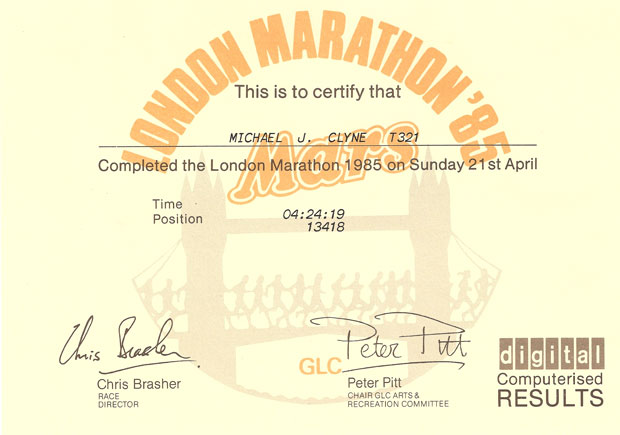 This article was originally posted here on our archive site.