One of the many great things about running is the good it does for the community. Whether that's in terms of physical or mental health or in raising money for charity, it can be such a force for good. One event which really highlights this is Greenham Trust's Step Up 4 Good.
Since 2016, Greenham Trust's annual 10k and family fun runs event, Step Up 4 Good, has encouraged more than 1,800 people to get active. For more than 20 years, Greenham Trust has donated £58m across 5,000 charities and is working with the local community, local authorities, businesses and other charities to improve lives.
Step Up 4 Good 2019 will take place this October at one of the UK's most prestigious racing venues, Newbury Racecourse. Priding itself as one of the most inclusive running events in West Berkshire, Step Up 4 Good accommodates runners of all ages and abilities and educates the next generation for a healthier future.
Rewarding running
Organiser Chris Sumner of Racesolutions, who has already hosted the Royal Berkshire 10k and Endure24 events this year said, "We are passionate about producing exceptional running races that inspire people to run. Our aim is to offer every runner, no matter their age, speed or goal, a sense of achievement, and lots of fun."
Ideal for those wanting to get fitter and healthier, Step Up 4 Good invites both the local community and those living afar to a fun, family day out that raises money for those in need. New to 2019, Step Up 4 Good is introducing a new flat and fast course for its main 10k race, perfect for competitive club athletes hoping to improve their personal best on a new course, as well as new runners looking to raise funds for their favourite charity.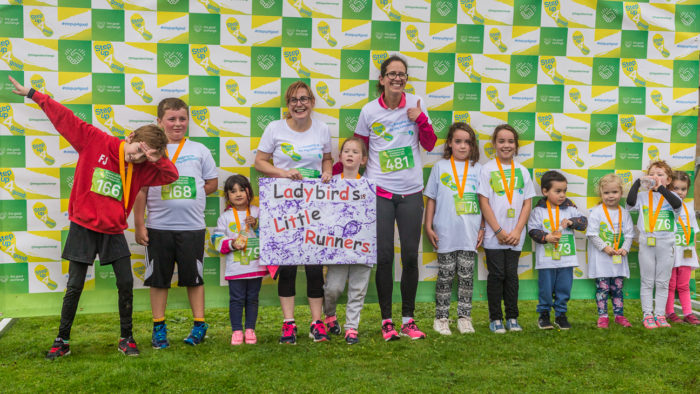 British middle-distance runner and World Championship silver medalist, Hannah England will be making a guest appearance at this year's event – starting each race and cheering along the runners. Hannah commented, "It's fantastic to see a different kind of running event that encourages all ages and abilities to get involved, get active and also raise money for local charitable projects in need. It really is a win, win situation for all!
Tips from Hannah England
Hannah advises on what a runner can do to improve their training as they prepare themselves for a racing event, "I always map my running routes before a training run, so you leave your front door feeling confident and won't need to check a map along the way.
"Also, I make sure the goals I set myself are realistic, I believe in and that excites me. If someone says, you have to run these many miles today, that can be daunting, so you've got to make choices that appeal to you and are right for you.
"Lastly, it's really important that you fuel your body with proper nutrition and water before and after running."
Last year's 10k Step Up 4 Good female winner, Sarah Potter, explains how the event is ideal for all abilities and shares her race-winning secret, "Step Up 4 Good was thoroughly enjoyable – the crowd were great at helping to encourage runners to finish. I would definitely recommend the event to everyone, regardless of their running experience, it is perfect for those who just want to improve their fitness as well as competitive runners aiming to achieve a personal best.
"My advice on how to win would be to eat a nutritious, carb focused breakfast, I normally have a big bowl of porridge before I race. I would also encourage people to not run too hard too early, pace yourself and go out nice and steady and then pick it up halfway."
Take part and get involved
Set to be bigger and better, Step Up 4 Good 2019 promises to provide fantastic indoor facilities, licensed bar and plenty of entertainment for both runners and spectators to enjoy as it relocates to Newbury Racecourse.
Harriet Collins, Marcomms and Sponsorship Director at Newbury Racecourse said, "We are delighted that Greenham Trust chose to host their special event with us. It is a great opportunity for us and we feel privileged that we can help to provide an occasion that brings together the local community, whilst also attracting runners from far and wide. Together with its new venue, new races and inspiring community atmosphere, Step Up 4 Good 2019 is not to be missed."
It's going to be an exciting family day packed with entertainment, competitions, delicious food outlets and a buzzing race village with lots to see and do.
Seasoned professional, complete beginner, old or young, it really doesn't matter. Step Up 4 Good is about more than just running, it's about challenging ourselves, celebrating our community and raising money for the many worthy local community projects.
Register today for Step Up 4 Good 2019 on Sunday 13 October at Newbury Racecourse. To sign up, enquire about volunteering and for event details, visit www.stepup4good.co.uk/running